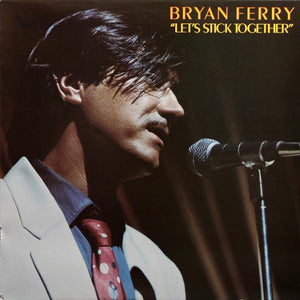 The copy we are selling is similar to the one pictured above.
Sonic Grade
Side One:
Side Two:
Vinyl Grade
Side One: Mint Minus Minus (often quieter than this grade)
Side Two: Mint Minus Minus (often quieter than this grade)*
You'll find seriously good Double Plus (A++) sound or BETTER on both sides of this vintage UK Island pressing - fairly quiet vinyl too
For material and sound, we consider this to be the best of Bryan Ferry's solo albums – it's a blast from start to finish
The energy, presence, bass, and dynamic power (love that horn section!) place it well above his other side projects
Problems in the vinyl are sometimes the nature of the beast with these vintage LPs - there simply is no way around them if the superior sound of vintage analog is important to you
4 stars: "The title track itself scored Ferry a deserved British hit single, with great sax work from Chris Mercer and Mel Collins and a driving, full band performance. Ferry's delivery is one of his best, right down to the yelps, and the whole thing chugs with post-glam power."
100% Money Back Guarantee on all Hot Stampers
FREE Domestic Shipping on all LP orders over $150
*NOTE: There is an audible swoosh that plays loudly throughout track 2 on side 2, "Chance Meeting."
Vintage covers for this album are hard to find in exceptionally clean shape. Most of the will have at least some amount of ringwear, seam wear and edge wear. We guarantee that the cover we supply with this Hot Stamper is at least VG
---
Ferry covers some early Roxy songs here (brilliantly I might add); Beatles and Everly Bros. tunes; and even old R&B tracks like "Shame, Shame, Shame." Every song on this album is good, and I don't think that can be said for any of his other solo projects. Five stars in my book.
This vintage Island pressing has the kind of Tubey Magical Midrange that modern records can barely BEGIN to reproduce. Folks, that sound is gone and it sure isn't showing signs of coming back. If you love hearing INTO a recording, actually being able to "see" the performers, and feeling as if you are sitting in the studio with the band, this is the record for you. It's what vintage all analog recordings are known for -- this sound.
If you exclusively play modern repressings of vintage recordings, I can say without fear of contradiction that you have never heard this kind of sound on vinyl. Old records have it -- not often, and certainly not always -- but maybe one out of a hundred new records do, and those are some pretty long odds.
What The Best Sides Of Let's Stick Together Have To Offer Is Not Hard To Hear
The biggest, most immediate staging in the largest acoustic space
The most Tubey Magic, without which you have almost nothing. CDs give you clean and clear. Only the best vintage vinyl pressings offer the kind of Tubey Magic that was on the tapes in 1976
Tight, note-like, rich, full-bodied bass, with the correct amount of weight down low
Natural tonality in the midrange -- with all the instruments having the correct timbre
Transparency and resolution, critical to hearing into the three-dimensional studio space
No doubt there's more but we hope that should do for now. Playing the record is the only way to hear all of the qualities we discuss above, and playing the best pressings against a pile of other copies under rigorously controlled conditions is the only way to find a pressing that sounds as good as this one does.
Roxy Music
Outside of their first two releases (1972-73), there is simply no Roxy album that is as well-recorded as the first three Ferry solo projects: These Foolish Things (1973); Another Time, Another Place (1974) and Let's Stick Together (1976).
They are the very definition of rich, smooth, Tubey Magical, natural sound. They also tend to have lots and lots of bass — thanks, we assume, to engineers John Punter and Steve Nye – and we love that sound!
What We're Listening For On Let's Stick Together
Energy for starters. What could be more important than the life of the music?
Then: presence and immediacy. The vocals aren't "back there" somewhere, lost in the mix. They're front and center where any recording engineer worth his salt would put them.
The Big Sound comes next -- wall to wall, lots of depth, huge space, three-dimensionality, all that sort of thing.
Then transient information -- fast, clear, sharp attacks, not the smear and thickness so common to these LPs.
Tight punchy bass -- which ties in with good transient information, also the issue of frequency extension further down.
Next: transparency -- the quality that allows you to hear deep into the soundfield, showing you the space and air around all the instruments.
Extend the top and bottom and voila, you have The Real Thing -- an honest to goodness Hot Stamper.
Vinyl Condition
Mint Minus Minus and maybe a bit better is about as quiet as any vintage pressing will play, and since only the right vintage pressings have any hope of sounding good on this album, that will most often be the playing condition of the copies we sell. (The copies that are even a bit noisier get listed on the site are seriously reduced prices or traded back in to the local record stores we shop at.)
Those of you looking for quiet vinyl will have to settle for the sound of other pressings and Heavy Vinyl reissues, purchased elsewhere of course as we have no interest in selling records that don't have the vintage analog magic of these wonderful recordings.
If you want to make the trade-off between bad sound and quiet surfaces with whatever Heavy Vinyl pressing might be available, well, that's certainly your prerogative, but we can't imagine losing what's good about this music -- the size, the energy, the presence, the clarity, the weight -- just to hear it with less background noise.
Side One
Let's Stick Together
Casanova
Sea Breezes
Shame, Shame, Shame
2HB
Side Two
Price of Love
Chance Meeting
It's Only Love
You Go to My Head
Re-Make/Re-Model
Heart on My Sleeve
AMG 4 Star Review
As Roxy approached its mid- to late-'70s hibernation, Ferry came up with another fine solo album, though one of his most curious. With Thompson and Wetton joined by U.K. journeyman guitarist Chris Spedding, Ferry recorded an effort that seemed as much of a bit of creative therapy as it was music for its own sake.
The title track itself, a cover of the fluke Wilbert Harrison '60s hit, scored Ferry a deserved British hit single, with great sax work from Chris Mercer and Mel Collins and a driving, full band performance. Ferry's delivery is one of his best, right down to the yelps, and the whole thing chugs with post-glam power. Other winners include the Everly Brothers' "The Price of Love" and the Beatles' "It's Only Love," delivered with lead keyboards from Ferry and a nice, full arrangement.
On the other hand, half of the album consisted of Ferry originals -- but, bizarrely, instead of creating wholly new songs, he re-recorded a slew of earlier Roxy classics. Fanciful fun or exorcising of past demons? It's worth noting that most of the songs come from the Eno period of the band, and consequently the new versions stear clear of the sheer chaos he brought to the original Roxy lineup. As it is, the end results are still interesting treats -- "Casanova" exchanges the blasting stomp of the original for a slow, snaky delivery that suggests threat without sounding too worried about it. "Re-Make/Re-Model," meanwhile, turns downright funky without losing any of its weird lyrical edge. Others have subtler differences, as when the stark, stiff midsection of "Sea Breezes" becomes a looser, slow jam.