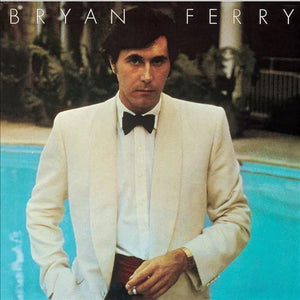 The copy we are selling is similar to the one pictured above.
Sonic Grade
Side One:
Side Two:
Vinyl Grade
Side One: Mint Minus Minus
Side Two: Mint Minus Minus
This UK import pressing of Ferry's sophomore solo LP boasts superb Double Plus (A++) sound from start to finish
These British Island originals are the only way to go - this pressing (like every record we sell) is guaranteed to trounce any copy you have ever heard
Tubey Magical, rich, smooth, sweet - everything that we listen for in a great record is on display for everyone to hear (everyone with audiophile equipment that is)
"Ferry and company, plus various brass and string sections, turn on the showiness enough to make it all fun."
100% Money Back Guarantee on all Hot Stampers
FREE Domestic Shipping on all LP orders over $150
Both sides of this record are just as rich and relaxed as you would expect from Rhett Davies and Island Records. The balance is correct, which means the top is there as well as the bottom, with good vocal presence throughout. You could certainly demonstrate your stereo with a record this good, even one that's not nearly this good, because this one is superb.
But what you would really be demonstrating is music that the listener probably hasn't heard, and that's the best reason to demonstrate a stereo.
Tubey Magic Is Key
These sides are blessed with the kind of early 70s Tubey Magical Analog Sound that's been lost to the world of recorded music for decades -- decades, I tell you!
Nobody can manage to get a recording to sound like this anymore and it seems as if no one can properly remaster a recording like this anymore, if our direct experience with scores of such albums qualifies as evidence.
What The Best Sides Of Another Time, Another Place Have To Offer Is Not Hard To Hear
The biggest, most immediate staging in the largest acoustic space
The most Tubey Magic, without which you have almost nothing. CDs give you clean and clear. Only the best vintage vinyl pressings offer the kind of Tubey Magic that was on the tapes in 1974
Tight, note-like, rich, full-bodied bass, with the correct amount of weight down low
Natural tonality in the midrange -- with all the instruments having the correct timbre
Transparency and resolution, critical to hearing into the three-dimensional studio space
No doubt there's more but we hope that should do for now. Playing the record is the only way to hear all of the qualities we discuss above, and playing the best pressings against a pile of other copies under rigorously controlled conditions is the only way to find a pressing that sounds as good as this one does.
Pop and Rock Shootouts
What are the sonic qualities by which a Pop or Rock record -- any Pop or Rock record -- should be judged?
Pretty much the ones we discuss in most of our Hot Stamper listings: energy, vocal presence, frequency extension (on both ends), transparency, spaciousness, harmonic textures (freedom from smear is key), rhythmic drive, tonal correctness, fullness, richness, three-dimensionality, and on and on down the list.
When we can get a number of these qualities to come together on the side we're playing, we provisionally give it a ballpark Hot Stamper grade, a grade that is often revised during the shootout as we hear what the other copies are doing, both good and bad.
Once we've been through all the side ones, we play the best of the best against each other and arrive at a winner for that side. Other copies from earlier in the shootout will frequently have their grades raised or lowered based on how they sounded compared to the eventual shootout winner. If we're not sure about any pressing, perhaps because we played it early on in the shootout before we had learned what to listen for, we take the time to play it again.
Repeat the process for side two and the shootout is officially over. All that's left is to see how the sides of each pressing match up.
It may not be rocket science, but it's a science of a kind, one with strict protocols that we've developed over the course of many years to insure that the results we arrive at are as accurate as we can make them.
The result of all our work speaks for itself, on this very record in fact. We guarantee you have never heard this music sound better than it does on our Hot Stamper pressing -- or your money back.
What We're Listening For On Another Time, Another Place
Energy for starters. What could be more important than the life of the music?
Then: presence and immediacy. The vocals aren't "back there" somewhere, lost in the mix. They're front and center where any recording engineer worth his salt would put them.
The Big Sound comes next -- wall to wall, lots of depth, huge space, three-dimensionality, all that sort of thing.
Then transient information -- fast, clear, sharp attacks, not the smear and thickness so common to these LPs.
Tight punchy bass -- which ties in with good transient information, also the issue of frequency extension further down.
Next: transparency -- the quality that allows you to hear deep into the soundfield, showing you the space and air around all the instruments.
Extend the top and bottom and voila, you have The Real Thing -- an honest to goodness Hot Stamper.
Vinyl Condition
Mint Minus Minus and maybe a bit better is about as quiet as any vintage pressing will play, and since only the right vintage pressings have any hope of sounding good on this album, that will most often be the playing condition of the copies we sell. (The copies that are even a bit noisier get listed on the site are seriously reduced prices or traded back in to the local record stores we shop at.)
Those of you looking for quiet vinyl will have to settle for the sound of other pressings and Heavy Vinyl reissues, purchased elsewhere of course as we have no interest in selling records that don't have the vintage analog magic of these wonderful recordings.
If you want to make the trade-off between bad sound and quiet surfaces with whatever Heavy Vinyl pressing might be available, well, that's certainly your prerogative, but we can't imagine losing what's good about this music -- the size, the energy, the presence, the clarity, the weight -- just to hear it with less background noise.
Side One
The "In" Crowd
Smoke Gets in Your Eyes
Walk a Mile in My Shoes
Funny How Time Slips Away
You Are My Sunshine
Side Two
(What A) Wonderful World
It Ain't Me Babe
Finger Poppin'
Help Me Make It Through the Night
Another Time, Another Place
AMG Review
Another Time, Another Place isn't as immediately thrilling as Ferry's solo debut, but still is a great listen. The same core band that backed Ferry up on the earlier record stays more or less in place here. If, like Roxy over the years, this collection is a touch less frenetic at points in comparison to Ferry's earlier solo stab, the opening blast through "The 'In' Crowd" doesn't show it. Porter's guitar rips along as intensely as Phil Manzanera's can, and the whole thing makes Dobie Gray's original take seem pretty tame.
Beyond that, things will be familiar to anyone who's heard These Foolish Things -- same general atmosphere, same overall approach of Ferry taking classic originals and putting his own proto-lounge-lizard stamp on them, mixing energetic versions with far calmer ones.
A very intriguing development is his inclusion of efforts from up-and-coming country writers and singers -- thus, a loud and groovy cover of "Funny How Time Slips Away" by Willie Nelson and another of Kris Kristofferson's "Help Me Make It Through the Night." Other country atmospheres slip in here and there via another nod to Elvis ("Walk a Mile in My Shoes," originally by Joe South), while other classics get tapped with versions of "Smoke Gets in Your Eyes" and Sam Cooke's "(What A) Wonderful World."
The album as a whole feels a touch more formal than its predecessor, but Ferry and company, plus various brass and string sections, turn on the showiness enough to make it all fun. A harbringer of solo albums to come appears at end -- the title track, a Ferry original.