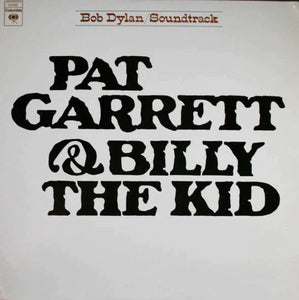 The copy we are selling is similar to the one pictured above.
Sonic Grade
Side One:
Side Two:
Vinyl Grade
Side One: Mint Minus to Mint Minus Minus
Side Two: Mint Minus to Mint Minus Minus
An excellent copy of Dylan's 1973 soundtrack album boasting Double Plus (A++) sound from first note to last - exceptionally quiet vinyl too
This one is doing pretty much everything right – it's bigger, bolder, richer and more clean, clear and open than most of what we played
Includes the hit "Knockin' on Heaven's Door," which charted on the Top 20 and would be famously covered in later years by the likes of Eric Clapton and Guns N' Roses
"This record also proved that Dylan could shoehorn his music within the requirements of a movie score without compromising its content or quality, something that only the Beatles, unique among rock artists, had really managed to do up to that time..."
100% Money Back Guarantee on all Hot Stampers
FREE Domestic Shipping on all LP orders over $150
Vintage covers for this album are hard to find in exceptionally clean shape. Most of the will have at least some amount of ringwear, seam wear and edge wear. We guarantee that the cover we supply with this Hot Stamper is at least VG
---
This vintage Columbia pressing has the kind of Tubey Magical Midrange that modern records can barely BEGIN to reproduce. Folks, that sound is gone and it sure isn't showing signs of coming back. If you love hearing INTO a recording, actually being able to "see" the performers, and feeling as if you are sitting in the studio with the band, this is the record for you. It's what vintage all analog recordings are known for -- this sound.
If you exclusively play modern repressings of vintage recordings, I can say without fear of contradiction that you have never heard this kind of sound on vinyl. Old records have it -- not often, and certainly not always -- but maybe one out of a hundred new records do, and those are some pretty long odds.
What The Best Sides Of Pat Garrett & Billy The Kid Have To Offer Is Not Hard To Hear
The biggest, most immediate staging in the largest acoustic space
The most Tubey Magic, without which you have almost nothing. CDs give you clean and clear. Only the best vintage vinyl pressings offer the kind of Tubey Magic that was on the tapes in 1973
Tight, note-like, rich, full-bodied bass, with the correct amount of weight down low
Natural tonality in the midrange -- with all the instruments having the correct timbre
Transparency and resolution, critical to hearing into the three-dimensional studio space
No doubt there's more but we hope that should do for now. Playing the record is the only way to hear all of the qualities we discuss above, and playing the best pressings against a pile of other copies under rigorously controlled conditions is the only way to find a pressing that sounds as good as this one does.
Learning the Record
For our shootout for Pat Garrett & Billy The Kid, we had at our disposal a variety of pressings that had the potential for Hot Stamper sound. We cleaned them carefully, then unplugged everything in the house we could, warmed up the system, Talisman'd it, found the right VTA for our Triplanar arm (by ear of course) and proceeded to spend the next hour or so playing copy after copy on side one, after which we repeated the process for side two.
If you have five or more copies of a record and play them over and over against each other, the process itself teaches you what's right and what's wrong with the sound of the album. Once your ears are completely tuned to what the best pressings do well that the other pressings do not do as well, using a few carefully chosen passages of music, it quickly becomes obvious how well a given copy can reproduce those passages. You'll hear what's better and worse -- right and wrong would be another way of putting it -- about the sound.
This approach is simplicity itself. First, you go deep into the sound. There you find a critically important passage in the music, one which most copies struggle -- or fail -- to reproduce as well as the best. Now, with the hard-won knowledge of precisely what to listen for, you are perfectly positioned to critique any and all pressings that come your way.
It may be a lot of work but it sure ain't rocket science, and we've never pretended otherwise. Just the opposite: from day one we've explained step by step precisely how to go about finding the Hot Stampers in your own collection. Not the good sounding pressings you happen to own -- those may or may not have Hot Stampers -- but the records you actually cleaned, shot out, and declared victorious.
What We're Listening For On Pat Garrett & Billy The Kid
Energy for starters. What could be more important than the life of the music?
Then: presence and immediacy. The vocals aren't "back there" somewhere, lost in the mix. They're front and center where any recording engineer worth his salt would put them.
The Big Sound comes next -- wall to wall, lots of depth, huge space, three-dimensionality, all that sort of thing.
Then transient information -- fast, clear, sharp attacks, not the smear and thickness so common to these LPs.
Tight punchy bass -- which ties in with good transient information, also the issue of frequency extension further down.
Next: transparency -- the quality that allows you to hear deep into the soundfield, showing you the space and air around all the instruments.
Extend the top and bottom and voila, you have The Real Thing -- an honest to goodness Hot Stamper.
Vinyl Condition
Mint Minus Minus and maybe a bit better is about as quiet as any vintage pressing will play, and since only the right vintage pressings have any hope of sounding good on this album, that will most often be the playing condition of the copies we sell. (The copies that are even a bit noisier get listed on the site are seriously reduced prices or traded back in to the local record stores we shop at.)
Those of you looking for quiet vinyl will have to settle for the sound of other pressings and Heavy Vinyl reissues, purchased elsewhere of course as we have no interest in selling records that don't have the vintage analog magic of these wonderful recordings.
If you want to make the trade-off between bad sound and quiet surfaces with whatever Heavy Vinyl pressing might be available, well, that's certainly your prerogative, but we can't imagine losing what's good about this music -- the size, the energy, the presence, the clarity, the weight -- just to hear it with less background noise.
Side One
Main Title Theme (Billy) (Instrumental)
Cantina Theme (Workin' For The Law) (Instrumental)
Billy 1
Bunkhouse Theme (Instrumental)
River Theme
Side Two
Turkey Chase (Instrumental)
Knockin' On Heaven's Door
Final Theme (Instrumental)
Billy 4
Billy 7
AMG Review
This album was unusual on several counts. For starters, it was a soundtrack (for Sam Peckinpah's movie of the same title), a first venture of its kind for Bob Dylan. For another, it was Dylan's first new LP in three years -- he hadn't been heard from in any form other than the single "George Jackson," his appearance at the Bangladesh benefit concert in 1971, in all of that time. Finally, it came out at an odd moment of juxtaposition in pop culture history, appearing in July 1973 on the same date as the release of Paul McCartney's own first prominent venture into film music, on the Live and Let Die soundtrack (the Beatles bassist had previously scored The Family Way, a British project overlooked amid the frenzy of the Beatles' success).
Interestingly, each effort reunited the artist with a significant musician/collaborator from his respective past: McCartney with producer George Martin and Dylan with guitarist Bruce Langhorne, who'd played with him on his early albums up to Bringing It All Back Home, before being supplanted by Mike Bloomfield, et al. But that was where the similarities between the two projects ended -- apart from the title song, Live and Let Die was Martin's project rather than McCartney's, whereas Dylan was all over Pat Garrett & Billy the Kid as a composer, musician, etc. Additionally, whereas McCartney's work was a piece of pure pop-oriented rock in connection with a crowd-pleasing action-fantasy film, Dylan's work comprised an entire LP, and the resulting album was a beautifully simple, sometimes rough-at-the-edges and sometimes gently refined piece of country- and folk-influenced rock, devised to underscore a very serious historical film by one of the movies' great directorial stylists.
It was also as strong as any of his recent albums, featuring not just Langhorne but also such luminaries as Booker T. Jones, Roger McGuinn, and Byron Berline. "Knockin' on Heaven's Door" was the obvious hit off the album, and helped drive the sales, but "Billy 1," "Billy 4," and "Billy 7" were good songs, too -- had any of them shown up on bootlegs, they'd have kept the Dylan semiologists and hagiographers busy for years working over them. The instrumentals surrounding them were also worth hearing as manifestations of Dylan's music-making; "Bunkhouse Theme" was downright gorgeous. It was the first time since New Morning, in 1970, that Dylan had released more than five minutes of new music at once, and it was a gift to fans as well as to Peckinpah -- little did anyone realize at the time that it heralded a period of new recording and a national tour (with the Band), along with a brief label switch, and Dylan's greatest period of sustained musical visibility since 1966.
This record also proved that Dylan could shoehorn his music within the requirements of a movie score without compromising its content or quality, something that only the Beatles, unique among rock artists, had really managed to do up to that time, and that was in their own movie, A Hard Day's Night. "Knockin' on Heaven's Door" may have been the biggest hit to come out of a Western in at least 21 years, since Dimitri Tiomkin and Ned Washington had given "High Noon" to Tex Ritter to sing in Fred Zinnemann's High Noon in 1952 (and Katy Jurado was in both movies), and he'd also outdone Ritter on two counts, writing the music -- a full score, to boot -- and getting a cameo appearance in the film.
The album was later kind of overlooked and neglected in the wake of the tour that followed and the imposing musical attributes of, say, Blood on the Tracks and Desire, but heard on its own terms it holds up 30-plus years later.