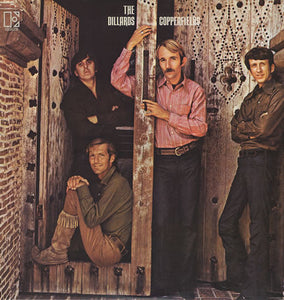 The copy we are selling is similar to the one pictured above.
Sonic Grade
Side One:
Side Two:
Vinyl Grade
Side One: Mint Minus Minus
Side Two: Mint Minus Minus*
You'll find superb Double Plus (A++) sound or BETTER throughout this vintage Elektra pressing
Both of these sides are relatively rich, full-bodied and warm, yet clear, lively and dynamic
Those of you who enjoy the country-fried style of the Flying Burrito Bros., Gram Parsons or The Byrds will probably get a lot out of this one
4 stars: "...it was a similarly eclectic and, for the most part, joyous romp through a fusion of bluegrass, rock, folk, and country, with a bit of pop and orchestration along the ride, and the group's superb vocal harmonies being the main constant."
100% Money Back Guarantee on all Hot Stampers
FREE Domestic Shipping on all LP orders over $150
*NOTE: There is a mark that plays 7 times lightly at the start of the last track on side 2, "Sundown."
We've been trying to find great sound for this band for years, but it is one tough task. For one thing, it's difficult to find clean copies out in the bins and even when we do most of them don't sound that hot. It took years worth of purchases to get enough of these together for a shootout, and even then very few of them delivered the way this one could.
This vintage Elektra pressing has the kind of Tubey Magical Midrange that modern records can barely BEGIN to reproduce. Folks, that sound is gone and it sure isn't showing signs of coming back. If you love hearing INTO a recording, actually being able to "see" the performers, and feeling as if you are sitting in the studio with the band, this is the record for you. It's what vintage all analog recordings are known for -- this sound.
If you exclusively play modern repressings of vintage recordings, I can say without fear of contradiction that you have never heard this kind of sound on vinyl. Old records have it -- not often, and certainly not always -- but maybe one out of a hundred new records do, and those are some pretty long odds.
What The Best Sides Of Copperfields Have To Offer Is Not Hard To Hear
The biggest, most immediate staging in the largest acoustic space
The most Tubey Magic, without which you have almost nothing. CDs give you clean and clear. Only the best vintage vinyl pressings offer the kind of Tubey Magic that was on the tapes in 1970
Tight, note-like, rich, full-bodied bass, with the correct amount of weight down low
Natural tonality in the midrange -- with all the instruments having the correct timbre
Transparency and resolution, critical to hearing into the three-dimensional studio space
No doubt there's more but we hope that should do for now. Playing the record is the only way to hear all of the qualities we discuss above, and playing the best pressings against a pile of other copies under rigorously controlled conditions is the only way to find a pressing that sounds as good as this one does.
We Love It
This is the band the Jayhawks grew up listening to, along with, I'm guessing, The Byrds (circa Sweetheart of the Rodeo), The Grateful Dead (American Beauty), The Eagles (first LP), Poco, and no doubt plenty of other bands that never became famous.
Actually, the Dillards themselves never became famous, which is too bad, because based on this album they should have. It's full of wonderfully melodic songs, with all the boys pitching in for harmony, backed by every stringed instrument that's fit to pick: guitar, mandolin, banjo, pedal steel, fiddle, dobro -- you name it, they play it. They even do one by the Beatles. And that's not nostalgia: the Beatles were together (sort of) when this record was made!
By the way, the guy front and center is Herb Pederson. I never knew who he was until I attended a concert that Chris Hillman and his acoustic trio gave at a coffee house (!) and then again at a home concert (where I was lucky enough to sit three feet from them and got to chat them up during the break).
They performed mostly old bluegrass and country tunes (with Hillman on mandolin, his first and favorite instrument), some originals, and even covered one or two of The Byrds' hits. The guitarist in the band turned out to be Herb Pederson, and one day I noticed a similarity between the 55+ year old gentleman I saw that night and the guy on the cover of The Dillards. Sure enough, it's the same guy.
You can also find his name on dozens of country rock records by artists like Linda Ronstadt and Emmylou Harris. He was the "go to" guy back in the day, with his top notch harmonies and authentic country guitar playing. Which is what he brings to this album too.
What We're Listening For On Copperfields
Energy for starters. What could be more important than the life of the music?
Then: presence and immediacy. The vocals aren't "back there" somewhere, lost in the mix. They're front and center where any recording engineer worth his salt would put them.
The Big Sound comes next -- wall to wall, lots of depth, huge space, three-dimensionality, all that sort of thing.
Then transient information -- fast, clear, sharp attacks, not the smear and thickness so common to these LPs.
Tight punchy bass -- which ties in with good transient information, also the issue of frequency extension further down.
Next: transparency -- the quality that allows you to hear deep into the soundfield, showing you the space and air around all the instruments.
Extend the top and bottom and voila, you have The Real Thing -- an honest to goodness Hot Stamper.
Vinyl Condition
Mint Minus Minus and maybe a bit better is about as quiet as any vintage pressing will play, and since only the right vintage pressings have any hope of sounding good on this album, that will most often be the playing condition of the copies we sell. (The copies that are even a bit noisier get listed on the site are seriously reduced prices or traded back in to the local record stores we shop at.)
Those of you looking for quiet vinyl will have to settle for the sound of other pressings and Heavy Vinyl reissues, purchased elsewhere of course as we have no interest in selling records that don't have the vintage analog magic of these wonderful recordings.
If you want to make the trade-off between bad sound and quiet surfaces with whatever Heavy Vinyl pressing might be available, well, that's certainly your prerogative, but we can't imagine losing what's good about this music -- the size, the energy, the presence, the clarity, the weight -- just to hear it with less background noise.
Side One
Rainmaker
In Our Time
Old Man at the Mill
Touch Her if You Can
Woman Turn Around
Yesterday
Brother John
Side Two
Copperfields
West Montana Hanna
Close the Door Lightly
Pictures
Ebo Walker
Sundown
AMG 4 Star Review
The Dillards' second album with rock-influenced arrangements was not as barrier-busting as 1968's Wheatstraw Suite, and further removed from their bluegrass roots. However, it was a similarly eclectic and, for the most part, joyous romp through a fusion of bluegrass, rock, folk, and country, with a bit of pop and orchestration along the ride, and the group's superb vocal harmonies being the main constant.
"Touch Her If You Can" was the number with the most pop and orchestration, and worked extremely well, with its achingly sad melody. If anything the Dillards did on Elektra could have been a hit single, this would have been a likely candidate. Their unusual a cappella arrangement of the Beatles' "Yesterday" caught some attention, and "Brother John" is another simultaneous detour and highlight, with its Dave Brubeck-influenced jazzy rhythms and guitar picking that recalled the Byrds' psychedelic era.
While other tracks, like the bluegrass tune "Old Man at the Mill" and Eric Andersen's "Close the Door Lightly," were more in the standard country-rock mode, they're also good, with the musicians applying care and creative production to the material throughout the disc.