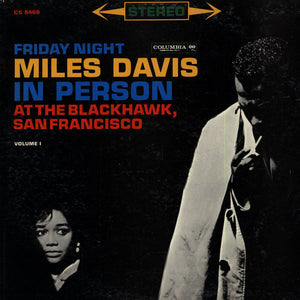 The copy we are selling is similar to the one pictured above.
Sonic Grade
Side One:
Side Two:
Vinyl Grade
Side One: Mint Minus Minus
Side Two: Mint Minus Minus*
This early 6-Eye Stereo pressing had the big, rich, transparent and real sound we were looking for, earning excellent Double Plus (A++) sonic grades on both sides
If you want to hear a healthy dose of the Tubey Magic, size and energy of this wonderful live session, the first of two recorded at the Blackhawk in April 1961, this copy will let you do that
Marks and problems in the vinyl are sometimes the nature of the beast with these early pressings - there simply is no way around them if the superior sound of vintage analog is important to you
4 1/2 stars: "The first of two sets recorded during a weekend in 1961 features the Miles Davis Quintet at a period of time when Hank Mobley was on tenor and the rhythm section was comprised of pianist Wynton Kelly, bassist Paul Chambers, and drummer Jimmy Cobb. This is an underappreciated group because of its relatively short life, but as evidenced here, the bandmembers swung fast and hard and never looked back."
100% Money Back Guarantee on all Hot Stampers
FREE Domestic Shipping on all LP orders over $150
*NOTE: On side 2, there is a mark that plays 9 times loudly at the start of track 1, "All Of You." There is another mark that plays 8 times lightly about 1/2 way into the same track. The last track, "Love, I've Found You," plays Mint Minus Minus to EX++
Vintage covers for this album are hard to find in exceptionally clean shape. Most of the will have at least some amount of ringwear, seam wear and edge wear. We guarantee that the cover we supply with this Hot Stamper is at least VG
---
This vintage 6-Eye Stereo pressing has the kind of Tubey Magical Midrange that modern records can barely BEGIN to reproduce. Folks, that sound is gone and it sure isn't showing signs of coming back. If you love hearing INTO a recording, actually being able to "see" the performers, and feeling as if you are sitting in the studio with the band, this is the record for you. It's what vintage all analog recordings are known for -- this sound.
If you exclusively play modern repressings of vintage recordings, I can say without fear of contradiction that you have never heard this kind of sound on vinyl. Old records have it -- not often, and certainly not always -- but maybe one out of a hundred new records do, and those are some pretty long odds.
What The Best Sides Of In Person... Volume I Have To Offer Is Not Hard To Hear
The biggest, most immediate staging in the largest acoustic space
The most Tubey Magic, without which you have almost nothing. CDs give you clean and clear. Only the best vintage vinyl pressings offer the kind of Tubey Magic that was on the tapes in 1961
Tight, note-like, rich, full-bodied bass, with the correct amount of weight down low
Natural tonality in the midrange -- with all the instruments having the correct timbre
Transparency and resolution, critical to hearing into the three-dimensional studio space
No doubt there's more but we hope that should do for now. Playing the record is the only way to hear all of the qualities we discuss above, and playing the best pressings against a pile of other copies under rigorously controlled conditions is the only way to find a pressing that sounds as good as this one does.
Copies with rich lower mids and nice extension up top did the best in our shootout, assuming they weren't veiled or smeary of course. So many things can go wrong on a record! We know, we've heard them all.
Top end extension is critical to the sound of the best copies. Lots of old records (and new ones) have no real top end; consequently, the studio or stage will be missing much of its natural air and space, and instruments will lack their full complement of harmonic information.
Tube smear is common to most vintage pressings. The copies that tend to do the best in a shootout will have the least (or none), yet are full-bodied, tubey and rich.
Reissues
There are some very good sounding reissues from the '70s that will eventually make it to the site. Again and again my notes made it clear that on those reissue pressings the sound could have used some tubes in the chain.
On this record, more than any other, the tubes potentially make all the difference.
Now keep in mind that we are talking only about 1961 tubes, not the stuff that engineers are using today to make "tube-mastered" records. Those modern records barely hint at the Tubey Magical sound of a record like this, if our experience with hundreds of them is any guide.
Unlike so many of the audiophile reviewers of today, we have a very hard time taking any of the new pressings seriously. We think our position is pretty clear in that regard.
If you've ever heard a pressing that sounds like this one, you know there hasn't been a record manufactured in the last forty years or so that has its sound. Right, wrong or otherwise, this sound is simply not part of the modern world we live in.
If you want to be transported back to San Francisco circa 1961, you will need a record like this to do it.
What We're Listening For On In Person... Volume I
Energy for starters. What could be more important than the life of the music?
The Big Sound comes next -- wall to wall, lots of depth, huge space, three-dimensionality, all that sort of thing.
Then transient information -- fast, clear, sharp attacks, not the smear and thickness so common to these LPs.
Tight, full-bodied bass -- which ties in with good transient information, also the issue of frequency extension further down.
Next: transparency -- the quality that allows you to hear deep into the soundfield, showing you the space and air around all the instruments.
Extend the top and bottom and voila, you have The Real Thing -- an honest to goodness Hot Stamper.
The Players
Vinyl Condition
Mint Minus Minus and maybe a bit better is about as quiet as any vintage pressing will play, and since only the right vintage pressings have any hope of sounding good on this album, that will most often be the playing condition of the copies we sell. (The copies that are even a bit noisier get listed on the site are seriously reduced prices or traded back in to the local record stores we shop at.)
Those of you looking for quiet vinyl will have to settle for the sound of other pressings and Heavy Vinyl reissues, purchased elsewhere of course as we have no interest in selling records that don't have the vintage analog magic of these wonderful recordings.
If you want to make the trade-off between bad sound and quiet surfaces with whatever Heavy Vinyl pressing might be available, well, that's certainly your prerogative, but we can't imagine losing what's good about this music -- the size, the energy, the presence, the clarity, the weight -- just to hear it with less background noise.
Side One
Walkin'
Bye Bye Blackbird
Side Two
All Of You
No Blues
Bye Bye (Theme)
Love, I've Found You
AMG 4 1/2 Star Review
The first of two sets recorded during a weekend in 1961 features the Miles Davis Quintet at a period of time when Hank Mobley was on tenor and the rhythm section was comprised of pianist Wynton Kelly, bassist Paul Chambers, and drummer Jimmy Cobb.
What is most remarkable is the way Kelly fits into this particular blend of the Miles band. Kelly's interplay with Chambers is especially brilliant, because his sense of blues phrasing inside counterpoint harmony is edgy and large, with left-hand chords in the middle register rather than sharp right-hand runs to accentuate choruses.
Davis himself has never played with more intensity and muscularity on record than he does here. He is absolutely fierce, both on the Friday night and Saturday night sets. Kelly plays more like a drummer than a pianist, using gorgeously percussive left-hand comps and fills to add bottom to the front line's solos. Mobley displays his bebop rather than hard bop and groove sides here, and reveals his intricate knowledge of the bop phraseology; he sounds free of the baggage and responsibility that he replaced John Coltrane and Cannonball Adderley. His solos on "If I Were a Bell" and "No Blues" are simply revelatory.
This is an underappreciated group because of its relatively short life, but as evidenced here, the bandmembers swung fast and hard and never looked back. Hearing a dropped bassline, an out-of-time cymbal flourish, and a shortened series of phrases by Miles because he miscounted -- you guess the track -- adds to the charm of this being recorded as it was, without any cleanup. It is difficult to recommend this set over Saturday Night or vice versa; Miles fans will need both to fully appreciate how special this engagement with this particular band was.