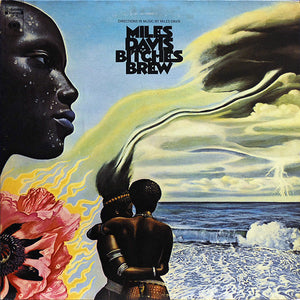 The copy we are selling is similar to the one pictured above.
Sonic Grade
Side One:
Side Two:
Side Three:
Side Four:
Vinyl Grade
Side One: Mint Minus Minus
Side Two: Mint Minus Minus*
Side Three: Mint Minus Minus*
Side Four: Mint Minus Minus
An excellent copy of this 2 LP set with Double Plus (A++) sound or BETTER on all FOUR sides
These sides are clean, clear, lively and present with tons of space around all of the players
You can hear right into the soundfield, and you can be sure that there's a whole lot more going on in there than you can bring out, but that's what makes audio fun
Improving your playback can reveal more and more of what's always been in the grooves of your records
This is not an easy album to find in clean condition, let alone a copy that sounds like this and plays reasonably well throughout
If jazz-fusion is your bag, sides two, three, and four will take you on a trip like few other records can with Nearly Triple Plus (A++ to A+++) sound from start to finish - just shy of our Shootout Winner
Marks in the vinyl are sometimes the nature of the beast with these early pressings - there simply is no way around them if the superior sound of vintage analog is important to you
5 stars: "Thought by many to be the most revolutionary album in jazz history, having virtually created the genre known as jazz-rock fusion (for better or worse) and being the jazz album to most influence rock and funk musicians, Bitches Brew is, by its very nature, mercurial."
100% Money Back Guarantee on all Hot Stampers
FREE Domestic Shipping on all LP orders over $150
*NOTE: There is a mark that plays 10 times at a moderate level about 2" (approx. 11:00) into side 2, "Bitches Brew." On side 3, there is a mark that plays 10 times lightly at the start of track 1, "Spanish Key."
Vintage covers for this album are hard to find in exceptionally clean shape. Most of the will have at least some amount of ringwear, seam wear and edge wear. We guarantee that the cover we supply with this Hot Stamper is at least VG
---
The incredible musicianship and Teo Macero's innovative production each help take these jazz-fusion soundscapes to places most folks had never imagined before. And a copy like this one takes the entire production to a whole new level. I can't begin to tell you how many crappy copies have hit our table over the years, but after finding this one I'm really glad we never gave up on this album.
I remember buying this album when I was in college and I had a hell of a time trying to make any sense of it. I also bought the first two Weather Report albums and had a hell of a time with those. But then when Sweetnighter came out, which was angular but still accessible, this kind of music started to make sense to me. This is music for those who want to be challenged. It's as true today as it was 53 years ago when this record came out.
Our favorite track on this album, "Miles Runs The Voodoo Down," is found on the Nearly Triple Plus (A++ to A+++) side four, which means the sound for it is INCREDIBLE.
What The Best Sides Of Bitches Brew Have To Offer Is Not Hard To Hear
The biggest, most immediate staging in the largest acoustic space
The most Tubey Magic, without which you have almost nothing. CDs give you clean and clear. Only the best vintage vinyl pressings offer the kind of Tubey Magic that was on the tapes in 1970
Tight, note-like, rich, full-bodied bass, with the correct amount of weight down low
Natural tonality in the midrange -- with all the instruments having the correct timbre
Transparency and resolution, critical to hearing into the three-dimensional studio space
No doubt there's more but we hope that should do for now. Playing these records are the only way to hear all of the qualities we discuss above, and playing the best pressings against a pile of other copies under rigorously controlled conditions are the only way to find pressings that sound as good as these two do.
Copies with rich lower mids and nice extension up top did the best in our shootout, assuming they weren't veiled or smeary of course. So many things can go wrong on a record! We know, we've heard them all.
Top end extension is critical to the sound of the best copies. Lots of old records (and new ones) have no real top end; consequently, the studio or stage will be missing much of its natural air and space, and instruments will lack their full complement of harmonic information.
Tube smear is common to most vintage pressings. The copies that tend to do the best in a shootout will have the least (or none), yet are full-bodied, tubey and rich.
What We're Listening For On Bitches Brew
Energy for starters. What could be more important than the life of the music?
The Big Sound comes next -- wall to wall, lots of depth, huge space, three-dimensionality, all that sort of thing.
Then transient information -- fast, clear, sharp attacks, not the smear and thickness so common to these LPs.
Tight, full-bodied bass -- which ties in with good transient information, also the issue of frequency extension further down.
Next: transparency -- the quality that allows you to hear deep into the soundfield, showing you the space and air around all the instruments.
Extend the top and bottom and voila, you have The Real Thing -- an honest to goodness Hot Stamper.
Vinyl Condition
Mint Minus Minus and maybe a bit better is about as quiet as any vintage pressing will play, and since only the right vintage pressings have any hope of sounding good on this album, that will most often be the playing condition of the copies we sell. (The copies that are even a bit noisier get listed on the site are seriously reduced prices or traded back in to the local record stores we shop at.)
Those of you looking for quiet vinyl will have to settle for the sound of other pressings and Heavy Vinyl reissues, purchased elsewhere of course as we have no interest in selling records that don't have the vintage analog magic of these wonderful recordings.
If you want to make the trade-off between bad sound and quiet surfaces with whatever Heavy Vinyl pressing might be available, well, that's certainly your prerogative, but we can't imagine losing what's good about this music -- the size, the energy, the presence, the clarity, the weight -- just to hear it with less background noise.
Side One
Side Two
Side Three
Spanish Key
John McLaughlin
Side Four
Miles Runs the Voodoo Down
Sanctuary
AMG 5 Star Rave Review
Thought by many to be the most revolutionary album in jazz history, having virtually created the genre known as jazz-rock fusion (for better or worse) and being the jazz album to most influence rock and funk musicians, Bitches Brew is, by its very nature, mercurial. The original double LP included only six cuts and featured up to 12 musicians at any given time, most of whom would go on to be high-level players in their own right: Joe Zawinul, Wayne Shorter, Airto, John McLaughlin, Chick Corea, Jack DeJohnette, Dave Holland, Don Alias, Benny Maupin, Larry Young, Lenny White, and others.
Originally thought to be a series of long jams locked into grooves around one or two keyboard, bass, or guitar figures, Bitches Brew is anything but. Producer Teo Macero had as much to do with the end product on Bitches Brew as Davis. Macero and Davis assembled, from splice to splice, section to section, much of the music recorded over three days in August 1969…
… Bitches Brew retains its freshness and mystery long after its original issue.