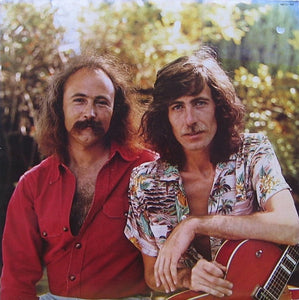 The copy we are selling is similar to the one pictured above.
Sonic Grade
Side One:
Side Two:
Vinyl Grade
Side One: Mint Minus Minus (often quieter than this grade)
Side Two: Mint Minus Minus (often quieter than this grade)
You'll find superb Double Plus (A++) grades or BETTER on both sides of this vintage copy - fairly quiet vinyl too
Finding the Tubey Magical, spacious, sweet ANALOG sound we were after was not easy
Here you will find noticeably richer sound than most pressings (hence the high grades) - many tended to be leaner and drier than we would have liked, and we take a lot of points off when they sound that way
It's possible to get the clear, breathy vocals that bring out the wonderful harmonies these two are so rightly famous for - it's just not easy
4 stars: "Wind on the Water has an instant classic, lived-in sound and is a definite must-have."
100% Money Back Guarantee on all Hot Stampers
FREE Domestic Shipping on all LP orders over $150
This vintage ABC pressing has the kind of Tubey Magical Midrange that modern records can barely BEGIN to reproduce. Folks, that sound is gone and it sure isn't showing signs of coming back. If you love hearing INTO a recording, actually being able to "see" the performers, and feeling as if you are sitting in the studio with the band, this is the record for you. It's what vintage all analog recordings are known for -- this sound.
If you exclusively play modern repressings of vintage recordings, I can say without fear of contradiction that you have never heard this kind of sound on vinyl. Old records have it -- not often, and certainly not always -- but maybe one out of a hundred new records do, and those are some pretty long odds.
What The Best Sides Of Wind on the Water Have To Offer Is Not Hard To Hear
The biggest, most immediate staging in the largest acoustic space
The most Tubey Magic, without which you have almost nothing. CDs give you clean and clear. Only the best vintage vinyl pressings offer the kind of Tubey Magic that was on the tapes in 1975
Tight, note-like, rich, full-bodied bass, with the correct amount of weight down low
Natural tonality in the midrange -- with all the instruments having the correct timbre
Transparency and resolution, critical to hearing into the three-dimensional studio space
No doubt there's more but we hope that should do for now. Playing the record is the only way to hear all of the qualities we discuss above, and playing the best pressings against a pile of other copies under rigorously controlled conditions is the only way to find a pressing that sounds as good as this one does.
Solo and In Combination
Of course it's easy to argue that finding good sound on an album with two or more members of Crosby, Stills, Nash and Young, in any configuration, has never been easy. It's the rare copy of either of the first two albums that's even listenable, and the CSN album from 1977 doesn't sound nearly as good as any of the first three Crosby/Nash albums (of which this is the second). Which simply means that the "good" sound of our Hot Stamper copies is far better than what most audiophiles own of any of these guys in combination.
Their solo albums are a different story altogether. The first solo albums by David Crosby (1971), Stephen Stills (1970) and Graham Nash (1971) are three of my favorite records of all time; each is a brilliant recording, each is powerfully compelling music (the Nash album especially). Two made our Top 100. It's puzzling to contemplate just how well-recorded each of their first solo albums are considering their less-than-stellar group recording efforts. Too many cooks spoiling the broth might make a good guess, but at this point it's no more than speculation and mostly a waste of time. With so many records to play, we find we do better when we confine ourselves to the realities of the vinyl in front of us.
What We're Listening For On Wind on the Water
Energy for starters. What could be more important than the life of the music?
Then: presence and immediacy. The vocals aren't "back there" somewhere, lost in the mix. They're front and center where any recording engineer worth his salt would put them.
The Big Sound comes next -- wall to wall, lots of depth, huge space, three-dimensionality, all that sort of thing.
Then transient information -- fast, clear, sharp attacks, not the smear and thickness so common to these LPs.
Tight punchy bass -- which ties in with good transient information, also the issue of frequency extension further down.
Next: transparency -- the quality that allows you to hear deep into the soundfield, showing you the space and air around all the instruments.
Extend the top and bottom and voila, you have The Real Thing -- an honest to goodness Hot Stamper.
Music Does the Driving
As a budding audiophile, I went out of my way to acquire any piece of equipment that could make these records from the '70s (the decade of my formative music-buying years) sound better than the gear I was then using. It's the challenging recordings by Crosby, Stills, Nash and Young, as well as scores of other pop and rock artists like them, that drove my pursuit of higher quality audio, starting all the way back in high school.
And here I am -- here we are -- still at it, almost 50 years later, because the music still sounds fresh and original, and the pressings that we find get better and better with each passing year.
That kind of progress is proof that we're doing it right. It's a good test for any audiophile. If you are actively and seriously pursuing this hobby, perhaps as many as nine out of ten non-audiophile pressings in your collection should sound better with each passing year. As your stereo improves, not to mention your critical listening skills, the shortcomings of some will be revealed, but for the most part, vintage pressings should sound better each time you play them with continual refinements and improvements to your system, room and cleaning techniques.
That's what makes it fun to play old records: They just keep getting better!
Vinyl Condition
Mint Minus Minus is about as quiet as any vintage pressing will play, and since only the right vintage pressings have any hope of sounding good on this album, that will most often be the playing condition of the copies we sell. (The copies that are even a bit noisier get listed on the site are seriously reduced prices or traded back in to the local record stores we shop at.)
Those of you looking for quiet vinyl will have to settle for the sound of other pressings and Heavy Vinyl reissues, purchased elsewhere of course as we have no interest in selling records that don't have the vintage analog magic of these wonderful recordings.
If you want to make the trade-off between bad sound and quiet surfaces with whatever Heavy Vinyl pressing might be available, well, that's certainly your prerogative, but we can't imagine losing what's good about this music -- the size, the energy, the presence, the clarity, the weight -- just to hear it with less background noise.
Side One
Carry Me
Mama Lion
Bittersweet
Take the Money and Run
Naked in the Rain
Love Work Out
Side Two
Low Down Payment
Cowboy of Dreams
Homeward Through the Haze
Fieldworker
To the Last Whale (Medley)
a. Critical Mass
b. Wind on the Water
AMG 4 Star Review
Wind on the Water's virtues are apparent with the first song, the warm and pensive single "Carry Me." "Homeward Through the Haze," "Low Down Payment," and "Naked in the Rain" are gems that all but sum up their complicated harmonic and melodic style. Besides Crosby & Nash being on their game, the studio players here are impeccable.
Lovers of '70s pop/rock will love to hear players like Danny Kortchmar and David Lindley effortlessly doing their identifiable riffs. James Taylor, Carole King, and Jackson Browne also showed up for these sessions, but do not intrude or overshadow Crosby & Nash... Wind on the Water has an instant classic, lived-in sound and is a definite must-have.