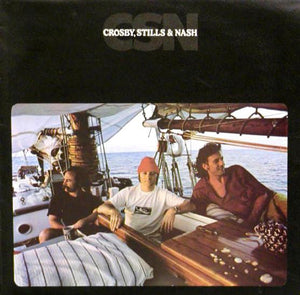 The copy we are selling is similar to the one pictured above.
Sonic Grade
Side One:
Side Two:
Vinyl Grade
Side One: Mint Minus Minus*
Side Two: Mint Minus Minus
Both sides of this early Atlantic pressing have seriously good sound for CS&N's "comeback" album, earning Double Plus (A++) grades
The sound is big and relatively rich, the vocals breathy and immediate, and you will not believe all the space and ambience – which of course are all qualities that Heavy Vinyl records have far too little of, and the main reason we have lost all respect for the bulk of them
Includes CS&N classics "Dark Star," "Just A Song Before I Go," and "Fair Game"
4 stars: "It has held up remarkably well, both as a memento of its time, and as a thoroughly enjoyable musical work."
100% Money Back Guarantee on all Hot Stampers
FREE Domestic Shipping on all LP orders over $150
*NOTE: There is a mark that plays 4 times lightly at the start of track 3 on side 1.
Most copies of CSN are unbelievably flat, harsh, thin and opaque, which means simply that our approach is the only one that offers any hope of success in finding good sound on this album.
With a large enough batch of copies, cleaned using the best fluids, on the best machines, it is possible to find two sides this good. Without a pretty big batch of well-cleaned pressings, your chance of success is hardly worth calculating. Even with the best intentions, frustration is likely to set in long before a Hot Stamper has much chance of being found.
Vintage Analog
This early Atlantic pressing has the kind of Tubey Magical Midrange that modern records cannot even BEGIN to reproduce. Folks, that sound is gone and it sure isn't showing signs of coming back. If you love hearing INTO a recording, actually being able to "see" the performers, and feeling as if you are sitting in the studio with the band, this is the record for you. It's what vintage all analog recordings are known for -- this sound.
If you exclusively play modern repressings of vintage recordings, I can say without fear of contradiction that you have never heard this kind of sound on vinyl. Old records have it -- not often, and certainly not always -- but maybe one out of a hundred new records do, and those are some pretty long odds.
What The Best Sides Of CSN Have To Offer Is Not Hard To Hear
The biggest, most immediate staging in the largest acoustic space
The most Tubey Magic, without which you have almost nothing. CDs give you clean and clear. Only the best vintage vinyl pressings offer the kind of Tubey Magic that was on the tapes in 1977
Tight, note-like, rich, full-bodied bass, with the correct amount of weight down low
Natural tonality in the midrange -- with all the instruments having the correct timbre
Transparency and resolution, critical to hearing into the three-dimensional studio space
No doubt there's more but we hope that should do for now. Playing the record is the only way to hear all of the qualities we discuss above, and playing the best pressings against a pile of other copies under rigorously controlled conditions is the only way to find a pressing that sounds as good as this one does.
Most copies have a tendency to sound dry, so look for one that's rich and full-bodied. Most copies are opaque and flat so look for those with transparency and ambience. Most copies are lean down low and dull up top; try to find the ones with bass and real top-end extension.
And of course you need to find a copy that gets the voices right. CS&N's albums live or die by the quality of their vocals, a subject we have discussed on the site at length.
You think the first CS&N album has problems in the sound department? Of course it does; in 1969 lots of rock records had recording problems. But CSN was released in 1977. By 1977, there were scores of talented rock engineers producing top quality multi-track recordings. Our Top 100 is full of their best work.
One would have thought that CS&N, the ultimate perfectionists (according to their press accounts), would have hired the best and sweated out every detail in the studio in order to produce a recording the equal of Rumours or The Cars debut (even if the songs themselves, to be honest, weren't quite the equal of their earlier work).
Alas, CS&N chose the Albert brothers, whose most famous album is Layla. Can you hear the sound of Layla in your head? That's more or less what this album sounds like. There are better and worse Laylas -- we've done the shootout many times -- and of course, there are better and worse CSNs.
The problem with the sound cannot be "fixed" in the mastering, and here's how we know: on either side, some songs have the breath of life and some don't. That's a recording problem. It sounds like too many generations of tape were used on songs like "Shadow Captain" and "Dark Star," among others.
But "Just a Song Before I Go" on side two can sound wonderful: rich, sweet, present and surrounded by lovely studio ambience.
So we listen for the qualities of a specific song that help us pinpoint what the best do well and the rest do poorly and grade accordingly, on the curve.
Animals will never sound like The Wall. You do the best you can with what you've got.
What We're Listening For On CSN
Energy for starters. What could be more important than the life of the music?
Then: presence and immediacy. The vocals aren't "back there" somewhere, lost in the mix. They're front and center where any recording engineer worth his salt would put them.
The Big Sound comes next -- wall to wall, lots of depth, huge space, three-dimensionality, all that sort of thing.
Then transient information -- fast, clear, sharp attacks, not the smear and thickness so common to these LPs.
Tight punchy bass -- which ties in with good transient information, also the issue of frequency extension further down.
Next: transparency -- the quality that allows you to hear deep into the soundfield, showing you the space and air around all the instruments.
Extend the top and bottom and voila, you have The Real Thing -- an honest to goodness Hot Stamper.
Vinyl Condition
Mint Minus Minus is about as quiet as any vintage pressing will play, and since only the right vintage pressings have any hope of sounding good on this album, that will most often be the playing condition of the copies we sell. (The copies that are even a bit noisier get listed on the site are seriously reduced prices or traded back in to the local record stores we shop at.)
Those of you looking for quiet vinyl will have to settle for the sound of later pressings and Heavy Vinyl reissues, purchased elsewhere of course as we have no interest in selling records that don't have the vintage analog magic that is a key part of the appeal of these wonderful recordings.
If you want to make the trade-off between bad sound and quiet surfaces with whatever Heavy Vinyl pressing might be available, well, that's certainly your prerogative, but we can't imagine losing what's good about this music -- the size, the energy, the presence, the clarity, the weight -- just to hear it with less background noise.
Side One
Shadow Captain
See the Changes
Carried Away
Fair Game
Anything at All
Cathedral
Side Two
Dark Star
Just a Song Before I Go
Run from Tears
Cold Rain
In My Dreams
AMG 4 Star Review
The times had certainly changed since Déjà Vu's release in 1970. Nevertheless, there was a hunger in audiences for a return to the harmony-soaked idealism with which the trio had been catapulted to popularity, and CSN consequently reached number two on the charts, behind Fleetwood Mac's megasuccessful Rumours.
The music here is very good, though probably not up to the hard-to-match level of Crosby, Stills & Nash or Déjà Vu. Still, the songs showed a great deal of lyrical maturity and compositional complexity compared to those earlier albums (from a far more innocent time).
"Just a Song Before I Go" was the latest of Graham Nash's radio-friendly acoustic numbers, and a Top Ten single. "See the Changes" and "Dark Star" ranked with the best of Stephen Stills' work, while David Crosbycontributed three classics from his distinctive oeuvre: "Shadow Captain," "Anything at All," and the beautiful "In My Dreams." Nash's multi-part "Cathedral," a recollection of an acid trip taken in Winchester Cathedral on his 32nd birthday, became a staple of the group's live repertoire.
CSN was the trio's last fully realized album, and also the last recording on which the three principals handled all the vocal parts without the sweetening of additional voices. It has held up remarkably well, both as a memento of its time and as a thoroughly enjoyable musical work.