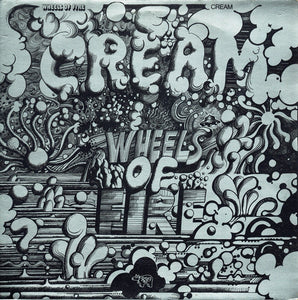 The copy we are selling is similar to the one pictured above.
Sonic Grade
Side One:
Side Two:
Side Three:
Side Four:
Vinyl Grade
Side One: Mint Minus to Mint Minus Minus (close to Mint Minus!)*
Side Two: Mint Minus to Mint Minus Minus (close to Mint Minus!)
Side Three: Mint Minus to Mint Minus Minus (close to Mint Minus!)
Side Four: Mint Minus to Mint Minus Minus (close to Mint Minus!)*
Cream rocks on these vintage UK import pressings with excellent Double Plus (A++) sound or BETTER on all FOUR sides - exceptionally quiet vinyl too
These sides have close to the best condition grade we give out, Mint Minus - there may not be another record on the site with vinyl that quiet!
The power and energy of these live sides is off the charts — punchy, open, and spacious with bass and whomp you have never experienced for this music, guaranteed
Everything you'd want sonically from a live Cream recording is present on this copy – big-time presence, tons of life, tonal correctness, and loads of Tubey Magic
4 stars: "...[Eric] Clapton is at a peak here, whether he's tearing off solos on a 17-minute "Spoonful" or goosing "White Room" toward the heights of madness. But it's the architect of "White Room," bassist Jack Bruce, who, along with his collaborator Peter Brown, reaches a peak as a songwriter.... [I]n many ways Wheels of Fire is indeed filled with Cream's very best work,
100% Money Back Guarantee on all Hot Stampers
FREE Domestic Shipping on all LP orders over $150
*NOTE: On side 1, there is a mark that plays 4 times lightly at the start of track 1. On side 4, there is a mark that plays intermittently at a light to moderate level for approx. 45 seconds at the start of track 1, "Train Time."
---
It's exceptionally difficult to find even decent sounding copies of this album. We've played scores of original domestic copies, original imports, and all kinds of reissues over the years, and it's very rare to find a copy that sounds this good on all four sides.
These vintage RSO pressings have the kind of Tubey Magical Midrange that modern records can barely BEGIN to reproduce. Folks, that sound is gone and it sure isn't showing signs of coming back. If you love hearing INTO a recording, actually being able to "see" the performers, and feeling as if you are sitting in the studio with the band, these are the records for you. It's what vintage all analog recordings are known for -- this sound.
If you exclusively play modern repressings of vintage recordings, I can say without fear of contradiction that you have never heard this kind of sound on vinyl. Old records have it -- not often, and certainly not always -- but maybe one out of a hundred new records do, and those are some pretty long odds.
What The Best Sides Of Wheels of Fire Have To Offer Is Not Hard To Hear
The biggest, most immediate staging in the largest acoustic space
The most Tubey Magic, without which you have almost nothing. CDs give you clean and clear. Only the best vintage vinyl pressings offer the kind of Tubey Magic that was on the tapes in 1968
Tight, note-like, rich, full-bodied bass, with the correct amount of weight down low
Natural tonality in the midrange -- with all the instruments having the correct timbre
Transparency and resolution, critical to hearing into the three-dimensional studio space
No doubt there's more but we hope that should do for now. Playing these records are the only way to hear all of the qualities we discuss above, and playing the best pressings against a pile of other copies under rigorously controlled conditions is the only way to find pressings that sound as good as these two do.
Where's the Bass?
First of all, most early pressings you find these days are thrashed beyond belief. We've been picking up every clean Plum & Gold label copy we've seen for years. Unfortunately, the Cream magic seems to be missing from the early domestic pressings. The problem is simple: a glaring lack of bass.
Let's think about that. Cream is a power trio. The music absolutely demands a solid bottom end. Sacrifice the bass, and the sound is just too lean to work. We can sum up the sound of the whomp-less copies in a word: fatiguing. Some copies sounded better than others, but none gave us the kind of bass that we were hoping for.
And Then There Was Whomp...
We had pretty much given up hope on ever hearing this album sounding better than decent -- until we dropped the needle on this bad boy. From the moment the needle hit the grooves, we heard bottom-end information that was completely lost on the other copies we played. There was actual deep bass -- but that wasn't all. The drums were punchier, with dramatically more power. The guitar was tubey magical beyond belief, yet still clear and crisp. Here was the Wheels Of Fire sound we had been looking for.
What We're Listening For On Wheels of Fire
Energy for starters. What could be more important than the life of the music?
Then: presence and immediacy. The vocals aren't "back there" somewhere, lost in the mix. They're front and center where any recording engineer worth his salt would put them.
The Big Sound comes next -- wall to wall, lots of depth, huge space, three-dimensionality, all that sort of thing.
Then transient information -- fast, clear, sharp attacks, not the smear and thickness so common to these LPs.
Tight punchy bass -- which ties in with good transient information, also the issue of frequency extension further down.
Next: transparency -- the quality that allows you to hear deep into the soundfield, showing you the space and air around all the instruments.
Extend the top and bottom and voila, you have The Real Thing -- an honest to goodness Hot Stamper.
Power Trio Magic!
When you get an amazing copy like this one, this music is awesome! For '60s power trio hard rock, you just can't do much better than the studio material. "White Room," "Sitting On Top Of The World," "Politician," "Born Under A Bad Sign" -- this is the very essence of bluesy classic rock. Unfortunately, the typical copy barely hints at the magic of this recording, and the audiophile pressings are even worse. If you want to hear this album sound amazing, a Hot Stamper pressing like this one is the only way to go.
Vinyl Condition
Mint Minus Minus and maybe a bit better is about as quiet as any vintage pressing will play, and since only the right vintage pressings have any hope of sounding good on this album, that will most often be the playing condition of the copies we sell. (The copies that are even a bit noisier get listed on the site are seriously reduced prices or traded back in to the local record stores we shop at.)
Those of you looking for quiet vinyl will have to settle for the sound of other pressings and Heavy Vinyl reissues, purchased elsewhere of course as we have no interest in selling records that don't have the vintage analog magic of these wonderful recordings.
If you want to make the trade-off between bad sound and quiet surfaces with whatever Heavy Vinyl pressing might be available, well, that's certainly your prerogative, but we can't imagine losing what's good about this music -- the size, the energy, the presence, the clarity, the weight -- just to hear it with less background noise.
A Must Own Rock Record
Wheels of Fire is a recording that should be part of any serious Rock Collection. Others that belong in that category can be found here.
Side One
White Room
Sitting On The Top Of The World
Passing The Time
As You Said
Side Two
Pressed Rat And Warthog
Politician
Those Where The Days
Born Under A Bad Sign
Deserted Cities Of The Heart
Side Three
Side Four
AMG 4 Star Review
If Disraeli Gears was the album where Cream came into their own, its successor, Wheels of Fire, finds the trio in full fight, capturing every side of their multi-faceted personality, even hinting at the internal pressures that soon would tear the band asunder.
A dense, unwieldy double album split into an LP of new studio material and an LP of live material, it's sprawling and scattered, at once awesome in its achievement and maddening in how it falls just short of greatness. It misses its goal not because one LP works and the other doesn't, but because both the live and studio sets suffer from strikingly similar flaws, deriving from the constant power struggle between the trio. Of the three, Ginger Baker comes up short, contributing the passable "Passing the Time" and "Those Were the Days," which are overshadowed by how he extends his solo drum showcase "Toad" to a numbing quarter of an hour and trips upon the Wind & the Willows whimsy of "Pressed Rat and Warthog," whose studied eccentricity pales next to Eric Clapton's nimble, eerily cheerful "Anyone for Tennis."
In almost every regard, Wheels of Fire is a terrific showcase for Clapton as a guitarist, especially on the first side of the live album with "Crossroads," a mighty encapsulation of all of his strengths. Some of that is studio trickery, as producer Felix Pappalardi cut together the best bits of a winding improvisation to a tight four minutes, giving this track a relentless momentum that's exceptionally exciting, but there's no denying that Clapton is at a peak here, whether he's tearing off solos on a 17-minute "Spoonful" or goosing "White Room" toward the heights of madness.
But it's the architect of "White Room," bassist Jack Bruce, who, along with his collaborator Peter Brown, reaches a peak as a songwriter. Aside from the monumental "White Room," he has the lovely, wistful "As You Said," the cinematic "Deserted Cities of the Heart," and the slow, cynical blues "Politician," all among Cream's very best work. And in many ways Wheels of Fire is indeed filled with Cream's very best work, since it also captures the fury and invention (and indulgence) of the band at its peak on the stage and in the studio, but as it tries to find a delicate balance between these three titanic egos, it doesn't quite add up to something greater than the sum of its parts. But taken alone, those individual parts are often quite tremendous.