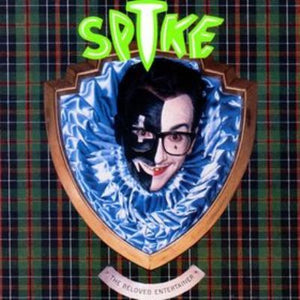 The copy we are selling is similar to the one pictured above.
Sonic Grade
Side One:
Side Two:
Vinyl Grade
Side One: Mint Minus Minus (often quieter than this grade)
Side Two: Mint Minus Minus (often quieter than this grade)
Boasting excellent Double Plus (A++) sound from start to finish, this copy will be very hard to beat - fairly quiet vinyl too
This early import pressing showed us a Spike we never knew existed - there was so much energy and presence that it just came jumping out of the speakers and simply refused to mind its manners. Elvis should be proud. Why don't more records sound like this?
"Any King's Shilling" on side two, with its authentic Irish instrumentation (fiddle, uilleann pipes, Irish harp, bodhran), has Demo Disc Quality sound of the highest order
One of the best batches of songs Elvis (and his buddy Paul McCartney) ever wrote - the combination of such good sound and such good music makes this the last of the great Elvis records from an audiophile perspective
100% Money Back Guarantee on all Hot Stampers
FREE Domestic Shipping on all LP orders over $150
This vintage pressing has the kind of Tubey Magical Midrange that modern records can barely BEGIN to reproduce. Folks, that sound is gone and it sure isn't showing signs of coming back. If you love hearing INTO a recording, actually being able to "see" the performers, and feeling as if you are sitting in the studio with the band, this is the record for you. It's what vintage all analog recordings are known for -- this sound.
If you exclusively play modern repressings of vintage recordings, I can say without fear of contradiction that you have never heard this kind of sound on vinyl. Old records have it -- not often, and certainly not always -- but maybe one out of a hundred new records do, and those are some pretty long odds.
Of course the sad truth of the matter is that most copies of this album don't sound like this one! The same old problems rear their ugly heads again and again in these shootouts: sound that's veiled, lacking presence; smeared; a lack of top or bottom end; a loss of transparency -- the list of faults of so many records we play doesn't change all that much from title to title.
But one like this makes you really sit up and take notice. These songs come to life here in a very big way. As we mentioned above, from an audiophile perspective, the combination of stunning sound and music makes this the last of the great Elvis records. You need this record. No collection is complete without it.
The The Best Sides Of Spike Have To Offer Is Not Hard To Hear
The biggest, most immediate staging in the largest acoustic space
The most Tubey Magic, without which you have almost nothing. CDs give you clean and clear. Only the best vintage vinyl pressings offer the kind of Tubey Magic that was on the tapes even as late as 1989
Tight, note-like, rich, full-bodied bass, with the correct amount of weight down low
Natural tonality in the midrange -- with all the instruments having the correct timbre
Transparency and resolution, critical to hearing into the three-dimensional studio space
No doubt there's more but we hope that should do for now. Playing the record is the only way to hear all of the qualities we discuss above, and playing the best pressings against a pile of other copies under rigorously controlled conditions is the only way to find a pressing that sounds as good as this one does.
Some reviewers think that this sprawling album with widely diverse musical styles lacks focus, but that's precisely what makes it a work of genius. Elvis Costello tries his hand at every style of pop music he can think of and succeeds brilliantly with each and every one of them. This is one of the few compelling albums of the '80s. I still play mine regularly on CD in the car.
Demo Disc Sound
"Any King's Shilling" on side two, with its authentic Irish instrumentation (fiddle, uilleann pipes, Irish harp, bodhran), has Demo Disc Quality sound of the highest order. Another song on side two with top audiophile recording quality was "Satellite." (For those of you who know Jellyfish, this has to be where they found some of the sound they would put to such good use on Bellybutton and Spilt Milk a few years later.
One side one, "God's Comic" is Demo Quality -- so rich and natural. Where has this kind of sound gone? The way of the Dodo, baby, and it ain't coming back. Mitchell Froom, the man who gave Crowded House such a polished pop sound, plays some wonderful keyboards here and elsewhere on the album. He's joined by a slough of notables. Elvis searched far and wide for this group and managed to find top players for every position on his team. The musicianship is top drawer all the way. Elvis obviously knows talent when he hears it.
What We're Listening For On Spike
Energy for starters. What could be more important than the life of the music?
Then: presence and immediacy. The vocals aren't "back there" somewhere, lost in the mix. They're front and center where any recording engineer worth his salt would put them.
The Big Sound comes next -- wall to wall, lots of depth, huge space, three-dimensionality, all that sort of thing.
Then transient information -- fast, clear, sharp attacks, not the smear and thickness so common to these LPs.
Tight punchy bass -- which ties in with good transient information, also the issue of frequency extension further down.
Next: transparency -- the quality that allows you to hear deep into the soundfield, showing you the space and air around all the instruments.
Extend the top and bottom and voila, you have The Real Thing -- an honest to goodness Hot Stamper.
Vinyl Condition
Mint Minus Minus is about as quiet as any vintage pressing will play, and since only the right vintage pressings have any hope of sounding good on this album, that will most often be the playing condition of the copies we sell. (The copies that are even a bit noisier get listed on the site are seriously reduced prices or traded back in to the local record stores we shop at.)
Those of you looking for quiet vinyl will have to settle for the sound of other pressings and Heavy Vinyl reissues, purchased elsewhere of course as we have no interest in selling records that don't have the vintage analog magic of these wonderful recordings.
If you want to make the trade-off between bad sound and quiet surfaces with whatever Heavy Vinyl pressing might be available, well, that's certainly your prerogative, but we can't imagine losing what's good about this music -- the size, the energy, the presence, the clarity, the weight -- just to hear it with less background noise.
Side One
...This Town...
Let Him Dangle
Deep Dark Truthful Mirror
Veronica
God's Comic
Chewing Gum
Tramp the Dirt Down
Side Two
Stalin Malone
Satellite
Pads, Paws and Claws
Baby Plays Around
Miss Macbeth
Any King's Shilling

This is one of the best sounding tracks Elvis Costello ever recorded. It represents the best of traditional English Folk music, the kind that was so well recorded by groups like Fairport Convention and Pentangle. Amazingly open, spacious, natural and fully present sound.

Coal-Train Robberies
Last Boat Leaving
AMG Review
Following a pair of near-masterpieces in 1986, Elvis Costello went into semi-seclusion, separating from the Attractions (once again) and Columbia Records, emerging three years later on Warner Brothers with Spike. Mockingly billing himself as "the Beloved Entertainer" on the album's front cover, there's nevertheless a real sense of showbiz pizzazz here, as he tries on a little bit of everything.
You like Costello the soul singer? Try "Deep Dark Truthful Mirror," recorded with the Dirty Dozen Brass Band. Costello the pop sophisticate? How about the torch song "Baby Plays Around" or "God's Comic," a tune that mocks Andrew Lloyd Webber, while aching to eclipse him. The angry young man? There's "Tramp the Dirt Down," perhaps the nastiest anti-Thatcher song ever waxed. Costello the witty wordsmith? Well, there's "Pads, Paws and Claws," a rockabilly tune overflowing with labored puns. Costello the gifted pure pop tunesmith? There's plenty of that here, from "This Town" with Roger McGuinn and Paul McCartney and the lovely "Veronica," a tune co-written with McCartney that became one of his biggest hits.
So, there's a lot here -- everything except focus, actually. And Costello certainly likes to indulge himself here, throwing in the awkward "Chewing Gum" and the instrumental "Stalin Malone" for good measure. There are some moments that work quite well, but there's nothing connecting them, and if anything, he's trying way too hard -- and, for all of the overarching ambition of his early-'80s recordings, that criticism never applied before. Certainly, there are cuts for cultists to enjoy, but Spike's sprawl works against it, resulting in a maddeningly diffuse listen.