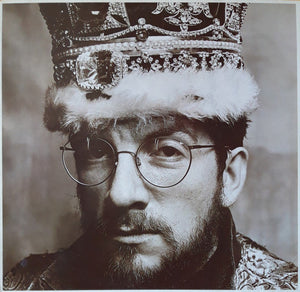 The copy we are selling is similar to the one pictured above.
Sonic Grade
Side One:
Side Two:
Vinyl Grade
Side One: Mint Minus Minus
Side Two: Mint Minus Minus
Boasting excellent Double Plus (A++) grades from top to bottom, this F-Beat import pressing was giving us the sound we were looking for on Elvis's brilliant 1986 release
Both sides are clean, clear, and lively with plenty of bottom end and lots of space around all of the instruments
Nina Simone's "Don't Let Me Be Misunderstood" is only one highlight among many – these are some of his best songs
4 1/2 stars: "Stripping away much of the excess that cluttered Punch the Clock and Goodbye Cruel World, Elvis Costello returned to his folk-rock and pub rock roots with King of America, creating one of his most affecting and personal records … one of his masterpieces."
More Elvis Costello / More Records We Sell Only on Import Vinyl
100% Money Back Guarantee on all Hot Stampers
FREE Domestic Shipping on all LP orders over $150
Even though the album was recorded right here in the states, the domestic copies are clearly made from dubs, sounding quite a bit more opaque, vague, closed-in, flat and dry than most of the British pressings we played. Like most Costello albums on domestic vinyl, they should be avoided.
Of course I and all my friends, at least the ones who were into Elvis at the time, had a copy with exactly this kind of mediocre sound and we liked it just fine. Now, thirty-seven years on, I couldn't sit through that kind of sound with a gun to my head.
Setting higher standards for yourself -- consciously or unconsciously, the process works both ways -- is an important aspect of becoming a more critical listener. Many of the Heavy Vinyl audiophile remasters sound "opaque, vague, closed-in, flat and dry" next to the best Hot Stamper pressings, but if you've never heard one, how would you know what you're missing?
This vintage F-Beat import pressing has the kind of Tubey Magical Midrange that modern records can barely BEGIN to reproduce. Folks, that sound is gone and it sure isn't showing signs of coming back. If you love hearing INTO a recording, actually being able to "see" the performers, and feeling as if you are sitting in the studio with the band, this is the record for you. It's what vintage all analog recordings are known for -- this sound.
If you exclusively play modern repressings of vintage recordings, I can say without fear of contradiction that you have never heard this kind of sound on vinyl. Old records have it -- not often, and certainly not always -- but maybe one out of a hundred new records do, and those are some pretty long odds.
What The Best Sides Of King of America Have To Offer Is Not Hard To Hear
The biggest, most immediate staging in the largest acoustic space
The most Tubey Magic, without which you have almost nothing. CDs give you clean and clear. Only the best vintage vinyl pressings offer the kind of Tubey Magic that was on the tapes even as late as 1986
Tight, note-like, rich, full-bodied bass, with the correct amount of weight down low
Natural tonality in the midrange -- with all the instruments having the correct timbre
Transparency and resolution, critical to hearing into the three-dimensional studio space
No doubt there's more but we hope that should do for now. Playing the record is the only way to hear all of the qualities we discuss above, and playing the best pressings against a pile of other copies under rigorously controlled conditions is the only way to find a pressing that sounds as good as this one does.
What We're Listening For On King of America
Energy for starters. What could be more important than the life of the music?
Then: presence and immediacy. The vocals aren't "back there" somewhere, lost in the mix. They're front and center where any recording engineer worth his salt would put them.
The Big Sound comes next -- wall to wall, lots of depth, huge space, three-dimensionality, all that sort of thing.
Then transient information -- fast, clear, sharp attacks, not the smear and thickness so common to these LPs.
Tight punchy bass -- which ties in with good transient information, also the issue of frequency extension further down.
Next: transparency -- the quality that allows you to hear deep into the soundfield, showing you the space and air around all the instruments.
Extend the top and bottom and voila, you have The Real Thing -- an honest to goodness Hot Stamper.
Vinyl Condition
Mint Minus Minus and maybe a bit better is about as quiet as any vintage pressing will play, and since only the right vintage pressings have any hope of sounding good on this album, that will most often be the playing condition of the copies we sell. (The copies that are even a bit noisier get listed on the site are seriously reduced prices or traded back in to the local record stores we shop at.)
Those of you looking for quiet vinyl will have to settle for the sound of other pressings and Heavy Vinyl reissues, purchased elsewhere of course as we have no interest in selling records that don't have the vintage analog magic of these wonderful recordings.
If you want to make the trade-off between bad sound and quiet surfaces with whatever Heavy Vinyl pressing might be available, well, that's certainly your prerogative, but we can't imagine losing what's good about this music -- the size, the energy, the presence, the clarity, the weight -- just to hear it with less background noise.
Side One
Brilliant Mistake
Lovable
Our Little Angel
Don't Let Me Be Misunderstood
Glitter Gulch
Indoor Fireworks
Little Palaces
I'll Wear It Proudly
Side Two
American Without Tears
Eisenhower Blues
Poisoned Rose
The Big Light
Jack Of All Parades
Suit Of Lights
Sleep Of The Just
AMG 4 1/2 Star Review
Stripping away much of the excess that cluttered Punch the Clock and Goodbye Cruel World, Elvis Costello returned to his folk-rock and pub rock roots with King of America, creating one of his most affecting and personal records.
Costello literally took on the album as a return to roots, billing himself by his given name Declan MacManus and replacing the Attractions with a bunch of L.A. session men (although his old band appears on one cut), who give the album a rootsy but sleek veneer that sounds remarkably charged after the polished affectations of his Langer/Winstanley productions.
And not only does the music sound alive, but so do his songs, arguably his best overall set since Trust. Working inside the limits of country, folk, and blues, Costello writes literate, introspective tales of loss, heartbreak, and America that are surprisingly moving — he rarely got better than "Brilliant Mistake," "Glitter Gulch," "American Without Tears," "Big Light," and "Indoor Fireworks."
What separates King of America from the underrated Almost Blue is that Costello's country now sounds lived-in and worn, bringing a new emotional depth to the music, and that helps make it one of his masterpieces.
Background
During late 1984 and early 1985, Costello undertook a series of solo tours, sharing the bill with musician T-Bone Burnett. Costello and Burnett recorded a single together in early 1985, and ventured to imagine appropriate backing musicians for Costello's new songs. They booked time at Ocean Way and Sunset Sound studios in Los Angeles, and assembled members of the TCB Band who had backed Elvis Presley in the 1970s (Costello being more familiar with their work on records by Gram Parsons and Emmylou Harris).
Other sessions included the jazz bassist Ray Brown and New Orleans drummer Earl Palmer, and a group of musicians dubbed 'the Confederates,' featuring T-Bone Wolk, Mickey Curry, and producer Mitchell Froom. Elvis's usual backing musicians the Attractions appear on only one track, "Suit of Lights", but returned to record in full Costello's next album, Blood & Chocolate.
In the album credits, Costello uses three different noms de plume for himself: his given name of Declan MacManus; his stage name of Elvis Costello; and the nickname awarded him by producer Nick Lowe earlier in his career; the Little Hands of Concrete, the last being a reference to his habitual breaking of guitar strings during recording sessions.
The version of the 1964 song by Nina Simone "Don't Let Me Be Misunderstood" was released a single, and peaked at #33 on the UK singles chart.
--Wikipedia