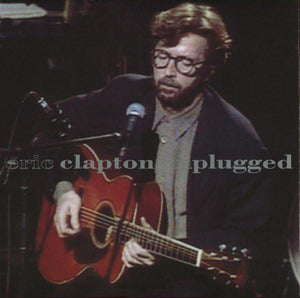 The copy we are selling is similar to the one pictured above.
Sonic Grade
Side One:
Side Two:
Vinyl Grade
Side One: Mint Minus to Mint Minus Minus*
Side Two: Mint Minus to Mint Minus Minus
With STUNNING Shootout Winning Triple Plus (A+++) grades or close to them on both sides, this vintage Reprise pressing is one of the BEST we have ever heard - exceptionally quiet vinyl too
The sound of this superb import is rich, full-bodied, lively, and warm, with solid bass and breathy, clear vocals
There are a number of records that Eric Clapton has made over the years that are Must Own titles, and we would have no problem putting this album on that list
Consistency has never been the man's strong suit, but you will simply not be able to find a bad track on this live album from 1992
Marks in the vinyl are sometimes the nature of the beast with these vintage LPs - there simply is no way around them if the superior sound of vintage analog is important to you
4 1/2 stars: "Unplugged is the concert and album that established the MTV program as a classy, tony showcase for artists eager to redefine themselves via reexamination of their catalogs, which is what Clapton cannily did here."
100% Money Back Guarantee on all Hot Stampers
FREE Domestic Shipping on all LP orders over $150
*NOTE: There is a mark that plays 10 times lightly at the start of track 3 on side 1, "Hey Hey." There is another mark that plays 25 times lightly at the start of track 4, "Tears In Heaven."
This vintage Reprise import pressing has the kind of Tubey Magical Midrange that modern records can barely BEGIN to reproduce. Folks, that sound is gone and it sure isn't showing signs of coming back. If you love hearing INTO a recording, actually being able to "see" the performers, and feeling as if you are sitting in the studio with the band, this is the record for you. It's what vintage all analog recordings are known for -- this sound.
If you exclusively play modern repressings of vintage recordings, I can say without fear of contradiction that you have never heard this kind of sound on vinyl. Old records have it -- not often, and certainly not always -- but maybe one out of a hundred new records do, and those are some pretty long odds.
What The Best Sides Of Unplugged Have To Offer Is Not Hard To Hear
The biggest, most immediate staging in the largest acoustic space
The most Tubey Magic, without which you have almost nothing. CDs give you clean and clear. Only the best vintage vinyl pressings offer the kind of Tubey Magic that was on the tapes even as late as 1992
Tight, note-like, rich, full-bodied bass, with the correct amount of weight down low
Natural tonality in the midrange -- with all the instruments having the correct timbre
Transparency and resolution, critical to hearing into the three-dimensional studio space
No doubt there's more but we hope that should do for now. Playing the record is the only way to hear all of the qualities we discuss above, and playing the best pressings against a pile of other copies under rigorously controlled conditions is the only way to find a pressing that sounds as good as this one does.
Pop and Rock Shootouts
What are the sonic qualities by which a Pop or Rock record -- any Pop or Rock record -- should be judged?
Pretty much the ones we discuss in most of our Hot Stamper listings: energy, vocal presence, frequency extension (on both ends), transparency, spaciousness, harmonic textures (freedom from smear is key), rhythmic drive, tonal correctness, fullness, richness, three-dimensionality, and on and on down the list.
When we can get a number of these qualities to come together on the side we're playing, we provisionally give it a ballpark Hot Stamper grade, a grade that is often revised during the shootout as we hear what the other copies are doing, both good and bad.
Once we've been through all the side ones, we play the best of the best against each other and arrive at a winner for that side. Other copies from earlier in the shootout will frequently have their grades raised or lowered based on how they sounded compared to the eventual shootout winner. If we're not sure about any pressing, perhaps because we played it early on in the shootout before we had learned what to listen for, we take the time to play it again.
Repeat the process for side two and the shootout is officially over. All that's left is to see how the sides of each pressing match up.
It may not be rocket science, but it's a science of a kind, one with strict protocols that we've developed over the course of many years to insure that the results we arrive at are as accurate as we can make them.
The result of all our work speaks for itself, on this very record in fact. We guarantee you have never heard this music sound better than it does on our Hot Stamper pressing -- or your money back.
What We're Listening For On Unplugged
Energy for starters. What could be more important than the life of the music?
Then: presence and immediacy. The vocals aren't "back there" somewhere, lost in the mix. They're front and center where any recording engineer worth his salt would put them.
The Big Sound comes next -- wall to wall, lots of depth, huge space, three-dimensionality, all that sort of thing.
Then transient information -- fast, clear, sharp attacks, not the smear and thickness so common to these LPs.
Tight punchy bass -- which ties in with good transient information, also the issue of frequency extension further down.
Next: transparency -- the quality that allows you to hear deep into the soundfield, showing you the space and air around all the instruments.
Extend the top and bottom and voila, you have The Real Thing -- an honest to goodness Hot Stamper.
Vinyl Condition
Mint Minus Minus and maybe a bit better is about as quiet as any vintage pressing will play, and since only the right vintage pressings have any hope of sounding good on this album, that will most often be the playing condition of the copies we sell. (The copies that are even a bit noisier get listed on the site are seriously reduced prices or traded back in to the local record stores we shop at.)
Those of you looking for quiet vinyl will have to settle for the sound of other pressings and Heavy Vinyl reissues, purchased elsewhere of course as we have no interest in selling records that don't have the vintage analog magic of these wonderful recordings.
If you want to make the trade-off between bad sound and quiet surfaces with whatever Heavy Vinyl pressing might be available, well, that's certainly your prerogative, but we can't imagine losing what's good about this music -- the size, the energy, the presence, the clarity, the weight -- just to hear it with less background noise.
A Must Own Record, from 1992 No Less
We consider this Eric Clapton album a latter day Masterpiece. It's a recording that should be part of any serious Popular Music Collection.
Others that belong in that category can be found here.
Side One
Signe
Before You Accuse Me
Hey Hey
Tears In Heaven
Lonely Stranger
Nobody Knows You When You're Down & Out
Layla
Side Two
Running On Faith
Walkin' Blues
Alberta
San Francisco Bay Blues
Malted Milk
Old Love
AMG 4 1/2 Star Review
Its massive success -- it is one of the rare albums to be certified as diamond in the U.S. and it went platinum all over the world; it also won the Album of the Year Grammy for 1992 -- makes it difficult to place Eric Clapton's 1992 MTV Unplugged in context, but it's important to do so. It arrived three years into MTV Unplugged's run -- 1989 also being the year Clapton stirred artistically with the assured AOR of Journeyman -- and a year after Paul McCartney established the practice of an official album release of an Unplugged session with his own Unplugged (The Official Bootleg).
The album's hit was a slow crawl through Derek & the Dominos' "Layla," turning that anguished howl of pain into a cozy shuffle and the whole album proceeds at a similar amiable gait, taking its time and enjoying detours into old blues standards. Clapton is embracing his middle age and the pleasure of Unplugged is to hear him opt out of the pop star game as he plays songs he's always loved. Tellingly, it's these blues and folk covers -- Jesse Fuller's "San Francisco Bay Blues," Big Bill Broonzy's "Hey Hey," the standard "Alberta," Muddy Waters' "Rollin' and Tumblin'," two songs from Robert Johnson ("Walkin' Blues," "Malted Milk") -- that are the best performances here; they're alternately lively and relaxed, Clapton happily conforming to the contours of the compositions.
These capture a moment in time, when EC was settling into his age by reconnecting with the past, whereas the originals -- whether it's the revised versions of "Layla" and "Old Love," "Tears in Heaven," or the debut of "My Father's Eyes," originally heard here (and on the 2013 expanded anniversary edition) but released as a single much later in the decade -- point forward to the sharply tailored adult contemporary crooner of the '90s, one who turned out to be very comfortable existing in a world of high thread counts and designer duds.
These are the tunes that belong to the '90s -- and several of these also appear on the 2013 expansion, which contains songs that didn't appear on the album, almost all of which are originals apart from an alternate "Walkin' Blues" and "Worried Life Blues" -- but the rest of MTV Unplugged manages to transcend its time because it does cut to the quick of Clapton's musical DNA.