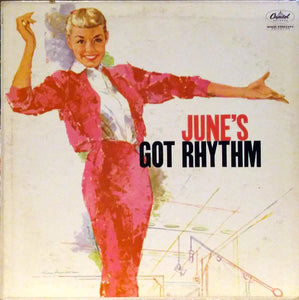 The copy we are selling is similar to the one pictured above.
Sonic Grade
Side One:
Side Two:
Vinyl Grade
Side One: Mint Minus Minus
Side Two: Mint Minus Minus
With outstanding Double Plus (A++) MONO sound or close to it on both sides, this early Capitol pressing was doing just about everything right
This copy will teleport a living, breathing June Christy directly into your listening room like no album of hers you have ever heard
Rich, smooth, sweet, full of ambience, dead on correct tonality, and wonderfully breathy vocals (particularly on side two) - everything that we listen for in a great record is here
4 stars: "Christy excels on a jazz-oriented set with a nonet that includes trumpeter Ed Leddy, trombonist Frank Rosolino and her husband Bob Cooper (who arranged the set) on tenor and oboe."
100% Money Back Guarantee on all Hot Stampers
FREE Domestic Shipping on all LP orders over $150
Vintage covers for this album are hard to find in exceptionally clean shape. Most of the will have at least some amount of ringwear, seam wear and edge wear. We guarantee that the cover we supply with this Hot Stamper is at least VG
---
This vintage Mono Capitol LP from 1958 has superb sound on both sides and some of the best June Christy music we've ever had the pleasure to play. Just listen to the piano on "Gypsy In My Soul"; it's rich, warm and full-bodied. You'll never hear an RVG recording with a piano that sounds like that. On side two drop the needle on "Easy Living" to get a taste of some of Capitol's luscious Tubey Magical midrange.
Musically this album is right up there with the best we know, the creme de la creme of female vocal recordings, albums on the level of Clap Hands and Something Cool and Lady in Satin.
Backed by an intimate combo of star jazzmen, June swings a set of fresh songs in an eventful album that sings out to the whole world that she has, indeed, got rhythm.
For an album of warm, breathy, intimate female vocals, it really doesn't get much better than this.
If you exclusively play modern repressings of vintage recordings, I can say without fear of contradiction that you have never heard this kind of sound on vinyl. Old records have it -- not often, and certainly not always -- but maybe one out of a hundred new records do, and those are some pretty long odds.
What The Best Sides Of June's Got Rhythm Have To Offer Is Not Hard To Hear
The biggest, most immediate staging in the largest acoustic space
The most Tubey Magic, without which you have almost nothing. CDs give you clean and clear. Only the best vintage vinyl pressings offer the kind of Tubey Magic that was on the tapes in 1958
Tight, note-like, rich, full-bodied bass, with the correct amount of weight down low
Natural tonality in the midrange -- with all the instruments having the correct timbre
Transparency and resolution, critical to hearing into the three-dimensional studio space
No doubt there's more but we hope that should do for now. Playing the record is the only way to hear all of the qualities we discuss above, and playing the best pressings against a pile of other copies under rigorously controlled conditions is the only way to find a pressing that sounds as good as this one does.
Copies with rich lower mids and nice extension up top did the best in our shootout, assuming they weren't veiled or smeary of course. So many things can go wrong on a record! We know, we've heard them all.
Top end extension is critical to the sound of the best copies. Lots of old records (and new ones) have no real top end; consequently, the studio or stage will be missing much of its natural air and space, and instruments will lack their full complement of harmonic information.
Tube smear is common to most vintage pressings. The copies that tend to do the best in a shootout will have the least (or none), yet are full-bodied, tubey and rich.
What We're Listening For On June's Got Rhythm
Energy for starters. What could be more important than the life of the music?
The Big Sound comes next -- wall to wall, lots of depth, huge space, three-dimensionality, all that sort of thing.
Then transient information -- fast, clear, sharp attacks, not the smear and thickness so common to these LPs.
Tight note-like bass -- which ties in with good transient information, also the issue of frequency extension further down.
Next: transparency -- the quality that allows you to hear deep into the soundfield, showing you the space and air around all the instruments.
Extend the top and bottom and voila, you have The Real Thing -- an honest to goodness Hot Stamper.
More of What We're Listening For
We had the best luck with copies that were warm and rich yet clear, and not too dry or harsh when June decides to really belt it out. Practically no copies did not have at least some grit, dryness or harshness on June's vocals at some point.
The amount of transparency varied dramatically from copy to copy. Transparency is the quality that allows you to hear into a recording; the ambience and subtle musical cues and details that high-resolution analog is famous for are reproduced clearly. (Note that most Heavy Vinyl pressings being made these days seem to be severely Transparency Challenged. Lots of important musical information -- the kind we hear on even second-rate regular pressings -- is simply missing.)
Vinyl Condition
Mint Minus Minus and maybe a bit better is about as quiet as any vintage pressing will play, and since only the right vintage pressings have any hope of sounding good on this album, that will most often be the playing condition of the copies we sell. (The copies that are even a bit noisier get listed on the site are seriously reduced prices or traded back in to the local record stores we shop at.)
Those of you looking for quiet vinyl will have to settle for the sound of other pressings and Heavy Vinyl reissues, purchased elsewhere of course as we have no interest in selling records that don't have the vintage analog magic of these wonderful recordings.
If you want to make the trade-off between bad sound and quiet surfaces with whatever Heavy Vinyl pressing might be available, well, that's certainly your prerogative, but we can't imagine losing what's good about this music -- the size, the energy, the presence, the clarity, the weight -- just to hear it with less background noise.
Side One
Rock Me To Sleep
Gypsy In My Soul
I'm Glad There Is You
They Can't Take That Away From Me
It Don't Mean A Thing
My One And Only Love
Side Two
When Lights Are Low
I Can Make You Love Me (If You Let Me)
Easy Living
Blue Moon
All God's Chillun Got Rhythm
AMG 4 Star Review
Many of singer June Christy's popular Capitol albums feature her cool-toned vocals backed by an orchestra. This recording is an exception. Christy excels on a jazz-oriented set with a nonet that includes trumpeter Ed Leddy, trombonist Frank Rosolino and her husband Bob Cooper (who arranged the set) on tenor and oboe. Christy accurately called this music "intimate swing."
Her versions of such songs as "I'm Glad There Is You," "My One and Only Love," "When Lights Are Low" and "Blue Moon" are tasteful, sincere and often quite memorable.