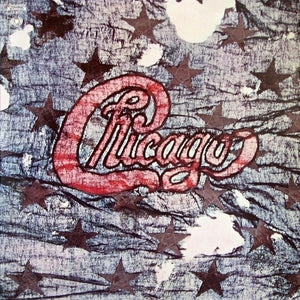 The copy we are selling is similar to the one pictured above.
Sonic Grade
Side One:
Side Two:
Side Three:
Side Four:
Vinyl Grade
Side One: Mint Minus Minus*
Side Two: Mint Minus Minus
Side Three: Mint Minus Minus*
Side Four: Mint Minus Minus
Boasting KILLER Shootout Winning Triple Plus (A+++) grades or close to them on sides one and four, and outstanding Double Plus (A++) grades on sides two and three, this copy of Chicago's third album will be very hard to beat
The sound is lively, punchy, and powerful - with all due respect, it should MURDER whatever copies you may have
4 stars: "Chicago's third effort...is packed with a combination of extended jams as well as progressive and equally challenging pop songs. Their innovative sound was the result of augmenting the powerful rock & roll quartet with a three-piece brass section - the members of whom are all consummate soloists. Once again, the group couples that with material worthy of its formidable skills."
100% Money Back Guarantee on all Hot Stampers
FREE Domestic Shipping on all LP orders over $150
*NOTE: There is a mark that plays for appox. 30 seconds at a moderate level at the start of track 1 on side 1, "Sing A Mean Tune Kid." There is also a mark that plays 3 times lightly at the end of track 1 on side side 3, "Mother."
These vintage Columbia pressings have the kind of Tubey Magical Midrange that modern records can barely BEGIN to reproduce. Folks, that sound is gone and it sure isn't showing signs of coming back. If you love hearing INTO a recording, actually being able to "see" the performers, and feeling as if you are sitting in the studio with the band, these are the records for you. It's what vintage all analog recordings are known for -- this sound.
If you exclusively play modern repressings of vintage recordings, I can say without fear of contradiction that you have never heard this kind of sound on vinyl. Old records have it -- not often, and certainly not always -- but maybe one out of a hundred new records do, and those are some pretty long odds.
What The Best Sides Of Chicago Have To Offer Is Not Hard To Hear
The biggest, most immediate staging in the largest acoustic space
The most Tubey Magic, without which you have almost nothing. CDs give you clean and clear. Only the best vintage vinyl pressings offer the kind of Tubey Magic that was on the tapes in 1971
Tight, note-like, rich, full-bodied bass, with the correct amount of weight down low
Natural tonality in the midrange -- with all the instruments having the correct timbre
Transparency and resolution, critical to hearing into the three-dimensional studio space
No doubt there's more but we hope that should do for now. Playing these records are the only way to hear all of the qualities we discuss above, and playing the best pressings against a pile of other copies under rigorously controlled conditions is the only way to find pressings that sound as good as these two do.
Standard Operating Procedures
What are the criteria by which a record like this should be judged? Pretty much the ones we discuss in most of our Hot Stamper listings: energy, vocal presence, frequency extension (on both ends), transparency, harmonic textures (freedom from smear is key), rhythmic drive, tonal correctness, fullness, richness, and so on down through the list.
When we can get all, or most all, of the qualities above to come together on any given side we provisionally award it a grade of "contender." Once we've been through all our copies on one side we then play the best of the best against each other and arrive at a winner for that side. Repeat the process for the other side and the shootout is officially over. All that's left is to see how the sides matched up.
Record shootouts may not be rocket science, but they're a science of a kind, one with strict protocols developed over the course of many years to ensure that the sonic grades we assign to our Hot Stampers are as accurate as we can make them.
The result of all our work speaks for itself, on these very records in fact. We guarantee you have never heard this music sound better than it does on our Hot Stamper pressing -- or your money back.
What We're Listening For On Chicago
Energy for starters. What could be more important than the life of the music?
Then: presence and immediacy. The vocals aren't "back there" somewhere, lost in the mix. They're front and center where any recording engineer worth his salt would put them.
The Big Sound comes next -- wall to wall, lots of depth, huge space, three-dimensionality, all that sort of thing.
Then transient information -- fast, clear, sharp attacks, not the smear and thickness so common to these LPs.
Tight punchy bass -- which ties in with good transient information, also the issue of frequency extension further down.
Next: transparency -- the quality that allows you to hear deep into the soundfield, showing you the space and air around all the instruments.
Extend the top and bottom and voila, you have The Real Thing -- an honest to goodness Hot Stamper.
Vinyl Condition
Mint Minus Minus and maybe a bit better is about as quiet as any vintage pressing will play, and since only the right vintage pressings have any hope of sounding good on this album, that will most often be the playing condition of the copies we sell. (The copies that are even a bit noisier get listed on the site are seriously reduced prices or traded back in to the local record stores we shop at.)
Those of you looking for quiet vinyl will have to settle for the sound of other pressings and Heavy Vinyl reissues, purchased elsewhere of course as we have no interest in selling records that don't have the vintage analog magic of these wonderful recordings.
If you want to make the trade-off between bad sound and quiet surfaces with whatever Heavy Vinyl pressing might be available, well, that's certainly your prerogative, but we can't imagine losing what's good about this music -- the size, the energy, the presence, the clarity, the weight -- just to hear it with less background noise.
Side One
Sing A Mean Tune Kid
Loneliness Is Just A Word
What Else Can I Say
I Don't Want Your Money
Side Two
Travel Suite
Flight 602
Motorboat To Mars
Free
Free Country
At The Sunrise
Happy 'Cause I'm Going Home
Side Three
Mother
Lowdown
An Hour In The Shower
A Hard Risin' Morning Without Breakfast
Off To Work
Fallin' Out
Dreamin' Home
Morning Blues Again
Side Four
Elegy
When All The Laughter Dies In Sorrow
Canon
Once Upon A Time...
Progress?
The Approaching Storm
Man Vs. Man: The End
AMG 4 Star Review
Chicago's third effort, much like the preceding two, was initially issued as a double LP, and is packed with a combination of extended jams as well as progressive and equally challenging pop songs. Their innovative sound was the result of augmenting the powerful rock & roll quartet with a three-piece brass section -- the members of whom are all consummate soloists.
Once again, the group couples that with material worthy of its formidable skills. In the wake of the band's earlier powerhouse successes, Chicago III has perhaps been unrightfully overshadowed. The bulk of the release consists of three multi-movement works: Robert Lamm's (keyboards/vocals) "Travel Suite," Terry Kath's (guitar/vocals) "An Hour in the Shower," and James Pankow's (trombone) ambitious and classically influenced "Elegy." While the long-player failed to produce any Top Ten hits, both Lamm's rocker "Free" -- extracted from "Travel Suite" -- as well as the infectious "Lowdown" respectively charted within the Top 40. "Sing a Mean Tune Kid" opens the album with a nine-plus minute jam highlighting the impressive wah-wah-driven fretwork from Terry Kath (guitar/vocals) and some decidedly rousing syncopated punctuation from the horns. Lamm's highly underrated jazzy keyboard contributions are notable throughout the tune as he maneuvers Peter Cetera's (bass/vocals) bouncy basslines and the equally limber percussion of Danny Seraphine (drums).
"What Else Can I Say" reveals much more of the band's fusion beyond that of strictly pop/rock. The supple and liberated waltz bops around the playful melody line and is further bolstered by one of the LP's most elegant brass arrangements as well as some equally opulent backing vocal harmonies. "I Don't Want Your Money" is a hard-hittin' Kath/Lamm rocker that packs a bluesy wallop lying somewhere between Canned Heat and the Electric Flag. Again, Kath's remarkably funkified and sweet-toned electric guitar work hammers the track home.
Although "Travel Suite" is primarily a Lamm composition, both Seraphine's "Motorboat to Mars" drum solo and the acoustic experimental "Free Country" balance out the relatively straightforward movements. These include the aggressive "Free" and the decidedly more laid-back "At the Sunrise" and "Happy 'Cause I'm Going Home." Kath's "An Hour in the Shower" reveals the guitarist's under-utilized melodic sense and craftsmanship. His husky lead vocals perfectly complement the engaging arrangements, which blend his formidable electric axe-wielding with some equally tasty acoustic rhythm licks. In much the same way that the Beatles did on the B-side medley from Abbey Road (1969), Chicago reveals its rare and inimitable vocal blend during the short "Dreaming Home" bridge.
Chicago III concludes with Pankow's six-part magnum opus, "Elegy." Its beautiful complexity incorporates many of the same emotive elements as his "Ballet for a Girl in Buchannon" from their previous long-player. The ironically cacophonous and tongue-in-cheek "Progress" contains both comedic relief as well as an underlying social statement in the same vein as "Prologue, August 29, 1968" from Chicago Transit Authority (1969).
The final two movements -- "The Approaching Storm" and "Man vs. Man: The End" -- are among the most involved, challenging, and definitive statements of jazz-rock fusion on the band's final double-disc studio effort. As pop music morphed into the mindless decadence that was the mid-'70s, Chicago abandoned its ambitiously arranged multifaceted epics, concentrating on more concise songcrafting.