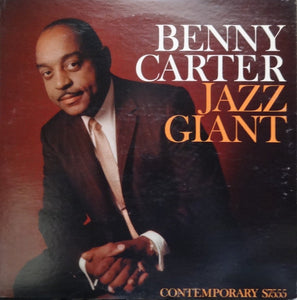 The copy we are selling is similar to the one pictured above.
Sonic Grade
Side One:
Side Two:
Vinyl Grade
Side One: Mint Minus to Mint Minus Minus
Side Two: Mint Minus to Mint Minus Minus
This Contemporary reissue earned excellent Double Plus (A++) sonic grades on both sides - exceptionally quiet vinyl too
If you still think that Analogue Productions is remastering records properly, you have definitely never heard a real Contemporary that sounds as good as this one does
The music of this Jazz Giant comes alive on this copy, with space, size, clarity and richness that few other pressings can match
4 1/2 stars: "Benny Carter had already been a major jazz musician for nearly 30 years when he recorded this particularly strong septet session for Contemporary … This timeless music is beyond the simple categories of 'swing' or 'bop' and should just be called 'classic.'"
100% Money Back Guarantee on all Hot Stampers
FREE Domestic Shipping on all LP orders over $150
If you like the sound of Contemporary Records, you won't find a better example than this! Midrange magic doesn't get anymore magical.
It's been several years since our last shootout, but we hope the lucky buyer of this copy realizes it was more than worth it. To find a copy of Jazz Giant that sounds as good as this one is a very special event indeed.
This vintage pressing has the kind of Tubey Magical Midrange that modern records can barely BEGIN to reproduce. Folks, that sound is gone and it sure isn't showing signs of coming back. If you love hearing INTO a recording, actually being able to "see" the performers, and feeling as if you are sitting in the studio with the band, this is the record for you. It's what vintage all analog recordings are known for -- this sound.
If you exclusively play modern repressings of vintage recordings, I can say without fear of contradiction that you have never heard this kind of sound on vinyl. Old records have it -- not often, and certainly not always -- but maybe one out of a hundred new records do, and those are some pretty long odds.
What The Best Sides Of Jazz Giant Have To Offer Is Not Hard To Hear
The biggest, most immediate staging in the largest acoustic space
The most Tubey Magic, without which you have almost nothing. CDs give you clean and clear. Only the best vintage vinyl pressings offer the kind of Tubey Magic that was on the tapes in 1958
Tight, note-like, rich, full-bodied bass, with the correct amount of weight down low
Natural tonality in the midrange -- with all the instruments having the correct timbre
Transparency and resolution, critical to hearing into the three-dimensional studio space
No doubt there's more but we hope that should do for now. Playing the record is the only way to hear all of the qualities we discuss above, and playing the best pressings against a pile of other copies under rigorously controlled conditions is the only way to find a pressing that sounds as good as this one does.
Copies with rich lower mids and nice extension up top did the best in our shootout, assuming they weren't veiled or smeary of course. So many things can go wrong on a record! We know, we've heard them all.
Top end extension is critical to the sound of the best copies. Lots of old records (and new ones) have no real top end; consequently, the studio or stage will be missing much of its natural air and space, and instruments will lack their full complement of harmonic information.
Tube smear is common to most vintage pressings. The copies that tend to do the best in a shootout will have the least (or none), yet are full-bodied, tubey and rich.
Roy Dunann
We love the recordings made at the legendary Contemporary Records studio in the '50s and '60s -- it's our favorite jazz label for sonics by a long shot. Roy DuNann, their principal engineer, always seems to get The Sound of Real Instruments out of the sessions he recorded -- amazingly realistic drums in a big room; full-bodied, breathy horns; Tubey Magical guitar tone; deep, note-like bass; weighty pianos; vocal immediacy, and on and on.
On the better pressings such as this one there's just nothing between you and the music. You will have a very hard time finding a much better sounding jazz record than this very copy.
What We're Listening For On Jazz Giant
Energy for starters. What could be more important than the life of the music?
The Big Sound comes next -- wall to wall, lots of depth, huge space, three-dimensionality, all that sort of thing.
Then transient information -- fast, clear, sharp attacks, not the smear and thickness so common to these LPs.
Tight, full-bodied bass -- which ties in with good transient information, also the issue of frequency extension further down.
Next: transparency -- the quality that allows you to hear deep into the soundfield, showing you the space and air around all the instruments.
Extend the top and bottom and voila, you have The Real Thing -- an honest to goodness Hot Stamper.
Fun Listening Test
On track two of side one, Benny plays lead on the trumpet. There is another sound that seems to be coming from behind him at the beginning of the song. If you have a good copy -- this one should do nicely -- and a highly resolving system, you should be able to recognize the sound easily. If you think you know what it is, feel free to email us with your answer. We would love to know if others are hearing what we've hearing.
The Players
An Overview
The OJC versions of Contemporary Records are typically thin and somewhat opaque, as well as tizzy up top, the kind of sound one often hears on CDs (and that CD lovers for some reason never seem to notice). Some OJC pressings, however, are excellent. The pressings that were mastered and put out by Contemporary in the mid-'70s (until they were bought by Fantasy) are usually superior to the OJCs, but these "rules of thumb" break down so badly and so often that the only workable approach is just to play as many different copies of the album as you can get your hands on and simply let them sort themselves out sonically. This of course is exactly how we conduct our shootouts.
Although we've liked the OJC of Jazz Giant in the past, last time around the OJC versions were quite a bit smaller and less energetic than our "real" Contemporary stereo pressings. They were a big step down from our killer shootout winner. The notes read "100x better" if that tells you anything(!) We will not be selling any OJC pressings of Jazz Giant as Hot Stampers.
Heavy Vinyl
You may remember that Acoustic Sounds did a version back in the '90s, which we noted at the time was a complete disaster. I haven't heard the recent 45 RPM version of that either, but the chances of it sounding remotely like this are practically nil. We have yet to hear a single Heavy Vinyl 45 that sounds any good to us, judged by the standards we set in our shootouts. (Actually the records themselves set the standards; we simply grade them on the curve they establish.)
We guarantee that none of their LPs can hold a candle to this very record or your money back. If you have one of the new pressings and don't know what's wrong with it, or don't think that anything is wrong with it, try this copy. It will show you just how much better a real record can sound, with more space, more transparency, more energy, more presence, more drive, more ambience -- more and more of everything that's good about the sound of music on ANALOG LP.
It is our contention that no one alive today makes records that sound as good as the ones we sell. Once you hear this Hot Stamper, those 180 gram records you bought might not ever sound right to you again. They sure don't sound right to us, but we have the good fortune of being able to play the best older pressings (reissues included) side by side with the new ones, where the faults of the current reissues become much more audible -- in fact, exceedingly obvious. When you can hear them that way, head to head, there really is no comparison.
Vinyl Condition
Mint Minus Minus and maybe a bit better is about as quiet as any vintage pressing will play, and since only the right vintage pressings have any hope of sounding good on this album, that will most often be the playing condition of the copies we sell. (The copies that are even a bit noisier get listed on the site are seriously reduced prices or traded back in to the local record stores we shop at.)
Those of you looking for quiet vinyl will have to settle for the sound of other pressings and Heavy Vinyl reissues, purchased elsewhere of course as we have no interest in selling records that don't have the vintage analog magic of these wonderful recordings.
If you want to make the trade-off between bad sound and quiet surfaces with whatever Heavy Vinyl pressing might be available, well, that's certainly your prerogative, but we can't imagine losing what's good about this music -- the size, the energy, the presence, the clarity, the weight -- just to hear it with less background noise.
Side One
Old Fashioned Love
I'm Coming Virginia
A Walkin' Thing
Side Two
Blue Lou
Ain't She Sweet
How Can You Lose
Blues My Naughty Sweetie Gives to Me
AMG 4 1/2 Star Review
Benny Carter had already been a major jazz musician for nearly 30 years when he recorded this particularly strong septet session for Contemporary. With notable contributions from tenor saxophonist Ben Webster, trombonist Frank Rosolino and guitarist Barney Kessel, Carter (who plays a bit of trumpet on "How Can You Lose") is in superb form on a set of five standards and two of his originals. This timeless music is beyond the simple categories of "swing" or "bop" and should just be called "classic.