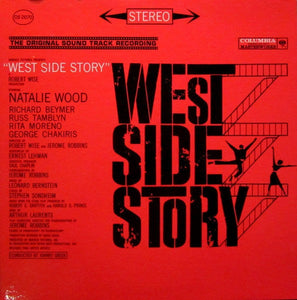 The copy we are selling is similar to the one pictured above.
Sonic Grade
Side One:
Side Two:
Vinyl Grade
Side One: Mint Minus Minus to EX++
Side Two: Mint Minus Minus to EX++*
A vintage Columbia 360 pressing that was doing just about everything right, with both sides earning seriously good Double Plus (A++) grades or BETTER
Spacious, rich and (relatively) smooth - only the best vintage analog pressings seem to be capable of reproducing all three of these qualities without sacrificing resolution, staging, imaging or presence
Tonality is the hardest thing to get right on this album, and we guaranteed you've never heard it sound as good as it does here
The biggest selling album of the '60s – 54 weeks at Number One (!)
Marks and problems in the vinyl are sometimes the nature of the beast with these early pressings - there simply is no way around them if the superior sound of vintage analog is important to you
5 stars: "The soundtrack of the West Side Story film is deservedly one of the most popular soundtrack recordings of all time, and one of the relatively few to have attained long-term popularity beyond a specialized soundtrack/theatrical musical audience."
More of the music of Leonard Bernstein (1918-1990) / More Recordings on Vintage Columbia Vinyl
100% Money Back Guarantee on all Hot Stampers
FREE Domestic Shipping on all LP orders over $150
*NOTE: There are alternating marks that play at a moderate level throughout the last 1" of side 2.
This album is at least five times more common in mono than it is in stereo, and finding enough clean early stereo pressings to do a shootout takes us years these days.
This vintage Columbia 360 Stereo pressing has the kind of Tubey Magical Midrange that modern records can barely BEGIN to reproduce. Folks, that sound is gone and it sure isn't showing signs of coming back.
Having done this for so long, we understand and appreciate that rich, full, solid, Tubey Magical sound is key to the presentation of this primarily vocal music. We rate these qualities higher than others we might be listening for (e.g., bass definition, soundstage, depth, etc.). The music is not so much about the details in the recording, but rather in trying to recreate solid, palpable, real persons singing live in your listening room. The best copies have an uncanny way of doing just that.
If you exclusively play modern repressings of vintage recordings (this one is now 62 years old!), I can say without fear of contradiction that you have never heard this kind of sound on vinyl. Old records have it -- not often, and certainly not always -- but maybe one out of a hundred new records do, and those are some pretty long odds.
What The Best Sides Of West Side Story Have To Offer Is Not Hard To Hear
The biggest, most immediate staging in the largest acoustic space
The most Tubey Magic, without which you have almost nothing. CDs give you clean and clear. Only the best vintage vinyl pressings offer the kind of Tubey Magic that was on the tapes in 1961
Tight, note-like, rich, full-bodied bass, with the correct amount of weight down low
Natural tonality in the midrange -- with all the instruments having the correct timbre
Transparency and resolution, critical to hearing into the three-dimensional studio space
No doubt there's more but we hope that should do for now. Playing the record is the only way to hear all of the qualities we discuss above, and playing the best pressings against a pile of other copies under rigorously controlled conditions is the only way to find a pressing that sounds as good as this one does.
Copies with rich lower mids and nice extension up top did the best in our shootout, assuming they weren't veiled or smeary of course. So many things can go wrong on a record! We know, we've heard them all.
Top end extension is critical to the sound of the best copies. Lots of old records (and new ones) have no real top end; consequently the studio or stage will be missing much of its natural ambience and space, and instruments will lack their full complement of harmonic information.
Without all the top end, the singers' voices will often become shrill in the louder passages, a huge problem with most of the pressings we played.
In addition, if the upper midrange is boosted in the least you are in big trouble on any copy of the West Side Story Soundtrack. Pressings from any era with tonally correct vocals while the singers are shouting their parts is without a doubt the toughest test any copy will face.
What We're Listening For On West Side Story
Energy for starters. What could be more important than the life of the music?
Then: presence and immediacy. The vocals aren't "back there" somewhere, lost in the mix. They're front and center where any recording engineer worth his salt would put them.
The Big Sound comes next -- wall to wall, lots of depth, huge space, three-dimensionality, all that sort of thing.
Then transient information -- fast, clear, sharp attacks, not the smear and thickness so common to these LPs.
Tight note-like bass -- which ties in with good transient information, also the issue of frequency extension further down.
Next: transparency -- the quality that allows you to hear deep into the soundfield, showing you the space and air around all the instruments.
Extend the top and bottom and voila, you have The Real Thing -- an honest to goodness Hot Stamper.
Vinyl Condition
Mint Minus Minus and maybe a bit better is about as quiet as any vintage pressing will play, and since only the right vintage pressings have any hope of sounding good on this album, that will most often be the playing condition of the copies we sell. (The copies that are even a bit noisier get listed on the site are seriously reduced prices or traded back in to the local record stores we shop at.)
Those of you looking for quiet vinyl will have to settle for the sound of other pressings and Heavy Vinyl reissues, purchased elsewhere of course as we have no interest in selling records that don't have the vintage analog magic of these wonderful recordings.
If you want to make the trade-off between bad sound and quiet surfaces with whatever Heavy Vinyl pressing might be available, well, that's certainly your prerogative, but we can't imagine losing what's good about this music -- the size, the energy, the presence, the clarity, the weight -- just to hear it with less background noise.
Side One
Prologue
Jet Song
Something's Coming
Dance at the Gym
Maria
America
Tonight
Side Two
Gee, Officer Krupke!
I Feel Pretty
One Hand, One Heart
Quintet
The Rumble
Cool
A Boy Like That / I Have a Love
Somewhere (Finale)
AMG 5 Star Rave Review
The soundtrack of the West Side Story film is deservedly one of the most popular soundtrack recordings of all time, and one of the relatively few to have attained long-term popularity beyond a specialized soundtrack/theatrical musical audience. (It is an entirely different recording, it should be emphasized, from the original Broadway cast recording, which was also a massive-selling album.)
Its widespread impact could be attributed to a few factors: the wide range of compositional and orchestral styles, from cool swing jazz and shades of Latin pop to classical; the universality of the storyline, pitting underdog lovers against the world; and an assortment of songs that goes well beyond the sentimental love odes that are the staples of musicals (though it has some of those, too), including some downright tough posturing and sardonic social commentary.
"Jet Song," "America," "Gee, Officer Krupke," "Tonight," "Cool," "Maria," "I Feel Pretty," and "Something's Coming" are all among the most famous and oft-sung soundtrack numbers ever.
Background
West Side Story is the soundtrack to the 1961 film West Side Story. Released in 1961, the soundtrack spent 54 weeks at No. 1 on Billboard's album charts, giving it the longest run at No. 1 of any album in history, although some lists instead credit Michael Jackson's Thriller, on the grounds that West Side Story was listed on a chart for stereo albums only at a time when many albums were recorded in mono.
In 1962, it won a Grammy award for "Best Sound Track Album – Original Cast" and Johnny Richards orchestrations of the movie score (on Kenton's West Side Story) also winning a Grammy in 1962 for "Best Large Ensemble Jazz Album" further bolstering the popularity of the movie and soundtrack. In the United States, it was the best-selling album of the 1960s, certifying three times platinum by the RIAA on November 21, 1986.
Though the album was released just a few years after the release of the original broadway cast recording, it is according to Broadway Babies preferred by some to the earlier version both sentimentally, as the film succeeded in establishing the musical as a "popular masterpiece", and musically, as it contains "beefier orchestration".