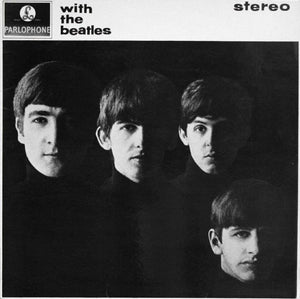 The copy we are selling is similar to the one pictured above.
Sonic Grade
Side One:
Side Two:
Vinyl Grade
Side One: Mint Minus Minus
Side Two: Mint Minus Minus
This 2-pack of these vintage UK import pressings boasts INCREDIBLE Shootout Winning Triple Plus (A+++) sound on side two of the second disc and excellent Double Plus (A++) sound on side one of the first disc
Superb space and immediacy, rich and (relatively) smooth and oh-so-Tubey Magical lead and harmony vocals - this is the right sound for With The Beatles
So many great songs: "All My Loving," "Please Mr. Postman," "Til There Was You," "You've Really Got A Hold On Me" "Devil In Her Heart"... fourteen in all
5 stars: "It was clear that, even at this early stage, the Beatles were rapidly maturing and changing, turning into expert craftsmen and musical innovators."
More of The Beatles / More Records We Only Sell on Import Vinyl
100% Money Back Guarantee on all Hot Stampers
FREE Domestic Shipping on all LP orders over $150
This is a tough album to get to sound right, as long-time readers of our site surely know, but here are the sides that prove this album can sound very good indeed. Looking for the best sound? Try "Till There Was You" on side one and "You Really Got A Hold On Me" on side two.
What The Best Sides Of With The Beatles Have To Offer Is Not Hard To Hear
The biggest, most immediate staging in the largest acoustic space
The most Tubey Magic, without which you have almost nothing. CDs give you clean and clear. Only the best vintage vinyl pressings offer the kind of Tubey Magic that was on the tapes in 1963
Tight, note-like, rich, full-bodied bass, with the correct amount of weight down low
Natural tonality in the midrange -- with all the instruments having the correct timbre
Transparency and resolution, critical to hearing into the three-dimensional studio space
No doubt there's more but we hope that should do for now. Playing these records are the only way to hear all of the qualities we discuss above, and playing the best pressings against a pile of other copies under rigorously controlled conditions is the only way to find pressings that sound as good as these two do.
Tubey Magic Is Key
These vintage British pressings have the kind of Tubey Magical Midrange that modern records rarely even BEGIN to reproduce. Folks, that sound is gone and it sure isn't showing signs of coming back. If you love hearing INTO a recording, actually being able to "see" the performers, and feeling as if you are sitting in the studio with the band, this is the record for you. It's what vintage all analog recordings are known for -- this sound.
If you exclusively play modern repressings of vintage recordings, especially in the case of the new Beatles albums, I can say without fear of contradiction that you have never heard this kind of sound on vinyl. Old records have it -- not often, and certainly not always -- but maybe one out of a hundred new records do, and those are some pretty long odds.
What We're Listening For On With The Beatles
Less grit -- smoother and sweeter sound, something that is not easy to come by on With the Beatles.
A bigger presentation -- more size, more space, more room for all the instruments and voices to occupy. The bigger the speakers you have to play this record the better.
More bass and tighter bass. This is fundamentally a Pure Pop record. It needs at least some weight down below to rock the way Norman Smith, The Beatles long-suffering engineer, wanted it to.
Present, breathy vocals. A veiled midrange is the rule, not the exception.
Good top-end extension to reproduce the harmonics of the instruments and details of the recording including the studio ambience.
Last but not least, balance. All the elements from top to bottom should be heard in harmony with each other. Take our word for it, assuming you haven't played a pile of these yourself, balance is not that easy to find.
Our best copies will have it though, of that there is no doubt.
Early or Late Pressing?
So many Parlophone copies would have you think With The Beatles is a gritty, edgy, crude recording -- especially if you made the mistake of buying an early pressing. The early pressings are consistently grittier, edgier and more crude than the later pressings we played. So much for that old canard "original is better." When it comes to With The Beatles it just ain't so, and it doesn't take a state-of-the-art system or a pair of golden ears to hear it.
The audiophile community seems not to have caught on to the faults of the early Beatles pressings, but we here at Better Records are doing our best to correct their all-too-common misperceptions, one Hot Stamper pressing at a time.
It may be a lot of work, but we don't mind -- we love The Beatles! We want to find the best sounding copies of ALL their records, and there is simply no other way to do it than to play them by the dozens.
Our Famous 2-packs
Our 2-pack sets combine two copies of the same album, with at least a Super Hot Stamper sonic grade on the better of each "good" side, which simply means you have before you a pair of records that offers superb sound for the entire album.
Audiophiles are often surprised when they hear that an LP can sound amazing on one side and mediocre on the other, but since each side is pressed from different metalwork which has been aligned independently, and perhaps even cut by different mastering engineers from tapes of wildly differently quality, in our experience it happens all the time. In fact it's much more common for a record to earn different sonic grades for its two sides than it is to rate the same grade. That's just the way it goes in analog, where there's no way to know how a any given side of a record sounds until you play it, and, more importantly, in the world of sound everything is relative.
Since each of the copies in the 2-pack will have one good side and one noticeably weaker or at best more run-of-the-mill side, you'll be able to compare them on your own to hear just what it is that the Hot Stamper sides give you. This has the added benefit of helping you to improve your critical listening skills. We'll clearly mark which copy is Hot for each side, so if you don't want to bother with the other sides you certainly won't have to.
Where Can I Find Your Mono Beatles Records?
We do not sell Beatles records in mono.
They spent time on the mono mixes because getting the levels right for all the elements in a recording is ten times harder than deciding whether an instrument or voice should be placed in the left, middle or right of the soundstage.
And they didn't even do the stereo mixes right some of the time, in our opinion. But wall to wall beats all stacked up in the middle any day of the week.
If you like mono Beatles records you will have to do your own shootouts for them, because we have never heard a mono Beatles record sound good enough to compete with our Hot Stamper stereo pressings.
Vinyl Condition
Mint Minus Minus and maybe a bit better is about as quiet as any vintage pressing will play, and since only the right vintage pressings have any hope of sounding good on this album, that will most often be the playing condition of the copies we sell. (The copies that are even a bit noisier get listed on the site are seriously reduced prices or traded back in to the local record stores we shop at.)
Those of you looking for quiet vinyl will have to settle for the sound of other pressings and Heavy Vinyl reissues, purchased elsewhere of course as we have no interest in selling records that don't have the vintage analog magic of these wonderful recordings.
If you want to make the trade-off between bad sound and quiet surfaces with whatever Heavy Vinyl pressing might be available, well, that's certainly your prerogative, but we can't imagine losing what's good about this music -- the size, the energy, the presence, the clarity, the weight -- just to hear it with less background noise.
A Tough Record To Play
With The Beatles ranks fairly high on our Difficulty of Reproduction Scale. Do not attempt to play it using anything other than the highest quality equipment.
Unless your system is firing on all cylinders, even our hottest Hot Stamper copies -- the Super Hot and White Hot pressings with the biggest, most dynamic, clearest, and least distorted sound -- can have problems . Your system should be thoroughly warmed up, your electricity should be clean and cooking, you've got to be using the right room treatments, and we also highly recommend using a demagnetizer such as the Walker Talisman on the record, your cables (power, interconnect and speaker) as well as the individual drivers of your speakers.
This is a record that's going to demand a lot from the listener, and we want to make sure that you feel you're up to the challenge. If you don't mind putting in a little hard work, here's a record that will reward your time and effort many times over, and probably teach you a thing or two about tweaking your gear in the process (especially your VTA adjustment, just to pick an obvious area most audiophiles neglect).
Side One
It Won't Be Long
All I've Got to Do
All My Loving
Don't Bother Me
Little Child
Till There Was You
Please Mr. Postman
Side Two
Roll over Beethoven
Hold Me Tight
You've Really Got a Hold on Me
I Wanna Be Your Man
Devil in Her Heart
Not a Second Time
Money (That's What I Want)
AMG 5 Star Rave Review
With the Beatles is a sequel of the highest order — one that betters the original by developing its own tone and adding depth. While it may share several similarities with its predecessor — there is an equal ratio of covers-to-originals, a familiar blend of girl group, Motown, R&B, pop, and rock, and a show tune that interrupts the flow of the album — With the Beatles is a better record that not only rocks harder, it's considerably more sophisticated... the heart of With the Beatles lies not in the covers, but the originals, where it was clear that, even at this early stage, the Beatles were rapidly maturing and changing, turning into expert craftsmen and musical innovators.