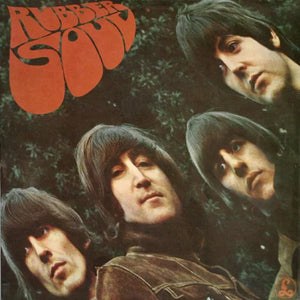 The copy we are selling is similar to the one pictured above.
Sonic Grade
Side One:
Side Two:
Vinyl Grade
Side One: Mint Minus to Mint Minus Minus
Side Two: Mint Minus to Mint Minus Minus*
This vintage UK stereo pressing has the sound of Tubey Magical Analog in its grooves, with both sides earning incredible Nearly Triple Plus (A++ to A+++) grades, just shy of our Shootout Winner - exceptionally quiet vinyl too
We guarantee you've never heard "Drive My Car," "Norwegian Wood," "You Won't See Me," "Nowhere Man," "Think for Yourself," "The Word" and "Michelle" sound better - and that's just side one
A Must Own Folk Rock Masterpiece and permanent member of our Top 100
5 stars: "The lyrics represented a quantum leap in terms of thoughtfulness, maturity, and complex ambiguities. Musically, too, it was a substantial leap forward, with intricate folk-rock arrangements that reflected the increasing influence of Dylan and the Byrds."
More of The Beatles / More Records We Only Sell on Import Vinyl
100% Money Back Guarantee on all Hot Stampers
FREE Domestic Shipping on all LP orders over $150
*NOTE: There is a noticeable warp on the edge of side 2 that is not audible in the least. If you're using a reasonably good arm and cartridge, you should have no problem tracking it perfectly. That said, if you have any issues, you can return it within 30 days for a full refund, and we will pay the domestic return shipping.
These Nearly White Hot Stamper pressings have top-quality sound that's often surprisingly close to our White Hots, but they sell at substantial discounts to our Shootout Winners, making them a relative bargain in the world of Hot Stampers ("relative" meaning relative considering the prices we charge). We feel you get what you pay for here at Better Records, and if ever you don't agree, please feel free to return the record for a full refund, no questions asked.
---
Since this is one of the best sounding Beatles recordings, this could very well be some of the best sound you will ever hear on a Beatles album!
There's wonderful ambience and echo to be heard. Just listen to the rimshots on "Michelle" -- you can clearly hear the room around the drum. On the best pressings, "Michelle" is incredibly 3-D; it's one of the best sounding tracks on the entire album, if not the best.
Tubey Magical Acoustic Guitar reproduction is superb on the better copies of this recording. Simply phenomenal amounts of Tubey Magic can be heard on every strum, along with richness, body and harmonic coherency that have all but disappeared from modern recordings (and especially from modern remasterings).
This vintage Parlophone pressing has the kind of Tubey Magical Midrange that modern records can barely BEGIN to reproduce. Folks, that sound is gone and it sure isn't showing signs of coming back. If you love hearing INTO a recording, actually being able to "see" the performers, and feeling as if you are sitting in the studio with the band, this is the record for you. It's what vintage all analog recordings are known for -- this sound.
If you exclusively play modern repressings of vintage recordings, I can say without fear of contradiction that you have never heard this kind of sound on vinyl. Old records have it -- not often, and certainly not always -- but maybe one out of a hundred new records do, and those are some pretty long odds.
What The Best Sides Of This Vintage UK Pressing Of Rubber Soul Have To Offer Is Not Hard To Hear
The biggest, most immediate staging in the largest acoustic space
The most Tubey Magic, without which you have almost nothing. CDs give you clean and clear. Only the best vintage vinyl pressings offer the kind of Tubey Magic that was on the tapes in 1965
Tight, note-like, rich, full-bodied bass, with the correct amount of weight down low
Natural tonality in the midrange -- with all the instruments having the correct timbre
Transparency and resolution, critical to hearing into the three-dimensional studio space
No doubt there's more but we hope that should do for now. Playing the record is the only way to hear all of the qualities we discuss above, and playing the best pressings against a pile of other copies under rigorously controlled conditions is the only way to find a pressing that sounds as good as this one does.
Acoustic Guitars and Tambourines
After playing so many copies of this record over the last few years, all of us here at Better Records have come to appreciate just how wonderful an album Rubber Soul really is. It has 14 fairly compact, well-structured, well-arranged pop songs, each of which is a gem in its own right. It reminds me a bit of the second album (With The Beatles) in that respect -- short and to the point, get in and get out.
But the second album does not feature acoustic guitars the way Rubber Soul does. From an audiophile point of view, the strumming of those lovely acoustic guitars is in large part what makes Rubber Soul such a special recording.
But what we've noticed only recently is how much the tambourine is used. It's all over this album, and the good news is that most of the time it sounds great. There are other high frequency percussion instruments -- shakers and the like -- and between the tambourine and all the rest, there's just a lot of percussive energy on most of the songs that really carries them along. To me, this could be called The Tambourine Album. No other Beatles album features that instrument so boldly in the mix and builds so many songs around it.
As you've no doubt read on the site more than once, a good LP allows you to appreciate the music even more than the sound. You feel like you are listening to what The Beatles wanted you to hear, the way they wanted you to hear it. With some minor quibbles, this British pressing sounds like it was made from the real tape, mastered the way The Beatles wanted it to be mastered -- and even pressed on pretty darn quiet vinyl.
What We're Listening For On Rubber Soul
Energy for starters. What could be more important than the life of the music?
Then: presence and immediacy. The vocals aren't "back there" somewhere, lost in the mix. They're front and center where any recording engineer worth his salt -- Norman Smith in this case, assisted by the legendary Geoff Emerick -- would put them.
The Big Sound comes next -- wall to wall, lots of depth, huge space, three-dimensionality, all that sort of thing.
Then transient information -- fast, clear, sharp attacks, not the smear and thickness so common to these LPs.
Tight punchy bass -- which ties in with good transient information, also the issue of frequency extension further down.
Next: transparency -- the quality that allows you to hear deep into the soundfield, showing you the space and air around all the instruments.
Extend the top and bottom and voila, you have The Real Thing -- an honest to goodness Hot Stamper.
Where Can I Find Your Mono Beatles Records?
We do not sell Beatles records in mono.
They spent time on the mono mixes because getting the levels right for all the elements in a recording is ten times harder than deciding whether an instrument or voice should be placed in the left, middle or right of the soundstage.
And they didn't even do the stereo mixes right some of the time, in our opinion. But wall to wall beats all stacked up in the middle any day of the week.
If you like mono Beatles records you will have to do your own shootouts for them, because we have never heard a mono Beatles record sound good enough to compete with our Hot Stamper stereo pressings.
Vinyl Condition
Mint Minus Minus and maybe a bit better is about as quiet as any vintage pressing will play, and since only the right vintage pressings have any hope of sounding good on this album, that will most often be the playing condition of the copies we sell. (The copies that are even a bit noisier get listed on the site are seriously reduced prices or traded back in to the local record stores we shop at.)
Those of you looking for quiet vinyl will have to settle for the sound of other pressings and Heavy Vinyl reissues, purchased elsewhere of course as we have no interest in selling records that don't have the vintage analog magic of these wonderful recordings.
If you want to make the trade-off between bad sound and quiet surfaces with whatever Heavy Vinyl pressing might be available, well, that's certainly your prerogative, but we can't imagine losing what's good about this music -- the size, the energy, the presence, the clarity, the weight -- just to hear it with less background noise.
Track by Track Commentary
Rubber Soul is one of the most difficult Beatles records to get to sound right. The individual tracks seem to vary drastically in terms of their sound quality. Some ("What Goes On") sound sweet, rich and near perfect. Others ("You Won't See Me") can be thin and midrangy. What's a mother to do?
I think what we're dealing with here are completely different approaches to the final mix. The Beatles were experimenting with different kinds of sounds, and their experiments produced very different results from track to track on this album more than practically any other I can think of besides The White Album (which, as you know, was recorded in multiple studios by multiple producers and engineers).
"Nowhere Man" on side one and "Wait" on side two are both excellent test tracks. Click on the Tracklist tab above to read more about them both, along with plenty of What to Listen For advice.
Other records with track breakdowns can be found here.
A Must Own Beatles Record
It's a recording that should be part of any serious Popular Music Collection. Others that belong in that category can be found here.
Side One
Drive My Car

Mobile Fidelity made a mess of this song on their Half-Speed Mastered release. They took out far too much upper midrange and top end.

What drives the energy of the song are the cow bell, the drums and other percussion. Instead of a scalpel Mobile Fidelity took a hatchet to this slightly bright track, leaving a dull, lifeless, boring mess. Some Parlophone copies may be a little bright and lack bass, but they still manage to convey the energy of the song. The purple label Capitols can also be quite good. A bit harsher and spittier, yes, but in spite of these shortcomings they communicates the music.

As much as I might like some of the MoFi Beatle records, and even what MoFi did with some of the other tracks on Rubber Soul, they sure sucked the life out of Drive My Car. We all remember how much fun that song was when it would come on the radio. Playing it on a very high quality stereo should make it more fun, not less. If you've got a Rubber Soul with a Drive My Car that's no fun, it's time to get another one.

Norwegian Wood

Those close-miked guitars can be a bit much unless you have a super-low-distortion copy.

John strums the hell out of his acoustic in the right channel, and on the best copies the sound of the guitar is very dynamic and energetic. No two copies will get that guitar to sound the same, and the more dynamic and lively it sounds, the better in my book.

Did The Beatles ever write a better song?

You Won't See Me

Can be a bit midrangy in places.

Nowhere Man

Unless you have an especially good copy this song will sound VERY compressed. It's much too thick and congealed on the average copy. The best pressings manage to find the richness in the overall sound as well as the breathiness in the vocals that others barely hint at. Play this track on whatever copies you own (more than one I hope) and see if it doesn't sound as messy as we describe.

Think for Yourself

The better copies get this one tonally right on the money! That tambourine can be sweet.

The Word

This song rocks, with some of the best bass on the album. When the harmony vocals are added for the final chorus The Word takes off into the stratosphere. You won't find a better Beatles song in their catalog.

Michelle

Sonic and musical perfection on the best copies! Vocals and guitars should sound present and clear, with Tubey Magic in spades.
Side Two
What Goes On

Wow, yet another track with superb, rich, full-bodied, smooth sound on the better pressings.

Girl

Tonally different from the above track; it should be cleaner but no less sweet.

I'm Looking Through You

If you don't feel like singing along to this song something must be wrong somewhere. The track's rhythmic qualities take on a momentum that builds the energy level higher and higher as the song progresses. Above all the sound should be immediate and lively. This is the song that really shows you the passion of The Beatles. Audiophile pressings and CDs don't do that.

In My Life
Wait

Tons of energy on the drums in the left channel are a key test. In the right channel the shakers and tambourines are way up in the mix. The bass is a bit lean compared to the other tracks and tends to get a bit lost. If you can follow the bass throughout the song that's a good sign.

Balancing the bass and drums in the left channel with the vocals and percussion in the right channel is not easy to do, which of course is what makes it a great test.

And how is it that none of the critics of "twin track stereo" -- the two-track recording approach used on the first two albums, with the elements hard-panned left and right -- has ever come clean about the obvious twin track sound of Rubber Soul? We used tracks four, five and six to test side two with, and in all three the vocals are hard panned right with most of the instruments hard-panned left. Why is it wrong for Please Please Me to sound that way -- the mono mix being the critic's choice -- but fine for Rubber Soul to be heard that way?

If I Needed Someone

Silky and sweet on the best copies. Harrison's double tracked vocal is especially well recorded, although somewhat hard to reproduce. VTA and setup in general are critical on this track.

Run for Your Life

Wow -- the last song on Rubber Soul, Number 14 for those of you keeping track at home, is surely one of the best sounding.

The Beatles' sixth album really goes out on a high note, with the band's most consistent songwriting and production to date, all good reasons that Rolling Stone ranked it Number 5 of the 500 Greatest Albums of All Time.
AMG 5 Star Rave Review
While the Beatles still largely stuck to love songs on Rubber Soul, the lyrics represented a quantum leap in terms of thoughtfulness, maturity, and complex ambiguities. Musically, too, it was a substantial leap forward, with intricate folk-rock arrangements that reflected the increasing influence of Dylan and the Byrds. The group and George Martin were also beginning to expand the conventional instrumental parameters of the rock group, using a sitar on "Norwegian Wood (This Bird Has Flown)," Greek-like guitar lines on "Michelle" and "Girl," fuzz bass on "Think for Yourself," and a piano made to sound like a harpsichord on the instrumental break of "In My Life."
While John and Paul were beginning to carve separate songwriting identities at this point, the album is full of great tunes, from "Norwegian Wood (This Bird Has Flown)" and "Michelle" to "Girl," "I'm Looking Through You," "You Won't See Me," "Drive My Car," and "Nowhere Man" (the last of which was the first Beatle song to move beyond romantic themes entirely). George Harrison was also developing into a fine songwriter with his two contributions, "Think for Yourself" and the Byrds-ish "If I Needed Someone."