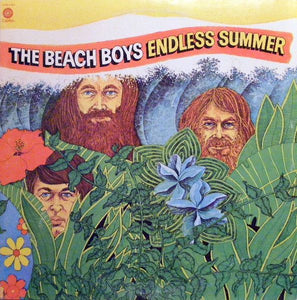 The copy we are selling is similar to the one pictured above.
Sonic Grade
Side One:
Side Two:
Side Three:
Side Four:
Vinyl Grade
Side One: Mint Minus Minus (often quieter than this grade)
Side Two: Mint Minus Minus (often quieter than this grade)
Side Three: Mint Minus Minus (often quieter than this grade)
Side Four: Mint Minus Minus (often quieter than this grade)
This 2-LP compilation set from 1974 boasts excellent Double Plus (A++) sound or close to it on all FOUR sides of these vintage Capitol pressings - fairly quiet vinyl too
A copy like this is a rare audiophile treat - here are The Beach Boys' marvelous harmonies sounding as rich, warm, clear, natural and lively as you could ever hope to hear them (particularly on sides one, two, and four)
5 stars: "Endless Summer, which was assembled in consultation with Mike Love, soared to number one and charted high over two subsequent summers (spending three years on the charts, the longest of any of the group's albums)."
100% Money Back Guarantee on all Hot Stampers
FREE Domestic Shipping on all LP orders over $150
Vintage covers for this album are hard to find in exceptionally clean shape. Most of the will have at least some amount of ringwear, seam wear and edge wear. We guarantee that the cover we supply with this Hot Stamper is at least VG
---
Like any compilation, some tracks sound better than others, but the best sounding tracks on here easily rank with any Beach Boys vinyl we've ever played. And the material on here is so good and so comprehensive (check the Tracklist tab above) that for most of you this and Pet Sounds should be all the Beach Boys you'll ever need.
The sound here is big, open, rich and full, with the performers front and center (as well as left and right). The highs are extended and silky sweet. The bass is tight and punchy. And this copy gives you more life and energy than others by a long shot. Very few Beach Boys records offer the kind of realistic, lifelike sound you get from these pressings.
Fresh Tapes
These vintage LPs also have the Midrange Magic that's no doubt missing from whatever 180g reissue has been made from the 50+ year old tapes. As good as that pressing may be, we guarantee that this one is dramatically more real sounding. It gives you the sense that all the boys (and the Wrecking Crew) are right in the room with you.
They're no longer a representation -- they're living, breathing persons. We call that "the breath of life," and this record has it in spades. Their voices are so rich, sweet, and free of any artificiality, you immediately find yourself lost in the music.
As any record collector knows all too well, Capitol pressings are all over the map. When you find a good one, you can be pretty sure it's the exception, not the rule. That's been our experience, and we've played them by the hundreds.
What The Best Sides Of Endless Summer Have To Offer Is Not Hard To Hear
The biggest, most immediate staging in the largest acoustic space
The most Tubey Magic, without which you have almost nothing. CDs give you clean and clear. Only the best vintage vinyl pressings offer the kind of Tubey Magic that was on the tapes beginning in 1963
Tight, note-like, rich, full-bodied bass, with the correct amount of weight down low
Natural tonality in the midrange -- with all the instruments having the correct timbre
Transparency and resolution, critical to hearing into the three-dimensional studio space
No doubt there's more but we hope that should do for now. Playing the record is the only way to hear all of the qualities we discuss above, and playing the best pressings against a pile of other copies under rigorously controlled conditions is the only way to find pressings that sound as good as these two do.
What We're Listening For On Endless Summer
Energy for starters. What could be more important than the life of the music?
Then: presence and immediacy. The vocals aren't "back there" somewhere, lost in the mix. They're front and center where any recording engineer worth his salt would put them.
The Big Sound comes next -- wall to wall, lots of depth, huge space, three-dimensionality, all that sort of thing.
Then transient information -- fast, clear, sharp attacks, not the smear and thickness so common to these LPs.
Tight punchy bass -- which ties in with good transient information, also the issue of frequency extension further down.
Next: transparency -- the quality that allows you to hear deep into the soundfield, showing you the space and air around all the instruments.
Extend the top and bottom and voila, you have The Real Thing -- an honest to goodness Hot Stamper.
Vinyl Condition
Mint Minus Minus is about as quiet as any vintage pressing will play, and since only the right vintage pressings have any hope of sounding good on this album, that will most often be the playing condition of the copies we sell. (The copies that are even a bit noisier get listed on the site are seriously reduced prices or traded back in to the local record stores we shop at.)
Those of you looking for quiet vinyl will have to settle for the sound of other pressings and Heavy Vinyl reissues, purchased elsewhere of course as we have no interest in selling records that don't have the vintage analog magic of these wonderful recordings.
If you want to make the trade-off between bad sound and quiet surfaces with whatever Heavy Vinyl pressing might be available, well, that's certainly your prerogative, but we can't imagine losing what's good about this music -- the size, the energy, the presence, the clarity, the weight -- just to hear it with less background noise.
A Must Own Pop Record
Endless Summer is a recording that belongs in any serious Popular Music Collection. Others that belong in that category can be found here.
Side One
Surfin' Safari
Surfer Girl
Catch a Wave
The Warmth of the Sun
Surfin' U.S.A.
Side Two
Be True to Your School
Little Deuce Coupe
In My Room
Shut Down
Fun, Fun, Fun
Side Three
I Get Around
The Girls on the Beach
Wendy
Let Him Run Wild
Don''t Worry Baby
Side Four
California Girls
Girl Don''t Tell Me
Help Me, Rhonda
You''re So Good to Me
All Summer Long
AMG 5 Star Rave Review
This was the album by which millions of sons of late baby boomers (and sons and daughters of the early ones) first really discovered the Beach Boys, beyond hearing the occasional oldie on the radio.
It was the summer of 1974, and the Beach Boys were still trying to get themselves back on track commercially after a seven-year commercial dry spell, when this double LP of their 1963-1966 material (all but one cut predating Pet Sounds) came along and did the job. Endless Summer, which was assembled in consultation with Mike Love, soared to number one and charted high over two subsequent summers (spending three years on the charts, the longest of any of the group's albums), and attracted the enthusiastic attention of millions of listeners too young to have bought their singles back when.
The programming was a little thin, not even running an hour total, spread among two LPs, but most of the group's best loved singles were represented -- no notes, not a word of historical context, just a great collection of songs that proved irresistible to many shoppers. The packaging was nigh perfect, a simple, celebratory sun-lit graphic that spoke volumes about the music.