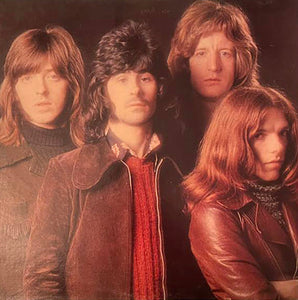 The copy we are selling is similar to the one pictured above.
Sonic Grade
Side One:
Side Two:
Vinyl Grade
Side One: Mint Minus Minus (often quieter than this grade)
Side Two: Mint Minus Minus (often quieter than this grade)
A Straight Up like you've never heard, with excellent Double Plus (A++) sound throughout this early Apple pressing - fairly quiet vinyl too
The sound here just jumps out of the speakers, which is exactly what the better copies of the album are supposed to (but rarely) do
If you like your rock and pop with minimal audio processing and the most natural, raw and real sound, the hottest of the Hot Stamper pressings we offer will sound exactly the way you want them to
If your a fan of the band - or Power Pop in general - this is the Straight Up you've been waiting for
Straight Up is one of the hardest albums to find with audiophile-quality playing surfaces, which is the main reason our last shootout was more than ten years ago (!)
4 1/2 stars: "…Here, there's absolutely no filler and everybody is in top form. Pete Ham's 'Baby Blue' is textbook power-pop — irresistibly catchy fuzz riffs and sighing melodies — and with its Harrison-esque slide guitars, 'Day After Day' is so gorgeous it practically aches. 'Perfection' is an unheralded gem, while 'Name of the Game' and 'Take It All' are note-perfect pop ballads."
100% Money Back Guarantee on all Hot Stampers
FREE Domestic Shipping on all LP orders over $150
This is Power Pop, plain and simple. The basics are what count: punchy drums, grungy guitars, present vocals, clear but full bass lines -- just the meat and potatoes of rock, no fancy sauces.
For this music to work, all the elements need to be in balance, with correct timbre for the relatively few instruments that make up the arrangements.
Opacity, smear or grit instantly destroy the whole point of having a straightforward production, which is to be able to have all the parts laid out cleanly and clearly.
The idea is to get the production out of the way and just let the music speak for itself.
The truly Hot Stampers remind you of the kind of basic rock and roll record that really knows how to rock. Back in Black comes instantly to mind. Black Dog off Zep IV. This is the sound you want your Straight Up to have. The title of the album is the key to the sound. No fancy packaging, just the band, Straight Up.
In 2007 we wrote: "Having played more than half a dozen copies of this record during the shootout I can tell you that the most common problem with Straight Up is grainy, gritty sound. Most copies of this record are painfully aggressive and transistory."
With improvements to cleaning and playback, I would say that's not actually true anymore.
There is some grit to the sound to be sure, but like most records from the era, veiling and smearing are what really hold most copies back.
Good copies of this record, ones that are mastered properly and pressed on "good" vinyl, sound a lot like a stripped down version of Abbey Road, which is what they're supposed to sound like. That's clearly the sound Badfinger and their producers George Harrison and Todd Rundgren (with some help from the Beatles' engineer Geoff Emerick) were aiming at.
You will also hear some influences from All Things Must Pass and McCartney's first. The music owes a lot to both The Beatles as well as Harrison and McCartney as individuals. What's not to like? Catchy pop songs with grungy guitars -- it's ear candy when the sound is good, and the sound is very good here.
What The Best Sides Of Straight Up Have To Offer Is Not Hard To Hear
The biggest, most immediate staging in the largest acoustic space
The most Tubey Magic, without which you have almost nothing. CDs give you clean and clear. Only the best vintage vinyl pressings offer the kind of Tubey Magic that was on the tapes in 1971
Tight, note-like, rich, full-bodied bass, with the correct amount of weight down low
Natural tonality in the midrange -- with all the instruments having the correct timbre
Transparency and resolution, critical to hearing into the three-dimensional studio space
No doubt there's more but we hope that should do for now. Playing the record is the only way to hear all of the qualities we discuss above, and playing the best pressings against a pile of other copies under rigorously controlled conditions is the only way to find a pressing that sounds as good as this one does.
What We're Listening For On Straight Up
Energy for starters. What could be more important than the life of the music?
Then: presence and immediacy. The vocals aren't "back there" somewhere, lost in the mix. They're front and center where any recording engineer worth his salt would put them.
The Big Sound comes next -- wall to wall, lots of depth, huge space, three-dimensionality, all that sort of thing.
Then transient information -- fast, clear, sharp attacks, not the smear and thickness so common to these LPs.
Tight punchy bass -- which ties in with good transient information, also the issue of frequency extension further down.
Next: transparency -- the quality that allows you to hear deep into the soundfield, showing you the space and air around all the instruments.
Extend the top and bottom and voila, you have The Real Thing -- an honest to goodness Hot Stamper.
British Porky Prime Cut?
We had an original British pressing in a shootout years back, unbeknownst to me as it was playing of course. And guess where it finished: dead last. The most thick, congested, crude, distorted, compressed sound of all the copies we played. We love the work of Porky, Pecko et al. in general, but once again this is a case where a British Band recorded in England sounds best on domestic vinyl. (McCartney on Apple is the same way.)
Vinyl Condition
Mint Minus Minus and maybe a bit better is about as quiet as any vintage pressing will play, and since only the right vintage pressings have any hope of sounding good on this album, that will most often be the playing condition of the copies we sell. (The copies that are even a bit noisier get listed on the site are seriously reduced prices or traded back in to the local record stores we shop at.)
Those of you looking for quiet vinyl will have to settle for the sound of other pressings and Heavy Vinyl reissues, purchased elsewhere of course as we have no interest in selling records that don't have the vintage analog magic of these wonderful recordings.
If you want to make the trade-off between bad sound and quiet surfaces with whatever Heavy Vinyl pressing might be available, well, that's certainly your prerogative, but we can't imagine losing what's good about this music -- the size, the energy, the presence, the clarity, the weight -- just to hear it with less background noise.
A Must Own Pop Record
We consider this album the band's Masterpiece. It's a recording that belongs in any serious Popular Music Collection.
Others that belong in that category can be found here.
Side One
Take It All
Baby Blue
Money
Flying
I'd Die Babe
Name of the Game
Side Two
Suitcase
Sweet Tuesday Morning
Day After Day
Sometimes
Perfection
It's Over
AMG 4 1/2 Star Review
… Here, there's absolutely no filler and everybody is in top form. Pete Ham's "Baby Blue" is textbook power-pop — irresistibly catchy fuzz riffs and sighing melodies — and with its Harrison-esque slide guitars, "Day After Day" is so gorgeous it practically aches. "Perfection" is an unheralded gem, while "Name of the Game" and "Take It All" are note-perfect pop ballads. Tom Evans isn't as prolific here, but the one-two punch of "Money" and "Flying" is the closest Straight Up gets to Abbey Road, and "It's Over" is a fine closer.
Still, what holds the record together is Joey Molland's emergence as a songwriter. His work on No Dice is enjoyable, but here, he comes into his own with a set of well-constructed songs. This fine songwriting, combined with sharp performances and exquisite studio craft, make Straight Up one of the cornerstones of power-pop, a record that proved that it was possible to make classic guitar-pop after its golden era had passed.
About the Album
Straight Up is an album by power pop band Badfinger, released on December 13, 1971. It is widely regarded as one of Badfinger's best albums, spawning two Top 40 singles and being commercially successful in its own right.
Straight Up recordings began in early 1971 under the direction of producer Geoff Emerick, who produced the bulk of Badfinger's preceding album No Dice. Although these early recordings were completed and ready to be pressed, Apple Records co-president George Harrison decided the unreleased album could be improved under his personal direction. Harrison produced new versions of a couple of the earlier songs, as well as recording a couple new tracks with the band in the summer of 1971. Harrison can be heard playing a lead-guitar duet with Pete Ham on the song Day After Day, with Leon Russell featured on piano.
Due to a hurriedly-assembled benefit concert that summer, The Concert for Bangladesh (which Badfinger performed in), Harrison did not complete the Straight Up project. Todd Rundgren was retained to finish the album; utilising recordings begun by both Emerick and Harrison, and recording several new tracks with the band.
-Wikipedia