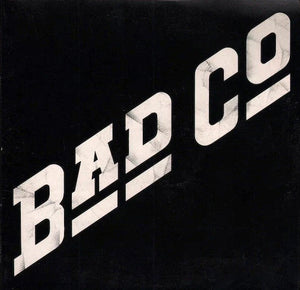 The copy we are selling is similar to the one pictured above.
Sonic Grade
Side One:
Side Two:
Vinyl Grade
Side One: Mint Minus Minus
Side Two: Mint Minus Minus
Both sides of this original UK pressing have outstanding sound for the band's classic debut LP, earning Double Plus (A++) grades
These sides are huge, present, punchy, lively, and solid as a rock - this is some of engineer Ron Nevison's best work
Here you will find none of the glossy artificiality you hear on so many of the rock records we sell - there's nothing wrong with that sound, mind you, but this recording captures much more of what the real instruments actually sound like in the studio
A member of the Better Records Rock and Pop Top 100, and a Must Own Classic Rock title from 1974
4 1/2 stars: "Bad Company's 1974 self-titled release stands as one of the most important and accomplished debut hard rock albums from the 70s ... it was one of the most successful steps in the continuing evolution of rock & roll."
100% Money Back Guarantee on all Hot Stampers
FREE Domestic Shipping on all LP orders over $150
Vintage covers for this album are hard to find in exceptionally clean shape. Most of the will have at least some amount of ringwear, seam wear and edge wear. We guarantee that the cover we supply with this Hot Stamper is at least VG
---
Practically every side two of this album has some surface noise in the left channel. Since it occurs on so many copies, we suspect an acetate issue as opposed to a vinyl issue, which means it was probably there on the copy you might have cracked open yourself in 1974.
Now on to the good news!
This one's got what you're looking for from this kind of Classic Rock album -- clarity, punchy bass, big drums, and lots of energy. The guitars sound right: grungy and distorted with loads of tubey richness.
You're going to want to play this one good and loud to let it really rock!
And, if you're playing it good and loud, you'll feel like you're in the room with the boys as they kick out the jams. "Ready For Love" sounds great here -- shocking clarity, tons of ambience, and silky sweet highs. The overall sound on both sides is lively, full-bodied, and transparent with Tubey Magical guitars and good weight to the bottom end.
What The Best Sides Of Bad Company Have To Offer Is Not Hard To Hear
The biggest, most immediate staging in the largest acoustic space
The most Tubey Magic, without which you have almost nothing. CDs give you clean and clear. Only the best vintage vinyl pressings offer the kind of Tubey Magic that was on the tapes in 1974
Tight, note-like, rich, full-bodied bass, with the correct amount of weight down low
Natural tonality in the midrange -- with all the instruments having the correct timbre
Transparency and resolution, critical to hearing into the three-dimensional studio space
No doubt there's more but we hope that should do for now. Playing the record is the only way to hear all of the qualities we discuss above, and playing the best pressings against a pile of other copies under rigorously controlled conditions is the only way to find a pressing that sounds as good as this one does.
Energy Deficits
Most copies only hint at the magic found on a Hot Stamper pressing. Drop the needle on your typical domestic pressing and the sound is just boring -- too clean, too dry and way too flat.
Where is the energy? These songs sound great on Classic Rock radio but too many copies lack the grungy energy that we know is actually there.
What We're Listening For On Bad Company's Debut
Energy for starters. What could be more important than the life of the music?
Then: presence and immediacy. The vocals aren't "back there" somewhere, lost in the mix. They're front and center where any recording engineer worth his salt would put them.
The Big Sound comes next -- wall to wall, lots of depth, huge space, three-dimensionality, all that sort of thing.
Then transient information -- fast, clear, sharp attacks, not the smear and thickness so common to these LPs.
Tight punchy bass -- which ties in with good transient information, also the issue of frequency extension further down.
Next: transparency -- the quality that allows you to hear deep into the soundfield, showing you the space and air around all the instruments.
Extend the top and bottom and voila, you have The Real Thing -- an honest to goodness Hot Stamper.
Engineering
This album was one of Ron Nevison's early engineering jobs. The year before (1973) he had been behind the board at Ronnie Lane's Mobile Studio for Quadrophenia, one of the best sounding Who albums we know of, and a longtime member of our Top 100 (as is this album).
He also knocked it out of the park on Bad Company's follow-up release, 1975's Straight Shooter. In 1977 he worked on the sprawling mess that turned into Physical Graffiti.
If you have top quality copies of any of them you should be able to recognize the qualities they all seem to have in common. This guy definitely knew how to get The Big Rock Sound onto analog tape.
Our job here at Better Records is simply to find you the very special pressings that actually reproduce all the energy and rock n' roll firepower that Nevison captured on his tapes all those years ago. It ain't easy but we don't mind doing it -- these are clearly some of the Greatest Rock Albums of the 70s (or any other decade you care to name) and we just never get tired of playing them.
Nevison went on to do many of the biggest selling rock albums of the 80s, but The 80s Sound has never held much appeal for us. This explains why you find so few recordings from the era on our site -- silk purses, sow's ears and all that.
Vinyl Condition
Mint Minus Minus is about as quiet as any vintage pressing will play, and since only the right vintage pressings have any hope of sounding good on this album, that will most often be the playing condition of the copies we sell. (The copies that are even a bit noisier get listed on the site are seriously reduced prices or traded back in to the local record stores we shop at.)
Those of you looking for quiet vinyl will have to settle for the sound of other pressings and Heavy Vinyl reissues, purchased elsewhere of course as we have no interest in selling records that don't have the vintage analog magic of these wonderful recordings.
If you want to make the trade-off between bad sound and quiet surfaces with whatever Heavy Vinyl pressing might be available, well, that's certainly your prerogative, but we can't imagine losing what's good about this music -- the size, the energy, the presence, the clarity, the weight -- just to hear it with less background noise.
A Must Own Rock Record
This Demo Disc Quality recording should be part of any serious Rock Collection. Others that belong in that category can be found here.
Side One
Can't Get Enough
Rock Steady
Ready For Love
Don't Let Me Down
Side Two
Bad Company
The Way I Choose
Movin' On
Seagull
AMG 4 1/2 Star Review
Bad Company's 1974 self-titled release stands as one of the most important and accomplished debut hard rock albums from the 70s ... it was one of the most successful steps in the continuing evolution of rock & roll, riding on the coattails of achievement from artists like the Eagles and Crosby, Stills, Nash and Young. From the simple electric guitar lick on "Can't Get Enough" to the haunting bassline in "Bad Company" and the fast beats of "Movin' On," Bad Company exemplified raw rock & roll at its best.
Erupting out of an experimental period created by the likes of Pink Floyd, Bad Company signified a return to more primal, stripped-down rock & roll. Even while labelmates Led Zeppelin's Houses of the Holy and IV featured highly acclaimed, colorful album artwork, Bad Company's austere black and white record cover stood out in stark contrast. Six years later, AC/DC used the same idea on their smash Back in Black.
Throughout the 35-minute album, Paul Rodgers' mesmerizing and gritty vocals hardly vary in tonal quality, offering a perfect complement to Mick Ralphs' blues-based guitar work. Several songs include three-chord verses offset by unembellished, distorted choruses, filled rich with Rodgers' cries. Bad Company is an essential addition to the rock & roll library; clearly influential to '70s and '80s hard rock bands like Tom Petty, Lynyrd Skynyrd, and Boston.