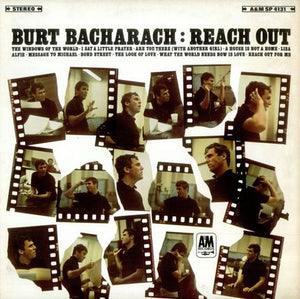 The copy we are selling is similar to the one pictured above.
Sonic Grade
Side One:
Side Two:
Vinyl Grade
Side One: Mint Minus Minus
Side Two: Mint Minus Minus
A vintage A&M pressing with superb Double Plus (A++) sound from first note to last
Tons of hits - "The Look Of Love," "Message To Michael," "Alfie," "What The World Needs Now," "I Say A Little Prayer" and more
Engineering by Phil Ramone (Casino Royale) and Henry Lewy (Sergio Mendes, Joni Mitchell) each doing their own tracks - compare and contrast for yourself
"[Reach Out] present[s] Bacharach's vision of his work at its most straightforward, and it is enjoyable on its own terms, as a snapshot of his own sensibilities at that time."
100% Money Back Guarantee on all Hot Stampers
FREE Domestic Shipping on all LP orders over $150
This is analog at its best -- full-bodied with real weight down low, nice bite to the brass, tons of energy and a lot of Tubey Magic. We were surprised at how lively and dynamic the better pressings of Reach Out can be.
More than this, it's simply a fun album of pop tunes, cleverly arranged and played with gusto. (I would be very surprised if these West Coast sessions weren't Wrecking Crew to a man, or woman as the case may be. Bacharach is known to be a stickler so the best of the best session guys and gals are probably the only ones he would consider.)
When it sounds this good the music is positively wonderful. There are tons of Burt Bacharach hits here -- "The Look Of Love" (sounding even better than it does on Casino Royale!), "Message To Michael," "Alfie," "What The World Needs Now," "I Say A Little Prayer" and many more.
What The Best Sides Of Reach Out Have To Offer Is Not Hard To Hear
The biggest, most immediate staging in the largest acoustic space
The most Tubey Magic, without which you have almost nothing. CDs give you clean and clear. Only the best vintage vinyl pressings offer the kind of Tubey Magic that was on the tapes in 1967
Tight, note-like, rich, full-bodied bass, with the correct amount of weight down low
Natural tonality in the midrange -- with all the instruments having the correct timbre
Transparency and resolution, critical to hearing into the three-dimensional studio space
No doubt there's more but we hope that should do for now. Playing the record is the only way to hear all of the qualities we discuss above, and playing the best pressings against a pile of other copies under rigorously controlled conditions is the only way to find a pressing that sounds as good as this one does.
The Songs
Most of the material really works, while some of it is not much more than passable (and the less said about the vocal the better).
That said, you just might fall in love with some of these songs. Anyone who's crazy about the Casino Royale soundtrack is probably going to have a good time with this record, at a fraction of the cost a Hot Stamper copy of the album would set you back (and we haven't had one in years; in case you were wondering, finding clean good sounding copies at an affordable price is just not in the cards anymore).
What We're Listening For On Reach Out
Energy for starters. What could be more important than the life of the music?
Then: presence and immediacy. The vocals aren't "back there" somewhere, lost in the mix. They're front and center where any recording engineer worth his salt would put them.
The Big Sound comes next -- wall to wall, lots of depth, huge space, three-dimensionality, all that sort of thing.
Then transient information -- fast, clear, sharp attacks, not the smear and thickness so common to these LPs.
Tight punchy bass -- which ties in with good transient information, also the issue of frequency extension further down.
Next: transparency -- the quality that allows you to hear deep into the soundfield, showing you the space and air around all the instruments.
Extend the top and bottom and voila, you have The Real Thing -- an honest to goodness Hot Stamper.
More of What To Listen For
Brightness, Blare, Lifelessness, Smear
We played a good-sized stack of these recently, but not many of them sounded like this one. The majority of copies had a tendency to be bright, which is murder when the horns start blaring at the levels we like to play our records at.
In addition there are plenty of copies out there that lack energy, while others suffer from transient smearing, most audible on the brass.
On the plus side, what is a vintage A&M record without Tubey Magic? The better copies have loads of it, without ever becoming thick, fat, or overly smooth, or losing bass definition.
It takes a special copy to make these easy listening numbers sound as fresh and invigorating as they no doubt did in the studio, and that's what the better Hot Stampers are all about.
Vinyl Condition
Mint Minus Minus and maybe a bit better is about as quiet as any vintage pressing will play, and since only the right vintage pressings have any hope of sounding good on this album, that will most often be the playing condition of the copies we sell. (The copies that are even a bit noisier get listed on the site are seriously reduced prices or traded back in to the local record stores we shop at.)
Those of you looking for quiet vinyl will have to settle for the sound of other pressings and Heavy Vinyl reissues, purchased elsewhere of course as we have no interest in selling records that don't have the vintage analog magic of these wonderful recordings.
If you want to make the trade-off between bad sound and quiet surfaces with whatever Heavy Vinyl pressing might be available, well, that's certainly your prerogative, but we can't imagine losing what's good about this music -- the size, the energy, the presence, the clarity, the weight -- just to hear it with less background noise.
Side One
Reach Out For Me
Alfie
Bond Street
Are You There (With Another Girl)
What The World Needs Now Is Love
Side Two
The Look Of Love
A House Is Not A Home
I Say A Little Prayer
The Windows Of The World
Lisa
Message To Michael
AMG Review
Burt Bacharach's second album will either delight or sorely disappoint modern listeners, depending upon how aware they are of who he really is. It's easy to forget, amidst his '90s revival, that Bacharach was never fundamentally a "rock" songwriter.
Some listeners will also be thrown by the presence of "Lisa," a throwback to pre-'60s pop. But that is a valid part of what Bacharach was about -- he grew up in an environment in which big-band jazz represented mainstream music, and was aspiring to make it as a pop composer when rock & roll hit. So it should be expected that he would have had an affinity for elegant pop music, which he would indulge on his first album for a soft-jazz and pop label like A&M.
Reach Out isn't a Rosetta Stone to understanding his music, but it does present Bacharach's vision of his work at its most straightforward, and it is enjoyable on its own terms, as a snapshot of his own sensibilities at that time.