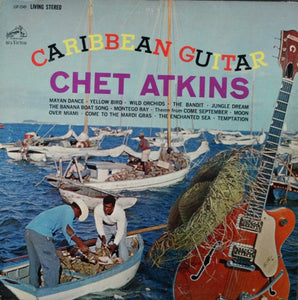 The copy we are selling is similar to the one pictured above.
Sonic Grade
Side One:
Side Two:
Vinyl Grade
Side One: Mint Minus Minus (often quieter than this grade)
Side Two: Mint Minus Minus
This famous TAS Super Disc RCA Living Stereo LP was doing practically everything right, with both sides earning killer Nearly Triple Plus (A++ to A+++) grades - just shy of our Shootout Winner
Plays fairly quiet too - about as quiet as these RCA pressings from the early '60s ever will
If you have ever heard one of our luscious Living Stereo Chet Atkins records, you know what to expect - off the charts Tubey Magic unlike anything made in the last fifty years, or more!
Engineer Bill Porter just doesn't know how not to make an amazing sounding Living Stereo recording - everything the guy touches is gold!
100% Money Back Guarantee on all Hot Stampers
FREE Domestic Shipping on all LP orders over $150
These Nearly White Hot Stamper pressings have top-quality sound that's often surprisingly close to our White Hots, but they sell at substantial discounts to our Shootout Winners, making them a relative bargain in the world of Hot Stampers ("relative" meaning relative considering the prices we charge). We feel you get what you pay for here at Better Records, and if ever you don't agree, please feel free to return the record for a full refund, no questions asked.
---
This is one of Chet Atkins' best albums. Sonically, it's right up there with The Other Chet Atkins and the Hollywood album. It seems like Bill Porter just doesn't know how not to make an amazing sounding Living Stereo recording. He knocked this out of the park.
I suppose we owe a debt of gratitude to Harry Pearson for pointing out to us with his TAS List what a great record this is, although I'm pretty sure anybody playing this album can tell after a minute or two that it's in that very special class of great recordings.
This album is a little more lively than some of his other recordings, which can be criticized for being a little too laid back. For example, try side 2, cut 2 where Chet actually jams.
The last track on side 2 where Chet is joined by a trumpet player is my favorite on the album. That guitar-trumpet combination is pretty magical on that song. And you've got to love the kind of sound Bill Porter get from a trumpet. That's the kind of sound we audiophiles drool over. I do anyway.
This vintage RCA Living Stereo pressing has the kind of Tubey Magical Midrange that modern records can barely BEGIN to reproduce. Folks, that sound is gone and it sure isn't showing signs of coming back. If you love hearing INTO a recording, actually being able to "see" the performers, and feeling as if you are sitting in the studio with the band, this is the record for you. It's what vintage all analog recordings are known for -- this sound.
If you exclusively play modern repressings of vintage recordings, I can say without fear of contradiction that you have never heard this kind of sound on vinyl. Old records have it -- not often, and certainly not always -- but maybe one out of a hundred new records do, and those are some pretty long odds.
What the Best Sides Of Caribbean Guitar Have To Offer Is Not Hard To Hear
The biggest, most immediate staging in the largest acoustic space
The most Tubey Magic, without which you have almost nothing. CDs give you clean and clear. Only the best vintage vinyl pressings offer the kind of Tubey Magic that was on the tapes in 1962
Tight, note-like, rich, full-bodied bass, with the correct amount of weight down low
Natural tonality in the midrange -- with all the instruments having the correct timbre
Transparency and resolution, critical to hearing into the three-dimensional studio space
No doubt there's more but we hope that should do for now. Playing the record is the only way to hear all of the qualities we discuss above, and playing the best pressings against a pile of other copies under rigorously controlled conditions is the only way to find a pressing that sounds as good as this one does.
Copies with rich lower mids and nice extension up top did the best in our shootout, assuming they weren't veiled or smeary of course. So many things can go wrong on a record! We know, we've heard them all.
Top end extension is critical to the sound of the best copies. Lots of old records (and new ones) have no real top end; consequently, the studio or stage will be missing much of its natural air and space, and instruments will lack their full complement of harmonic information.
Tube smear is common to most vintage pressings and this is no exception. The copies that tend to do the best in a shootout will have the least (or none), yet are full-bodied, tubey and rich.
What We're Listening For On Caribbean Guitar
Energy for starters. What could be more important than the life of the music?
The Big Sound comes next -- wall to wall, lots of depth, huge space, three-dimensionality, all that sort of thing.
Then transient information -- fast, clear, sharp attacks, not the smear and thickness so common to these LPs.
Tight punchy bass -- which ties in with good transient information, also the issue of frequency extension further down.
Next: transparency -- the quality that allows you to hear deep into the soundfield, showing you the space and air around all the instruments.
Extend the top and bottom and voila, you have The Real Thing -- an honest to goodness Hot Stamper.
Vinyl Condition
Mint Minus Minus and maybe a bit better is about as quiet as any vintage pressing will play, and since only the right vintage pressings have any hope of sounding good on this album, that will most often be the playing condition of the copies we sell. (The copies that are even a bit noisier get listed on the site are seriously reduced prices or traded back in to the local record stores we shop at.)
Those of you looking for quiet vinyl will have to settle for the sound of other pressings and Heavy Vinyl reissues, purchased elsewhere of course as we have no interest in selling records that don't have the vintage analog magic of these wonderful recordings.
If you want to make the trade-off between bad sound and quiet surfaces with whatever Heavy Vinyl pressing might be available, well, that's certainly your prerogative, but we can't imagine losing what's good about this music -- the size, the energy, the presence, the clarity, the weight -- just to hear it with less background noise.
Side One
Mayan Dance
Yellow Bird
Wild Orchids
The Bandit
Jungle Dream
The Banana Boat Song
Side Two
Montego Bay
Theme From "Come September"
Moon Over Miami
Come To The Mardi Gras
The Enchanted Sea
Temptation
Chet Atkins
Chester Burton Atkins (June 20, 1924 – June 30, 2001), known also as "Mr. Guitar" and "The Country Gentleman," was an American musician who, along with Owen Bradley and Bob Ferguson, helped create the Nashville sound, the country music style which expanded its appeal to adult pop music fans. He was primarily a guitarist, but he also played the mandolin, fiddle, banjo, and ukulele, and occasionally sang.
Atkins's signature picking style was inspired by Merle Travis. Other major guitar influences were Django Reinhardt, George Barnes, Les Paul, and, later, Jerry Reed. His distinctive picking style and musicianship brought him admirers inside and outside the country scene, both in the United States and abroad. Atkins spent most of his career at RCA Victor and produced records for the Browns, Hank Snow, Porter Wagoner, Norma Jean, Dolly Parton, Dottie West, Perry Como, Floyd Cramer, Elvis Presley, the Everly Brothers, Eddy Arnold, Don Gibson, Jim Reeves, Jerry Reed, Skeeter Davis, Waylon Jennings, Roger Whittaker, Ann-Margret and many others.
Rolling Stone credited Atkins with inventing the "popwise 'Nashville sound' that rescued country music from a commercial slump" and ranked him number 21 on their list of "The 100 Greatest Guitarists of All Time." Among many other honors, Atkins received 14 Grammy Awards and the Grammy Lifetime Achievement Award. He also received nine Country Music Association awards for Instrumentalist of the Year. He was inducted into the Rock & Roll Hall of Fame, the Country Music Hall of Fame and Museum, and the Musicians Hall of Fame and Museum. George Harrison was also inspired by Chet Atkins; early Beatles songs such as "All My Loving" show the influence.
While working with a Western band in Denver, Colorado, Atkins came to the attention of RCA Victor. Siman had been encouraging Steve Sholes to sign Atkins, as his style (with the success of Merle Travis as a hit recording artist) was suddenly in vogue. Sholes, A&R director of country music at RCA, tracked Atkins down in Denver.
He made his first RCA Victor recordings in Chicago in 1947, but they did not sell. He did some studio work for RCA that year, but had relocated to Knoxville again where he worked with Homer and Jethro on WNOX's new Saturday night radio show The Tennessee Barn Dance and the popular Midday Merry Go Round.
In 1949, he left WNOX to join June Carter with Mother Maybelle and the Carter Sisters on KWTO. This incarnation of the Carter Family featured Maybelle Carter and daughters June, Helen, and Anita. Their work soon attracted attention from the Grand Ole Opry. The group relocated to Nashville in the mid-1950s. Atkins began working on recording sessions and performing on WSM-AM and the Opry. Atkins became a member of the Opry in the 1950s.
While he had not yet had a hit record for RCA Victor, his stature was growing. He began assisting Sholes as a session leader when the New York–based producer needed help organizing Nashville sessions for RCA Victor artists. Atkins's first hit single was "Mr. Sandman," followed by "Silver Bell," which he recorded as a duet with Hank Snow. His albums also became more popular. He was featured on ABC-TV's The Eddy Arnold Show in the summer of 1956 and on Country Music Jubilee in 1957 and 1958 (by then renamed Jubilee USA).
In addition to recording, Atkins was a design consultant for Gretsch, which manufactured a popular Chet Atkins line of electric guitars from 1955 to 1980. He became manager of RCA Victor's Nashville studios, eventually inspiring and seeing the completion of the legendary RCA Studio B, the first studio built specifically for the purpose of recording on the now-famous Music Row. Also later on, Chet and Owen Bradley would become instrumental in the creation of studio B's adjacent building RCA Studio A as well.
Atkins received numerous awards, including 14 Grammy awards and nine Country Music Association awards for Instrumentalist of the Year. In 1993, he was honored with the Grammy Lifetime Achievement Award. Billboard magazine awarded him its Century Award, its "highest honor for distinguished creative achievement," in December 1997.
Atkins is notable for his broad influence. His love for numerous styles of music can be traced from his early recording of the stride pianist James P. Johnson's "Johnson Rag," all the way to the rock stylings of Eric Johnson, an invited guest on Atkins's recording sessions, who, when Atkins attempted to copy his influential rocker "Cliffs of Dover," led to Atkins's creation of a unique arrangement of "Londonderry Air (Danny Boy)."
The classical guitar selections included on almost all his albums were, for many American artists working in the field today, the first classical guitar they ever heard. He recorded smooth jazz guitar still played on American airwaves today.
Atkins continued performing in the 1990s, but his health declined after he was diagnosed again with colon cancer in 1996. He died on June 30, 2001, at his home in Nashville, Tennessee, at the age of 77. His memorial service was held at Ryman Auditorium in Nashville. He was buried at Harpeth Hills Memory Gardens in Nashville.
A stretch of Interstate 185 in southwest Georgia (between LaGrange and Columbus) is named "Chet Atkins Parkway." This stretch of interstate runs through Fortson, where Atkins spent much of his childhood.
In 2002, Atkins was posthumously inducted into the Rock and Roll Hall of Fame. His award was presented by Marty Stuart and Brian Setzer and accepted by Atkins's grandson, Jonathan Russell. The following year, Atkins ranked number 28 in Country Music Television's "40 Greatest Men of Country Music."
-Wikipedia