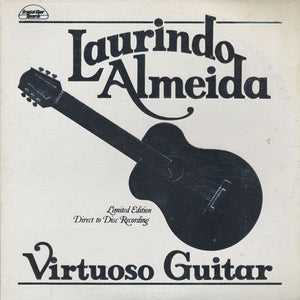 The copy we are selling is similar to the one pictured above.
Sonic Grade
Side One:
Side Two:
Vinyl Grade
Side One: Mint Minus Minus (often quieter than this grade)
Side Two: Mint Minus to Mint Minus Minus
An excellent copy of this 45 RPM Direct to Disc recording featuring Double Plus (A++) sound or close to it on both sides - remarkably quiet vinyl too
Some of the tubiest, warmest acoustic guitar sound you could ask for from a "modern" record (particularly on side two) - this is the sound of analog done right
It has the kind of sound we prefer, with none of the razor sharpness that you get on some direct to disc recordings
One of the best Almeida albums we know of and probably the best Crystal Clear title (which we know isn't saying much)
If you are looking for a shootout winning copy, let us know - with music and sound like this, we hope to be able to do this shootout again soon
More Laurindo Almeida / More Jazz Recordings Featuring the Guitar
100% Money Back Guarantee on all Hot Stampers
FREE Domestic Shipping on all LP orders over $150
Vintage covers for this album are hard to find in exceptionally clean shape. Most of the will have at least some amount of ringwear, seam wear and edge wear. We guarantee that the cover we supply with this Hot Stamper is at least VG
---
This vintage Crystal Clear Records pressing has the kind of Tubey Magical Midrange that modern records can barely BEGIN to reproduce. Folks, that sound is gone and it sure isn't showing signs of coming back. If you love hearing INTO a recording, actually being able to "see" the performers, and feeling as if you are sitting in the studio with the band, this is the record for you. It's what vintage all analog recordings are known for -- this sound.
If you exclusively play modern repressings of vintage recordings, I can say without fear of contradiction that you have never heard this kind of sound on vinyl. Old records have it -- not often, and certainly not always -- but maybe one out of a hundred new records do, and those are some pretty long odds.
What The Best Sides Of Virtuoso Guitar Have To Offer Is Not Hard To Hear
The biggest, most immediate staging in the largest acoustic space
The most Tubey Magic, without which you have almost nothing. CDs give you clean and clear. Only the best vintage vinyl pressings offer the kind of Tubey Magic that was on the tapes in 1977
Tight, note-like, rich, full-bodied bass, with the correct amount of weight down low
Natural tonality in the midrange -- with all the instruments having the correct timbre
Transparency and resolution, critical to hearing into the three-dimensional studio space
No doubt there's more but we hope that should do for now. Playing the record is the only way to hear all of the qualities we discuss above, and playing the best pressings against a pile of other copies under rigorously controlled conditions is the only way to find a pressing that sounds as good as this one does.
Volume Is Key
This recording has very little processing or EQ boost, and the studio is somewhat dead sounding (all too common in the late '70s). That combination can mean only one thing: If you don't play this record loud, it will not sound right. The famous Sheffield S9 is exactly the same way. It sounds dead and dull until you turn it up. When you do, lookout -- it really comes alive.
The best pressings can sound shockingly like live music, something one just does not hear all that often, even when one plays records all day long as we do.
What We're Listening For On Virtuoso Guitar
Energy for starters. What could be more important than the life of the music?
The Big Sound comes next -- wall to wall, lots of depth, huge space, three-dimensionality, all that sort of thing.
Then transient information -- fast, clear, sharp attacks, not the smear and thickness so common to these LPs.
Tight, full-bodied bass -- which ties in with good transient information, also the issue of frequency extension further down.
Next: transparency -- the quality that allows you to hear deep into the soundfield, showing you the space and air around all the instruments.
Extend the top and bottom and voila, you have The Real Thing -- an honest to goodness Hot Stamper.
More of What To Listen For
What typically separates the killer copies from the merely good ones are two qualities that we often look for in the records we play: transparency and lack of smear. Transparency allows you to hear into the recording, reproducing the ambience and subtle musical cues and details that are the hallmark of high-resolution analog.
(Note that most Heavy Vinyl pressings being produced these days seem to be rather seriously Transparency and Ambience Challenged. A substantial amount of important musical information -- the kind we hear on even second-rate regular pressings -- is simply nowhere to be found. We believe that a properly mastered CD is likely to be more transparent and have higher resolution than the vast majority of Heavy Vinyl remastered pressings being produced these days.)
Lack of smear is also important, especially on a recording of the guitar (and percussion). The speed and clarity of the transients, the sense that fingers are pulling on strings, strings that ring with tonally correct harmonics, are what make these kinds of records so much fun to play. The best copies really get that sound right, in the same way that the best recordings of Cat Stevens and the Eagles and Pink Floyd and so many others get the sound of their stringed instruments right.
Vinyl Condition
Mint Minus Minus is about as quiet as any vintage pressing will play, and since only the right vintage pressings have any hope of sounding good on this album, that will most often be the playing condition of the copies we sell. (The copies that are even a bit noisier get listed on the site are seriously reduced prices or traded back in to the local record stores we shop at.)
Those of you looking for quiet vinyl will have to settle for the sound of other pressings and Heavy Vinyl reissues, purchased elsewhere of course as we have no interest in selling records that don't have the vintage analog magic of these wonderful recordings.
If you want to make the trade-off between bad sound and quiet surfaces with whatever Heavy Vinyl pressing might be available, well, that's certainly your prerogative, but we can't imagine losing what's good about this music -- the size, the energy, the presence, the clarity, the weight -- just to hear it with less background noise.
Side One
Yesterday
Jazz Tune at the Mission
Late Last Night
Side Two
Sonata for Guitar and Cello
More on Laurindo Almeida
This extraordinary Brazilian guitarist, composer, and arranger was introduced to music by his mother, a concert pianist who gave him his first lessons. Like his sister, however, he would eventually choose the guitar as his primary instrument.
He was to win Oscars for his soundtracks to The Old Man and the Sea (1958) and The Magic Pear Tree (1970). He soon joined the innovative Stan Kenton Orchestra and became a featured soloist. After three years, he established permanent residence in Los Angeles and began an astonishingly prolific recording career that was to earn him ten Grammy awards.
Almeida's palette of stylistic and emotional expression was wide-ranging. His early '50s Brazilliance albums with Bud Shank helped establish the bossa nova style in the States several years before the craze hit. He also recorded and toured with the Modern Jazz Quartet and was equally at home with classical and modern concert music, such as Gnattali's Concerto de Copacabana and the Guitar Concerto of Villa-Lobos.
~ "Blue Gene" Tyranny, All Music Guide