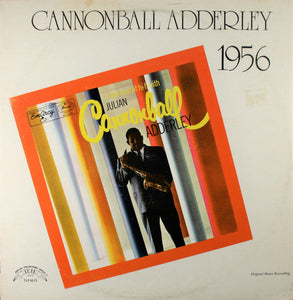 The copy we are selling is similar to the one pictured above.
Sonic Grade
Side One:
Side Two:
Vinyl Grade
Side One: Mint Minus to Mint Minus Minus
Side Two: Mint Minus to Mint Minus Minus
Both sides of this vintage Mono pressing have seriously good sound for Adderley's fourth studio album, earning Double Plus (A++) grades or BETTER - exceptionally quiet vinyl too
Big Group energy and enthusiasm is key to the better pressings like this one - here you will find the most natural sounding ambience than on a lot of other copies from our shootout
This one has most everything going for it, with bass, dynamics, clarity, top end extension and more - it's a real Demo Disc, make no mistake about it
100% Money Back Guarantee on all Hot Stampers
FREE Domestic Shipping on all LP orders over $150
This vintage Trip pressing has the kind of Tubey Magical Midrange that modern records can barely BEGIN to reproduce. Folks, that sound is gone and it sure isn't showing signs of coming back. If you love hearing INTO a recording, actually being able to "see" the performers, and feeling as if you are sitting in the studio with the band, this is the record for you. It's what vintage all analog recordings are known for -- this sound.
If you exclusively play modern repressings of vintage recordings, I can say without fear of contradiction that you have never heard this kind of sound on vinyl. Old records have it -- not often, and certainly not always -- but maybe one out of a hundred new records do, and those are some pretty long odds.
What The Best Sides Of In The Land of Hi-Fi Have To Offer Is Not Hard To Hear
The biggest, most immediate staging in the largest acoustic space
The most Tubey Magic, without which you have almost nothing. CDs give you clean and clear. Only the best vintage vinyl pressings offer the kind of Tubey Magic that was on the tapes in 1956
Tight, note-like, rich, full-bodied bass, with the correct amount of weight down low
Natural tonality in the midrange -- with all the instruments having the correct timbre
Transparency and resolution, critical to hearing into the three-dimensional studio space
No doubt there's more but we hope that should do for now. Playing the record is the only way to hear all of the qualities we discuss above, and playing the best pressings against a pile of other copies under rigorously controlled conditions is the only way to find a pressing that sounds as good as this one does.
A Big Group of Musicians Needs This Kind of Space
One of the qualities that we don't talk about on the site nearly enough is the SIZE of the record's presentation. Some copies of the album just sound small -- they don't extend all the way to the outside edges of the speakers, and they don't seem to take up all the space from the floor to the ceiling. In addition, the sound can often be recessed, with a lack of presence and immediacy in the center.
Other copies -- my notes for these copies often read "BIG and BOLD" -- create a huge soundfield, with the music positively jumping out of the speakers. They're not brighter, they're not more aggressive, they're not hyped-up in any way, they're just bigger and clearer.
And most of the time those very special pressings are just plain more involving. When you hear a copy that does all that -- a copy like this one -- it's an entirely different listening experience.
What We're Listening For On In The Land of Hi-Fi
Energy for starters. What could be more important than the life of the music?
The Big Sound comes next -- wall to wall, lots of depth, huge space, three-dimensionality, all that sort of thing.
Then transient information -- fast, clear, sharp attacks, not the smear and thickness so common to these LPs.
Tight, full-bodied bass -- which ties in with good transient information, also the issue of frequency extension further down.
Next: transparency -- the quality that allows you to hear deep into the soundfield, showing you the space and air around all the instruments.
Extend the top and bottom and voila, you have The Real Thing -- an honest to goodness Hot Stamper.
The Players
Cannonball Adderley - alto saxophone
Jerome Richardson - tenor saxophone, flute
Danny Bank - baritone saxophone
Nat Adderley – cornet
Ernie Royal - trumpet
Bobby Byrne, Jimmy Cleveland - trombone
Junior Mance - piano
Keter Betts - bass
Charles "Specs" Wright - drums
Ernie Wilkins - conductor, arranger
Quincy Jones - music director
Vinyl Condition
Mint Minus Minus is about as quiet as any vintage pressing will play, and since only the right vintage pressings have any hope of sounding good on this album, that will most often be the playing condition of the copies we sell. (The copies that are even a bit noisier get listed on the site are seriously reduced prices or traded back in to the local record stores we shop at.)
Those of you looking for quiet vinyl will have to settle for the sound of other pressings and Heavy Vinyl reissues, purchased elsewhere of course as we have no interest in selling records that don't have the vintage analog magic of these wonderful recordings.
If you want to make the trade-off between bad sound and quiet surfaces with whatever Heavy Vinyl pressing might be available, well, that's certainly your prerogative, but we can't imagine losing what's good about this music -- the size, the energy, the presence, the clarity, the weight -- just to hear it with less background noise.
Side One
Dog My Cats
I'm Glad There Is You
Blues For Bohemia
Junior's Tune
Between The Devil & The Deep Blue Sea
Side Two
Casa De Marcel
Little Girl Blue
T's Tune
Broadway At Basin Street
Just Norman
I Don't Care
Cannonball Adderley
Julian Edwin "Cannonball" Adderley (September 15, 1928 – August 8, 1975) was an American jazz alto saxophonist of the hard bop era of the 1950s and 1960s.
Adderley is perhaps best remembered for the 1966 soul jazz single "Mercy, Mercy, Mercy," which was written for him by his keyboardist Joe Zawinul and became a major crossover hit on the pop and R&B charts. A cover version by the Buckinghams, who added lyrics, also reached No. 5 on the charts. Adderley worked with Miles Davis, first as a member of the Davis sextet, appearing on the seminal records Milestones (1958) and Kind of Blue (1959), and then on his own 1958 album Somethin' Else. He was the elder brother of jazz trumpeter Nat Adderley, who was a longtime member of his band.
Early life and career
Julian Edwin Adderley was born on September 15, 1928, in Tampa, Florida to high school guidance counselor and cornet player Julian Carlyle Adderley and elementary school teacher Jessie Johnson. Elementary school classmates called him "cannonball" (i.e., "cannibal") after his voracious appetite.
Cannonball moved to Tallahassee when his parents obtained teaching positions at Florida A&M University. Both Cannonball and brother Nat played with Ray Charles when Charles lived in Tallahassee during the early 1940s. Adderley moved to Broward County, Florida, in 1948 after finishing his music studies at Florida A&M and became the band director at Dillard High School in Fort Lauderdale, a position which he held until 1950.
Cannonball left Southeast Florida and moved to New York City in 1955. One of his known addresses in New York was in the neighborhood of Corona, Queens. He left Florida originally to seek graduate studies at New York conservatories, but one night in 1955 he brought his saxophone with him to the Café Bohemia. Cannonball was asked to sit in with Oscar Pettiford in place of his band's regular saxophonist, who was late for the gig. The "buzz" on the New York jazz scene after Adderley's performance announced him as the heir to the mantle of Charlie Parker.
Adderley formed his own group with his brother Nat after signing onto the Savoy jazz label in 1955. He was noticed by Miles Davis, and it was because of his blues-rooted alto saxophone that Davis asked him to play with his group. He joined the Davis band in October 1957, three months prior to the return of John Coltrane to the group. Some of Davis's finest trumpet work can be found on Adderley's solo album Somethin' Else (also featuring Art Blakey and Hank Jones), which was recorded shortly after the two giants met. Adderley then played on the seminal Davis records Milestones and Kind of Blue. This period also overlapped with pianist Bill Evans' time with the sextet, an association that led to Evans appearing on Portrait of Cannonball and Know What I Mean?
His interest as an educator carried over to his recordings. In 1961, Cannonball narrated The Child's Introduction to Jazz, released on Riverside Records. In 1962, Cannonball married actress Olga James.
Band leader
The Cannonball Adderley Quintet featured Cannonball on alto sax and his brother Nat Adderley on cornet. Cannonball's first quintet was not very successful; however, after leaving Davis' group, he formed another group again with his brother. The new quintet, which later became the Cannonball Adderley Sextet, and Cannonball's other combos and groups, included such noted musicians as saxophonists Charles Lloyd and Yusef Lateef, pianists Bobby Timmons, Barry Harris, Victor Feldman, Joe Zawinul, Hal Galper, Michael Wolff, and George Duke, bassists Ray Brown, Sam Jones, Walter Booker, and Victor Gaskin, and drummers Louis Hayes and Roy McCurdy.
Later life
By the end of the 1960s, Adderley's playing began to reflect the influence of electric jazz. In this period, he released albums such as Accent on Africa (1968) and The Price You Got to Pay to Be Free (1970). In that same year, his quintet appeared at the Monterey Jazz Festival in California, and a brief scene of that performance was featured in the 1971 psychological thriller Play Misty for Me, starring Clint Eastwood. In 1975 he also appeared in an acting role alongside José Feliciano and David Carradine in the episode "Battle Hymn" in the third season of the TV series Kung Fu.
Songs made famous by Adderley and his bands include "This Here" (written by Bobby Timmons), "The Jive Samba", "Work Song" (written by Nat Adderley), "Mercy, Mercy, Mercy" (written by Joe Zawinul) and "Walk Tall" (written by Zawinul, Marrow, and Rein). A cover version of Pops Staples' "Why (Am I Treated So Bad)?" also entered the charts. His instrumental "Sack o' Woe" was covered by Manfred Mann on their debut album, The Five Faces of Manfred Mann.
In July 1975, Adderley suffered a stroke from a cerebral hemorrhage and died four weeks later, on August 8, 1975, at St. Mary Methodist Hospital in Gary, Indiana. He was 46 years old. He was survived by his wife Olga James Adderley, parents Julian C. and Jessie L. Adderley, and brother Nat Adderley. He was buried in the Southside Cemetery, Tallahassee.
Legacy
Later in 1975, he was inducted into the DownBeat Jazz Hall of Fame. Joe Zawinul's composition "Cannon Ball" on Weather Report's Black Market album is a tribute to his former leader. Pepper Adams and George Mraz dedicated the composition "Julian" on the 1975 Pepper Adams album of the same name days after Cannonball's death.
-Wikipedia