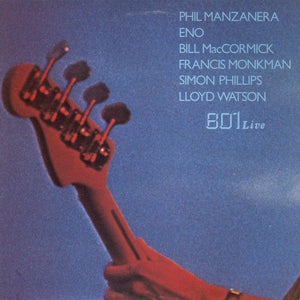 The copy we are selling is similar to the one pictured above.
Sonic Grade
Side One:
Side Two:
Vinyl Grade
Side One: Mint Minus to Mint Minus Minus*
Side Two: Mint Minus to Mint Minus Minus
801 Live rocks as hard as ever on this original UK Island copy with superb Double Plus (A++) sound or BETTER from start to finish - exceptionally quiet vinyl too
We shot out a number of other imports and this one had the presence, bass, and dynamics that were missing from most of what we played, not to mention that live rock and roll energy that old records have and new records don't
Recorded in 1976, this is surely the best side project Phil Manzanera was ever involved with -- the same would be true for Eno
Marks in the vinyl are sometimes the nature of the beast with these classic rock records - there simply is no way around them if the superior sound of vintage analog is important to you
Fortunately, the mark on this record is at the beginning of a spacey guitar intro that you are very unlikely to miss
4 1/2 stars: "This album marks probably one of the last times that Eno rocked out in such an un-self-consciously fun fashion, but that's not the only reason to buy it: 801 Live is a cohesive document of an unlikely crew who had fun and took chances. Listeners will never know what else they might have done if their schedules had been less crowded, but this album's a good reminder."
100% Money Back Guarantee on all Hot Stampers
FREE Domestic Shipping on all LP orders over $150
*NOTE: There is a mark that plays 20 times at a light to moderate level at the start of track 1 on side 1, "Lagrima."
Vintage covers for this album are hard to find in exceptionally clean shape. Most of the will have at least some amount of ringwear, seam wear and edge wear. We guarantee that the cover we supply with this Hot Stamper is at least VG
---
801 Live ranks near the top of the list of my All Time Favorite Albums -- a Desert Island Disc if ever there was one.
I stumbled across it decades ago and have loved it ever since. (It started when a college buddy played me the wildly original "Tomorrow Never Knows" from the album and asked me to name the tune. Eno's take is so different from The Beatles version that I confess it took me an embarrassingly long while to catch on.)
This vintage UK pressing has the kind of Tubey Magical Midrange that modern records can barely BEGIN to reproduce. Folks, that sound is gone and it sure isn't showing signs of coming back. If you love hearing INTO a recording, actually being able to "see" the performers, and feeling as if you are sitting in the studio with the band, this is the record for you. It's what vintage all analog recordings are known for -- this sound.
If you exclusively play modern repressings of vintage recordings, I can say without fear of contradiction that you have never heard this kind of sound on vinyl. Old records have it -- not often, and certainly not always -- but maybe one out of a hundred new records do, and those are some pretty long odds.
What The Best Sides Of 801 Live Have To Offer Is Not Hard To Hear
The biggest, most immediate staging in the largest acoustic space
The most Tubey Magic, without which you have almost nothing. CDs give you clean and clear. Only the best vintage vinyl pressings offer the kind of Tubey Magic that was on the tapes in 1976
Tight, note-like, rich, full-bodied bass, with the correct amount of weight down low
Natural tonality in the midrange -- with all the instruments having the correct timbre
Transparency and resolution, critical to hearing into the three-dimensional studio space
No doubt there's more but we hope that should do for now. Playing the record is the only way to hear all of the qualities we discuss above, and playing the best pressings against a pile of other copies under rigorously controlled conditions is the only way to find a pressing that sounds as good as this one does.
What We're Listening For On 801 Live
Energy for starters. What could be more important than the life of the music?
Then: presence and immediacy. The vocals aren't "back there" somewhere, lost in the mix. They're front and center where any recording engineer worth his salt would put them.
The Big Sound comes next -- wall to wall, lots of depth, huge space, three-dimensionality, all that sort of thing.
Then transient information -- fast, clear, sharp attacks, not the smear and thickness so common to these LPs.
Tight punchy bass -- which ties in with good transient information, also the issue of frequency extension further down.
Next: transparency -- the quality that allows you to hear deep into the soundfield, showing you the space and air around all the instruments.
Extend the top and bottom and voila, you have The Real Thing -- an honest to goodness Hot Stamper.
Major Audiophile Pitfall Number One
Sometime in 2006 I noted on the site that I had finally figured out how to tell the good pressings from the not-so-good ones. I had been focusing on the wrong things in the shootouts I had done over the last few years, and in that respect I have the feeling I was not alone. This seems to be a fairly common Major Audiophile Pitfall that we all get stuck in on occassion.
In this case I was trying to find a more transparent copy, one with more shimmer to the cymbals and air around the instruments. The first track is a little opaque and I wanted to be able to hear into the music better. I had tried many import and domestic copies, but none of them seemed to have the qualities I was looking for. They all sounded different, but I could not for the life of me find one that clearly sounded right.
That was my mistake. This album isn't about clarity. It's about the power of rock and roll. It's about the sound of a live band in concert -- a band with one of the most phenomenal rhythm sections ever captured on tape. The most phenomenal one I've ever heard, that's for sure.
Big Bass Is Key (But Not the Only Key)
While doing the shootout, I realized what separates the men from the boys on this LP: bass. The copies with the most powerful, deepest bass -- the stuff under 50 cycles -- most often get everything else right too. The bass is the foundation to the sound, and without it the guitars and voices don't sound right. They're just too thin. They need body, and body comes from bass.
The "bassy" copies are more dynamic too. They communicate the power of the music in a way that the leaner copies simply do not. With the leaner copies it's a good album. With the bassy copies you are there.
(Assuming you play this record at the levels necessary for the suspension of disbelief to take hold, i.e., LOUD. The Legacy Focus' speakers I currently use to audition records have three 12″ woofers that really pump it out at the low end, at high levels, with no audible distortion. It's one of the reasons they're used in recording studios for monitors.)
I went down the wrong road because I got caught up in the details and missed the essence of the sound. Are you a detail freak? Is that where the music is -- in the details? For audiophiles, that's Pitfall Number One. Brighter ain't necessarily better; most of the time it's just brighter, and, truth be told, worse. (Played an XRCD lately?)
An Amendment to the Comments Above
Of course there's more to the story than just good bass or dynamics, although for this album they are sine qua non, as discussed above. Our Super Tweeters as well as new and improved room treatments, in concert with our three pairs of Hallographs, have made a huge difference in the area of top end extension.
So now I would like to amend my previous comments in order to say that Top End Extension plays a crucial role in determining which copies truly soar above the others. The typically good-sounding imports have very little tape hiss. The Hot Stampers have clearly audible hiss that sounds just right. On some tracks, as soon as you drop the needle and hear the tape hiss sound right, you know you have a pretty darn good copy. The soundstage opens up, complete with tons of depth, transparency, and wall to wall sound floating free from the speakers. If the bass is there, and it's not sloppy or congested, you, my friend, have what we call a Hot Stamper.
All you have to do now is sit back and let the cinerama sound wrap itself around you. You are in for a treat!
Vinyl Condition
Mint Minus Minus and maybe a bit better is about as quiet as any vintage pressing will play, and since only the right vintage pressings have any hope of sounding good on this album, that will most often be the playing condition of the copies we sell. (The copies that are even a bit noisier get listed on the site are seriously reduced prices or traded back in to the local record stores we shop at.)
Those of you looking for quiet vinyl will have to settle for the sound of other pressings and Heavy Vinyl reissues, purchased elsewhere of course as we have no interest in selling records that don't have the vintage analog magic of these wonderful recordings.
If you want to make the trade-off between bad sound and quiet surfaces with whatever Heavy Vinyl pressing might be available, well, that's certainly your prerogative, but we can't imagine losing what's good about this music -- the size, the energy, the presence, the clarity, the weight -- just to hear it with less background noise.
Side One
Lagrima
T.N.K. (Tomorrow Never Knows)
East Of Asteroid
Rongwrong
Sombre Reptiles
Side Two
Baby's On Fire
Diamond Head
Miss Shapiro
You Really Got Me
Third Uncle
AMG 4 1/2 Star Rave Review
801 provided Roxy Music guitarist Phil Manzanera with one of his most intriguing side projects. Although the band only played three gigs in August and September 1976, this album captures a night when everything fell right into place musically. That should only be expected with names like Eno and Simon Phillips in the lineup. (Still, the lesser-known players -- bassist Bill MacCormick, keyboardist Francis Monkman, and slide guitarist Lloyd Watson -- are in exemplary form, too.)
The repertoire is boldly diverse, opening with "Lagrima," a crunchy solo guitar piece from Manzanera. Then the band undertakes a spacey but smoldering version of "Tomorrow Never Knows"; it's definitely among the cleverest of Beatles covers. Then it's on to crisp jazz-rock ("East of Asteroid"), atmospheric psych-pop ("Rongwrong"), and Eno's tape manipulation showcase, "Sombre Reptiles." And that's only the first five songs.
The rest of the gig is no less audacious, with no less than three Eno songs -- including a frenetic "Baby's on Fire," "Third Uncle," and "Miss Shapiro"'s dense, syllable-packed verbal gymnastics. There's another unlikely cover of the Kinks' "You Really Got Me," while Manzanera turns in another typically gutsy instrumental performance on "Diamond Head."
This album marks probably one of the last times that Eno rocked out in such an un-self-consciously fun fashion, but that's not the only reason to buy it: 801 Live is a cohesive document of an unlikely crew who had fun and took chances. Listeners will never know what else they might have done if their schedules had been less crowded, but this album's a good reminder.