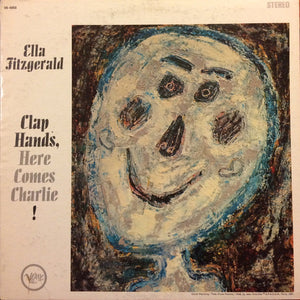 The copy we are selling is similar to the one pictured above.
Sonic Grade
Side One:
Side Two:
Vinyl Grade
Side One: Mint Minus Minus*
Side Two: Mint Minus Minus*
With STUNNING Shootout Winning Triple Plus (A+++) grades or close to them on both sides, this vintage Verve Stereo pressing is one of the BEST we have ever heard
Our single Favorite Female Vocal album here at Better Records, one that gets better with each passing year
We have a devil of a time finding copies that sound good and have no audible marks or wear, but there is simply no way around problems with the vinyl on this title, almost all the top copies end up having marks that play
The vocal naturalness and immediacy of this early pressing will put Ella in the room with you - more than anything else, it lets her performance come to life
"Another typically wonderful LP of Ella Fitzgerald in her prime...this is an excellent (and somewhat underrated) set." [It is definitely not underrated by us, we think it's the best record the lady ever made]
100% Money Back Guarantee on all Hot Stampers
FREE Domestic Shipping on all LP orders over $150
*NOTE: On side 1, there is a mark that plays 30+ times at a moderate to loud level about 1/8" into track 3, "My Reverie." There is also a mark that plays 4 times at a light to moderate level about 1/4" from the end of track 6, "Jersey Bounce."
On side 2, there is a mark that plays 5 times at a moderate level about 2/3 of the way into track 1, "Cry Me A River." There is also a mark that plays 17 times at a moderate to loud level at the end of track 3, "Good Morning Heartache."
Vintage covers for this album are hard to find in exceptionally clean shape. Most of the will have at least some amount of ringwear, seam wear and edge wear. We guarantee that the cover we supply with this Hot Stamper is at least VG
---
Folks, if you're in the market for one of the most magical female vocal recordings ever made, today is your lucky day.
We're absolutely crazy about this album, and here's a copy that more than justifies our enthusiasm. You will have a very hard time finding better sound than we are offering here.
Longtime customers know that I have been raving about this album for almost thirty years now, ever since I first heard it back around 1995. I consider it the finest female vocal album in the history of the world. I could go on for pages about this record. Suffice it to say, this record belongs in every right-thinking Music Lover's collection.
Fans of The First Lady of Song are encouraged to give this one a very hard look. It's not cheap but this kind of quality never is.
Music and Sound
The sound is rich and full-bodied in the best tradition of a classic vintage jazz vocal album. You could easily demonstrate your stereo with a record this good, but what you would really be demonstrating is music that the listener probably hasn't heard, and that's the best reason to demonstrate a stereo!
The space is HUGE and the sound so rich. The vocals have dramatically less hardness and the orchestra -- especially on side two -- is not brash for once.
Prodigious amounts of Tubey Magic as well, which is key to the best sounding copies. The sound needs weight, warmth and tubes or you might as well be playing a CD.
What The Best Sides Of Clap Hands... Have to Offer Is Not Hard To Hear
The biggest, most immediate staging in the largest acoustic space
The most Tubey Magic, without which you have almost nothing. CDs give you clean and clear. Only the best vintage vinyl pressings offer the kind of Tubey Magic that was on the tapes in 1961
Tight, note-like, rich, full-bodied bass, with the correct amount of weight down low
Natural tonality in the midrange -- with all the instruments having the correct timbre
Transparency and resolution, critical to hearing into the three-dimensional studio space
No doubt there's more but we hope that should do for now. Playing the record is the only way to hear all of the qualities we discuss above, and playing the best pressings against a pile of other copies under rigorously controlled conditions is the only way to find a pressing that sounds as good as this one does.
Bad Vinyl and Bad Mastering
Play the average copy. Unless you are exceptionally fortunate and have chanced upon a properly mastered and pressed and cared for copy, you will hear lots of problems.
It's one of the main reasons we have such a hard time doing shootouts for Ella's 50s and 60s albums. The other, of course, is the poor condition most copies are in. Few pressings do not have marks that play or damaged grooves. The record players of the 50s and 60s, not to mention their owners, were ruinous on the albums of the day.
Obviously, we wouldn't bother if the music and sound weren't so good. When you are lucky enough to find a copy that sounds as good as this one does, full of standards from the Great American Songbook, you cannot help but recognize that this era for Ella will never be equaled, by her or anyone else.
A Top Performance
The dirty little secret of the "bad pressing," whether it's badly remastered, badly mastered to start with, badly pressed or what have you, is the fact that more than anything else the bad sound hurts the musicians' performances.
Conversely, the good pressings present the musicians at their best. Ella is at her peak on this album. Nobody sings jazz standards better. Many, if not most, of the performances here are definitive.
What We're Listening For On Clap Hands...
Energy for starters. What could be more important than the life of the music?
Then: presence and immediacy. The vocals aren't "back there" somewhere, lost in the mix. They're front and center where any recording engineer worth his salt would put them.
The Big Sound comes next -- wall to wall, lots of depth, huge space, three-dimensionality, all that sort of thing.
Then transient information -- fast, clear, sharp attacks, not the smear and thickness so common to these LPs.
Tight note-like bass -- which ties in with good transient information, also the issue of frequency extension further down.
Next: transparency -- the quality that allows you to hear deep into the soundfield, showing you the space and air around all the instruments.
Extend the top and bottom and voila, you have The Real Thing -- an honest to goodness Hot Stamper.
Copies with rich lower mids and nice extension up top did the best in our shootout, assuming they weren't veiled or smeary of course. So many things can go wrong on a record! We know, we heard them all.
We're glad to report this copy was doing more of what we wanted it to do than most of the other copies we played.
And we know a fair bit about Ella's recordings at this point. As of today we've done commentaries for more than a dozen different Ella Fitzgerald albums.
We've searched high and low for her records and played them by the score over the years. We plan to keep a good supply on to the site in the coming years so watch for new Pop and Jazz Vocal arrivals.
Vinyl Condition
Mint Minus Minus is about as quiet as any vintage pressing will play, and since only the right vintage pressings have any hope of sounding good on this album, that will most often be the playing condition of the copies we sell. (The copies that are even a bit noisier get listed on the site are seriously reduced prices or traded back into the local record stores we shop at.)
Those of you looking for quiet vinyl will have to settle for the sound of other pressings and Heavy Vinyl reissues, purchased elsewhere of course as we have no interest in selling records that don't have the vintage analog magic of these wonderful recordings.
If you want to make the trade-off between bad sound and quiet surfaces with whatever Heavy Vinyl pressing might be available, well, that's certainly your prerogative, but we can't imagine losing what's good about this music -- the size, the energy, the presence, the clarity, the weight -- just to hear it with less background noise.
A Must Own Ella Album (One of Many)
We consider Clap Hands Ella's Masterpiece. It's a Demo Disc Quality recording that should be part of any serious Vocal Collection.
Others that belong in that category can be found here.
Side One
Night In Tunisia
You're My Thrill
My Reverie
Stella By Starlight
'Round Midnite
Jersey Bounce
Signing Off
Side Two
Cry Me A River
This Year's Kisses
Good Morning Heartache
(I Was) Born To Be Blue
Clap Hands, Here Comes Charlie!
Spring Can Really Hang You Up The Most
Music Goes 'Round And 'Round
AMG Review
Another typically wonderful LP of Ella Fitzgerald in her prime, Fitzgerald is joined by pianist Lou Levy, guitarist Herb Ellis, bassist Joe Mondragon, and drummer Stan Levey. Fitzgerald is in fine form on such numbers as "A Night in Tunisia," an emotional "You're My Thrill," "Jersey Bounce," and "Clap Hands! Here Comes Charlie." Although not reaching the heights of her live performances, this is an excellent (and somewhat underrated) set.
Amazon Review
This early '60s studio session captures Ella Fitzgerald moving toward the smaller, more pointedly jazz-inflected ensembles that would shape her career in her final decades. After the lush orchestrations of her classic series of composer songbooks, which found her collaborating with the best arrangers, the intimate scale and easy interplay of a crack band provide a wonderful platform for the spirited performances here.
That Ella herself savored the opportunity is reflected in a program that includes Thelonious Monk's "After Midnight" and a breezy, potent ride through the Charlie Parker/Dizzy Gillespie anthem, "Night In Tunisia." With a mix of bona fide standards and revived swing classics, this is a rediscovered gem, cause enough to clap hands.
— Sam Sutherland, Amazon