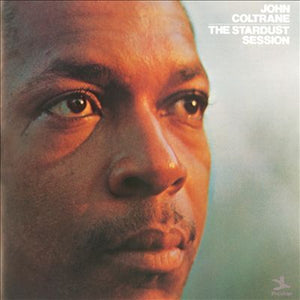 The copy we are selling is similar to the one pictured above.
Sonic Grade
Side One:
Side Two:
Side Three:
Side Four:
Vinyl Grade
Side One: Mint Minus Minus
Side Two: Mint Minus Minus
Side Three: Mint Minus Minus
Side Four: Mint Minus Minus
A seriously good copy of this Coltrane double album - recorded in one day! - with roughly Double Plus (A++) grades on all FOUR sides
Spacious, open, transparent, rich and sweet (particularly on the first three sides), it's a remarkable disc from the Golden Age of Jazz with the benefits brought about by lower-distortion, wider-bandwidth cutting equipment in the 70s
Superb sound quality courtesy of Rudy Van Gelder's engineering (1958/1963) and the talented mastering of David Turner at Fantasy (1972)
4 stars: "...Coltrane is heard near the end of his 'sheets of sound' period, perfecting his distinctive style and taking colorful and aggressive solos."
More John Coltrane / More Jazz Recordings Featuring the Saxophone
100% Money Back Guarantee on all Hot Stampers
FREE Domestic Shipping on all LP orders over $150
Vintage covers for this album are hard to find in exceptionally clean shape. Most of the will have at least some amount of ringwear, seam wear and edge wear. We guarantee that the cover we supply with this Hot Stamper is at least VG
---
These records take their material from three John Coltrane albums: "Bahia," "Stardust" and "Standard Coltrane." We would be surprised if the originals of any of them can beat the sound of this reissue.
Note that the complete Standard Coltrane can be found on these four sides, along with a substantial portion of the other two Coltrane albums listed above.
What The Best Sides Of The Stardust Session Have To Offer Is Not Hard To Hear
The biggest, most immediate staging in the largest acoustic space
The most Tubey Magic, without which you have almost nothing. CDs give you clean and clear. Only the best vintage vinyl pressings offer the kind of Tubey Magic that was on the tapes beginning in 1958
Tight, note-like, rich, full-bodied bass, with the correct amount of weight down low
Natural tonality in the midrange -- with all the instruments having the correct timbre
Transparency and resolution, critical to hearing into the three-dimensional studio space
No doubt there's more but we hope that should do for now. Playing these records are the only way to hear all of the qualities we discuss above, and playing the best pressings against a pile of other copies under rigorously controlled conditions is the only way to find a pressing that sounds as good as these two do.
Copies with rich lower mids and nice extension up top did the best in our shootout, assuming they weren't veiled or smeary of course. So many things can go wrong on a record! We know, we've heard them all.
Top end extension is critical to the sound of the best copies. Lots of old records (and new ones) have no real top end; consequently, the studio or stage will be missing much of its natural air and space, and instruments will lack their full complement of harmonic information.
Tube smear is common to most vintage pressings. The copies that tend to do the best in a shootout will have the least (or none), yet are full-bodied, tubey and rich.
Old and New Work Well Together
This Prestige reissue is spacious, open, transparent, rich and sweet. It's yet another remarkable disc from the Golden Age of Vacuum Tube Recording Technology, with the added benefit of mastering using the more modern cutting equipment of the 70s. We are of course here referring to the good modern mastering of 50+ years ago, not the questionable modern mastering of today.
The combination of old and new works wonders on this title as you will surely hear for yourself on these incredibly Hot sides.
We were impressed with the fact that these pressings excel in so many areas of reproduction. What was odd about it -- odd to most audiophiles but not necessarily to us -- was just how rich and Tubey Magical the reissue can be on the right pressing.
This leads me to think that most of the natural, full-bodied, lively, clear, rich sound of the album is on the tape, and that all one has to do to get that vintage sound on to a record is simply to thread up the tape on the right machine and hit play.
The fact that nobody seems to be able to make a record that sounds this good these days tells me that in fact, I'm wrong to think that such an approach would work. It just seems to me that somebody should have been able to figure out how to do it by now. In our experience that is simply not the case in the modern world of vinyl reissues, and has not been for many years.
What We're Listening For On The Stardust Session
Energy for starters. What could be more important than the life of the music?
Then: presence and immediacy. The musicians aren't "back there" somewhere, way behind the speakers. They're front and center where any recording engineer -- Rudy Van Gelder in this case -- would have put them.
The Big Sound comes next -- wall to wall, lots of depth, huge space, three-dimensionality, all that sort of thing.
Then transient information -- fast, clear, sharp attacks, not the smear and thickness so common to these LPs.
Tight, full-bodied bass -- which ties in with good transient information, also the issue of frequency extension further down.
Next: transparency -- the quality that allows you to hear deep into the soundfield, showing you the space and air around all the instruments.
Extend the top and bottom and voila, you have The Real Thing -- an honest to goodness Hot Stamper.
The Players
Vinyl Condition
Mint Minus Minus and maybe a bit better is about as quiet as any vintage pressing will play, and since only the right vintage pressings have any hope of sounding good on this album, that will most often be the playing condition of the copies we sell. (The copies that are even a bit noisier get listed on the site are seriously reduced prices or traded back in to the local record stores we shop at.)
Those of you looking for quiet vinyl will have to settle for the sound of other pressings and Heavy Vinyl reissues, purchased elsewhere of course as we have no interest in selling records that don't have the vintage analog magic of these wonderful recordings.
If you want to make the trade-off between bad sound and quiet surfaces with whatever Heavy Vinyl pressing might be available, well, that's certainly your prerogative, but we can't imagine losing what's good about this music -- the size, the energy, the presence, the clarity, the weight -- just to hear it with less background noise.
Side One
Spring Is Here (Standard Coltrane)
Invitation (Standard Coltrane)
This is the complete side two of Standard Coltrane with the track order reversed.
Sides three and four of this twofer have the other two songs that make up Standard Coltrane.
Side Two
I'm A Dreamer, Aren't We All (Bahia, side two, track one)
Love Thy Neighbour (Stardust, side two, track one)
Side Three
Don't Take Your Love From Me (Standard Coltrane, side one, track one)
My Ideal (Bahia, side one, track three)
Side Four
Stardust (Stardust, side one, track one)
I'll Get By (As Long As I Have You) (Standard Coltrane, side one, track two)
AMG 4 Star Review
The eight standards here (which include the title cut, "Invitation," "My Ideal," and "I'll Get By [As Long as I Have You]") were originally scattered on three separate LPs even though they all took place on the same day.
With strong support from the rhythm section (pianist Red Garland, bassist Paul Chambers, and drummer Jimmy Cobb) and good solos from flügelhornist Wilbur Harden, Coltrane is heard near the end of his "sheets of sound" period, perfecting his distinctive style and taking colorful and aggressive solos.
Background
"Recorded July 11, 1958 at Rudy Van Gelder's Studio in Hackensack, New Jersey, this album is aptly named 'A Day in the Life of John Coltrane' because the entire contents of this double album were recorded in a single day. Originally available only on three separate LPs, this quintet session (featuring a hard-hitting Chambers-Cobb-Garland rhythm section) captures Coltrane at the top of his game, although he plays no original material. Coming to prominence in the mid-fifties as Miles Davis' sideman, Coltrane's own star quickly ascended (recorded just 9 months after his genre-busting 'Blue Train' for Blue Note) and for a brief time burned brightly, hard to believe just 9 years later he'd be dead."