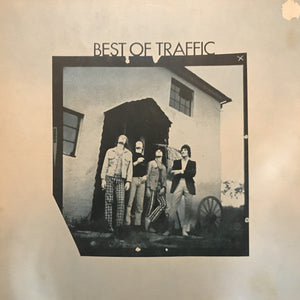 The copy we are selling is similar to the one pictured above.
Sonic Grade
Side One:
Side Two:
Vinyl Grade
Side One: Mint Minus to Mint Minus Minus
Side Two: Mint Minus to Mint Minus Minus
This original Pink Label Island pressing is doing just about everything right, with superb Double Plus (A++) sound on both sides - exceptionally quiet vinyl too
Here are the full-bodied mids, punchy lows and clear, open, extended highs that let this 1969 release come alive
This amazing compilation boasts superb sound, often dramatically better than the very same tracks on many of the original British releases
Top 100 and 4 stars: "The entire second side of the LP, comprising 'Medicated Goo,' 'Forty Thousand Headmen,' 'Feelin' Alright,' 'Shanghai Noodle Factory,' and 'Dear Mr. Fantasy,' was the kind of progressive rock that would define Traffic and give it its place in the rock pantheon."
More Traffic / More of the Most Tubey Magical Rock Recordings of All Time
100% Money Back Guarantee on all Hot Stampers
FREE Domestic Shipping on all LP orders over $150
Vintage covers for this album are hard to find in exceptionally clean shape. Most of the will have at least some amount of ringwear, seam wear and edge wear. We guarantee that the cover we supply with this Hot Stamper is at least VG
---
This British Pink Label Island pressing has some of the best Traffic sound you'll ever hear! We've been flipping out over Hot Stamper copies of this greatest hits comp for ages for a very simple, yet likely shocking, reason -- the sound on the best copies can be better than the best original pressings! How can that be you ask, dumbfounded by the sheer ridiculousness of such a statement? Well, dear reader, I'll tell you. Follow me over the jump to find out.
It's a dirty little secret in the record biz that sometimes the master for the anticipated Hit Single (or singles) is pulled from the album's final two-track master and used to make the 45, the thinking being that the 45 is what people are going to buy, or, having heard it sound so good on the radio, cause them to buy the album. One way or another, it's the single that will do the selling of Traffic's music.
A dub is then made of the master tape that was used to cut the 45 and spliced back onto the album master, so that the single (or singles) is one generation down from the master for the other songs on the side.
This explains why the Hit Single from so many albums is often the worst-sounding song on the album -- most likely to suffer from bad radio EQ and distorted, smeary, sub-gen sound. And it also explains another anomaly those of us who play tons of records run into from time to time: songs on greatest hits albums sounding better than their counterparts on the original albums from which they are taken. That's crazy talk, but this Traffic record is all the evidence you need to demonstrate that as it crazy as it seems, every once in a while it turns out to be true. This is one of those times.
Heaven Is In Your Mind
Best proof: "Heaven Is In Your Mind," the second track on side one. It is amazing sounding here and such a disappointment on every Pink Label Island original (and reissue) we've played. Once you know how good that song can sound -- by playing a Hot Stamper copy of Best of Traffic like this one -- going back to the original version of the song found on the album is not just a letdown, it's positively painful. Where's the analog magic? The weight to the piano? The startling clarity and super-spaciousness of the soundfield? The life and energy of the performance?
They're gone, brother. Not entirely gone, mind you, more a shadow of what they should be. But once you've heard the real thing, it's no fun listening to a shadow. It's a drag.
What The Best Sides Of Best of Traffic Have To Offer Is Not Hard To Hear
The biggest, most immediate staging in the largest acoustic space
The most Tubey Magic, without which you have almost nothing. CDs give you clean and clear. Only the best vintage vinyl pressings offer the kind of Tubey Magic that was on the tapes in 1969
Tight, note-like, rich, full-bodied bass, with the correct amount of weight down low
Natural tonality in the midrange -- with all the instruments having the correct timbre
Transparency and resolution, critical to hearing into the three-dimensional studio space
No doubt there's more but we hope that should do for now. Playing the record is the only way to hear all of the qualities we discuss above, and playing the best pressings against a pile of other copies under rigorously controlled conditions is the only way to find a pressing that sounds as good as this one does.
What We're Listening For On Best of Traffic
Energy for starters. What could be more important than the life of the music?
Then: presence and immediacy. The vocals aren't "back there" somewhere, lost in the mix. They're front and center where any recording engineer worth his salt would put them.
The Big Sound comes next -- wall to wall, lots of depth, huge space, three-dimensionality, all that sort of thing.
Then transient information -- fast, clear, sharp attacks, not the smear and thickness so common to these LPs.
Tight punchy bass -- which ties in with good transient information, also the issue of frequency extension further down.
Next: transparency -- the quality that allows you to hear deep into the soundfield, showing you the space and air around all the instruments.
Extend the top and bottom and voila, you have The Real Thing -- an honest to goodness Hot Stamper.
Shadows of the Real Thing
Since we here at Better Records never tire of beating long-dead horses, let's lay into a couple of our favorites: Heavy Vinyl reissues and CDs. When we play these "Shadows of the Real Thing," so lacking in life and the analog magic of the best pressings we've heard for ourselves in shootout after shootout, the one consistent thing we can say about them is that they're just a drag. They're no fun. They're an imitation that doesn't give you the thrill this wonderful music is supposed to give you — can give you and does give you — if you have the right vinyl pressing.
Yes, that old aphorism is still true: you can fool some of the people all of the time and all of the people some of the time, but you can't fool people with good turntables and records that sound like this. You can hear how much better this album sounds than any of that other stuff from another room. This is the kind of sound that puts the lie to all the remasterings and digital masterings that fool some of the people.
Play this album for your skeptical friends. You know you have them, we all do. They can't not hear it. No matter how badly they may not want to admit it, this is the sound they can't get any other way and they had better just learn to accept it. Reality is that thing that, no matter how hard you want it to, just won't go away. This kind of sound is reality. You can't get to it any other way and there's no sense wasting your time trying.
Vinyl Condition
Mint Minus Minus is about as quiet as any vintage pressing will play, and since only the right vintage pressings have any hope of sounding good on this album, that will most often be the playing condition of the copies we sell. (The copies that are even a bit noisier get listed on the site are seriously reduced prices or traded back in to the local record stores we shop at.)
Those of you looking for quiet vinyl will have to settle for the sound of other pressings and Heavy Vinyl reissues, purchased elsewhere of course as we have no interest in selling records that don't have the vintage analog magic of these wonderful recordings.
If you want to make the trade-off between bad sound and quiet surfaces with whatever Heavy Vinyl pressing might be available, well, that's certainly your prerogative, but we can't imagine losing what's good about this music -- the size, the energy, the presence, the clarity, the weight -- just to hear it with less background noise.
A Must Own Record
Best of Traffic is a recording that belongs in any serious Rock Collection. Others that belong in that category can be found here.
Side One
Paper Sun
Heaven Is in Your Mind
No Face, No Name, No Number
Coloured Rain
Smiling Phases
Hole in My Shoe
Side Two
Medicated Goo Quite Good!
Forty Thousand Headmen
Feelin' Alright
Shanghai Noodle Factory
Dear Mr. Fantasy
AMG 4 Star Review
Though Traffic broke up at the start of 1969, the band was on a commercial ascent, which led Island Records to assemble a posthumous album, Last Exit, released in April 1969.
Meanwhile, former band member Steve Winwood formed Blind Faith, which produced a debut album that topped the charts on both sides of the Atlantic. No wonder Island determined that the fall of 1969 was a good time for a Traffic compilation. The release was especially needed in Britain, where the singles sides "Paper Sun," "Hole in My Shoe," and "Smiling Phases" had not yet appeared on an LP.
Since Traffic had moved away from being a singles band after its first year, the album was not dubbed a hits collection, though all its tracks had been released on one side or the other of a single on one side or the other of the Atlantic.
As a selection of the best and most popular material from the group's first three albums, the result is hard to fault…
The entire second side of the LP, comprising "Medicated Goo," "Forty Thousand Headmen," "Feelin' Alright," "Shanghai Noodle Factory," and "Dear Mr. Fantasy," was the kind of progressive rock that would define Traffic and give it its place in the rock pantheon. Who could have known when this disc was first released that the band's story was far from over?