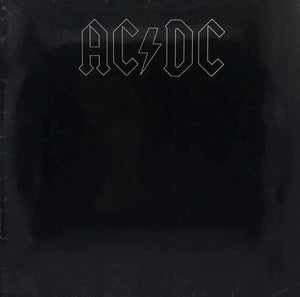 The copy we are selling is similar to the one pictured above.
Sonic Grade
Side One:
Side Two:
Vinyl Grade
Side One: Mint Minus Minus*
Side Two: Mint Minus Minus
This Back In Black rocks like nothing you've heard, with killer Nearly Triple Plus (A++ to A+++) sound throughout - just shy of our Shootout Winner
Both sides play with reasonably quiet surfaces for a Robert Ludwig original
RL is the king on this title, which means the conventional wisdom is right for once!
Top 100, and if you turn it up good and loud, one of the biggest, boldest, hardest rockin' records ever made
5 stars: "... tawdry celebration of sex is what made AC/DC different from all other metal bands — there was no sword & sorcery, no darkness, just a rowdy party, and they never held a bigger, better party than they did on Back in Black."
100% Money Back Guarantee on all Hot Stampers
FREE Domestic Shipping on all LP orders over $150
*NOTE: Track 1 in side 1, "Hells Bells," plays a little noisier than Mint Minus Minus for approx. the first 20 seconds.
These Nearly White Hot Stamper pressings have top-quality sound that's often surprisingly close to our White Hots, but they sell at substantial discounts to our Shootout Winners, making them a relative bargain in the world of Hot Stampers ("relative" meaning relative considering the prices we charge). We feel you get what you pay for here at Better Records, and if ever you don't agree, please feel free to return the record for a full refund, no questions asked.
Vintage covers for this album are hard to find in exceptionally clean shape. Most of the will have at least some amount of ringwear, seam wear and edge wear. We guarantee that the cover we supply with this Hot Stamper is at least VG
---
You probably never thought you'd ever use an AC/DC LP as a Demo Disc, but this copy will have you reconsidering that notion -- it's alive with Rock and Roll Power Chords like nothing you have ever heard.
For Riff Rock you just can't do much better than Back In Black. AMG gives it 5 Stars and rightfully so. Musically it's got everything you'd want from this genre of heavy rock -- a tight, punchy rhythm section; raging guitar riffs; and deliciously decadent lyrics screamed to perfection.
What took us by surprise was how amazing this music sounds on the right copy. You've probably heard these songs a million times, but we bet you haven't heard them sound like this. This is the kind of record that you'll want to keep turning up. The louder you play it, the better it gets -- but only if you've got a pressing that rocks like this one.
The transparency and clarity are shocking -- we heard texture on the guitars and room around the drums that simply weren't to be found on most copies, plus tons of lovely analog reverb and natural studio ambience.
And of course the bottom end is big, beefy, and rock-solid, just the way we like it. I ask you, what album from 1980 sounds better than Back in Black?
What The Best Sides Of Back In Black Have To Offer Is Not Hard To Hear
The biggest, most immediate staging in the largest acoustic space
The most Tubey Magic, without which you have almost nothing. CDs give you clean and clear. Only the best vintage vinyl pressings offer the kind of Tubey Magic that was on the tapes even as late as 1980
Tight, note-like, rich, full-bodied bass, with the correct amount of weight down low
Natural tonality in the midrange -- with all the instruments having the correct timbre
Transparency and resolution, critical to hearing into the three-dimensional studio space
No doubt there's more but we hope that should do for now. Playing the record is the only way to hear all of the qualities we discuss above, and playing the best pressings against a pile of other copies under rigorously controlled conditions is the only way to find a pressing that sounds as good as this one does.
What We're Listening For On Back In Black
Energy for starters. What could be more important than the life of the music?
Then: presence and immediacy. The vocals aren't "back there" somewhere, lost in the mix. They're front and center where any recording engineer worth his salt would put them.
The Big Sound comes next -- wall to wall, lots of depth, huge space, three-dimensionality, all that sort of thing.
Then transient information -- fast, clear, sharp attacks, not the smear and thickness so common to these LPs.
Tight punchy bass -- which ties in with good transient information, also the issue of frequency extension further down.
Next: transparency -- the quality that allows you to hear deep into the soundfield, showing you the space and air around all the instruments.
Extend the top and bottom and voila, you have The Real Thing -- an honest to goodness Hot Stamper.
Vinyl Condition
Mint Minus Minus is about as quiet as any vintage pressing will play, and since only the right vintage pressings have any hope of sounding good on this album, that will most often be the playing condition of the copies we sell. (The copies that are even a bit noisier get listed on the site are seriously reduced prices or traded back in to the local record stores we shop at.)
Those of you looking for quiet vinyl will have to settle for the sound of other pressings and Heavy Vinyl reissues, purchased elsewhere of course as we have no interest in selling records that don't have the vintage analog magic of these wonderful recordings.
If you want to make the trade-off between bad sound and quiet surfaces with whatever Heavy Vinyl pressing might be available, well, that's certainly your prerogative, but we can't imagine losing what's good about this music -- the size, the energy, the presence, the clarity, the weight -- just to hear it with less background noise.
A Must Own Rock Record
We consider this album a Masterpiece. It's a recording that belongs in any serious Rock Music Collection.
Others that belong in that category can be found here.
Side One
Hells Bells
Shoot To Thrill
What Do You Do For Money Honey
Given The Dog A Bone
Let Me Put My Love into You
Side Two
Back in Black
You Shook Me All Night Long
Have A Drink On Me
Shake A Leg
Rock And Roll Ain't Noise Pollution
AMG 5 Star Rave Review
The first sound on Back in Black is the deep, ominous drone of church bells — or "Hell's Bells," as it were, opening the album and AC/DC's next era with a fanfare while ringing a fond farewell to Bon Scott, their late lead singer who partied himself straight to hell. But this implies that Back in Black is some kind of tribute to Scott, which may be true on a superficial level — black is a funeral cover, hell's bells certainly signify death — but this isn't filled with mournful songs about the departed. It's a more fitting tribute, actually, since AC/DC not only carried on without him, but they delivered a record that to the casual ear sounds like the seamless successor to Highway to Hell, right down to how Brian Johnson's screech is a dead ringer for Scott's growl.
Most listeners could be forgiven for thinking that Johnson was Scott, but Johnson is different than Bon. He's driven by the same obsessions — sex and drink and rock & roll, basically — but there isn't nearly as much malevolence in his words or attitude as there was with Scott. Bon sounded like a criminal, Brian sounds like a rowdy scamp throughout Back in Black, which helps give it a real party atmosphere. Of course, Johnson shouldn't be given all the credit for Back in Black, since Angus and Malcolm carry on with the song-oriented riffing that made Highway to Hell close to divine.
Song for song, they deliver not just mammoth riffs but songs that are anthems, from the greasy "Shoot to Thrill" to the pummeling "Back in Black," which pales only next to "You Shook Me All Night Long," the greatest one-night-stand anthem in rock history. That tawdry celebration of sex is what made AC/DC different from all other metal bands — there was no sword & sorcery, no darkness, just a rowdy party, and they never held a bigger, better party than they did on Back in Black.