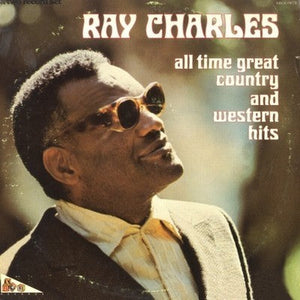 The copy we are selling is similar to the one pictured above.
Sonic Grade
Side One:
Side Two:
Side Three:
Side Four:
Vinyl Grade
Side One: Mint Minus to Mint Minus Minus
Side Two: Mint Minus to Mint Minus Minus
Side Three: Mint Minus to Mint Minus Minus
Side Four: Mint Minus to Mint Minus Minus
These vintage ABC pressings boast excellent Double Plus (A++) sound or close to it on all FOUR sides - exceptionally quiet vinyl too
If you could only have one Ray Charles album, it would have to be this one - you'll have a hard time doing better than this very copy
What was especially shocking about this shootout is that in some ways the better sounding copies of the reissue not just the equal of, but actually best their original album counterparts
22 classic songs on two LPs, including huge hits like "I Can't Stop Loving You," "You Don't Know Me," "Oh Lonesome Me," "Bye Bye Love," and much more - no wonder AMG gave both discs 5 stars
This is some big, bold, absolutely glorious Tubey Magical analog (particularly on sides one, two and four) - the tape to disc transfer is Hard To Fault, making a mockery of the audiophile remasters to come
100% Money Back Guarantee on all Hot Stampers
FREE Domestic Shipping on all LP orders over $150
Vintage covers for this album are hard to find in exceptionally clean shape. Most of the will have at least some amount of ringwear, seam wear and edge wear. We guarantee that the cover we supply with this Hot Stamper is at least VG
---
The music is wonderful. Just listen to that swingin' horn section behind Ray on "Hey, Good Lookin'." They are hot! And "Bye Bye Love" just plain rocks.
Both of these LPs have the kind of Tubey Magical Midrange that modern pressings cannot BEGIN to reproduce. Folks, that sound is gone and it sure isn't showing any sign of coming back.
Having done this for so long, we understand and appreciate that rich, full, solid, Tubey Magical sound is key to the presentation of this primarily vocal music. We rate these qualities higher than others we might be listening for (e.g., bass definition, soundstage, depth, etc.). The music is not so much about the details in the recording, but rather in trying to recreate a solid, palpable, real Ray Charles singing live in your listening room. The better copies have an uncanny way of doing just that.
If you exclusively play modern repressings of older recordings, I can say without fear of contradiction that you have never heard this kind of sound on vinyl. Old records have it -- not often, and certainly not always -- but less than one out of 100 new records do, if our experience with the hundreds we've played can serve as a guide.
What The Best Sides Of This Country Rhythm and Blues Classic Have To Offer Is Not Hard To Hear
The biggest, most immediate staging in the largest acoustic space
The most Tubey Magic, without which you have almost nothing. CDs give you clean and clear. Only the best vintage vinyl pressings offer the kind of Tubey Magic that was on the tapes 1973
Tight, note-like, rich, full-bodied bass, with the correct amount of weight down low
Natural tonality in the midrange -- with the vocals, guitars, horns and drums having the correct sound for this kind of recording
Transparency and resolution, critical to hearing into the three-dimensional space of the studio
No doubt there's more but we hope that should do for now. Playing these records are the only way to hear all of the above, and playing the best pressings against a pile of other copies under rigorously controlled conditions is the only way to find pressings that sound as good as these two do.
A Big Group of Musicians Needs This Kind of Space
One of the qualities that we don't talk about on the site nearly enough is the SIZE of the record's presentation. Some copies of the album just sound small -- they don't extend all the way to the outside edges of the speakers, and they don't seem to take up all the space from the floor to the ceiling. In addition, the sound can often be recessed, with a lack of presence and immediacy in the center.
Other copies -- my notes for these copies often read "BIG and BOLD" -- create a huge soundfield, with the music positively jumping out of the speakers. They're not brighter, they're not more aggressive, they're not hyped-up in any way, they're just bigger and clearer.
And most of the time those very special pressings are just plain more involving. When you hear a copy that does all that -- a copy like this one -- it's an entirely different listening experience.
What We're Listening For On Ray Charles All Time Great Country and Western Hits
Energy

 

for starters. What could be more important than the life of the music?
Then: presence and immediacy. The vocals aren't "back there" somewhere, lost in the mix. They're front and center where any recording engineer worth his salt would put them.
The Big Sound comes next -- wall to wall, lots of depth, huge space, three-dimensionality, all that sort of thing.
Then transient information -- fast, clear, sharp attacks, not the smear and thickness so common to these LPs.
Tight punchy bass -- which ties in with good transient information, also the issue of frequency extension further down.
Next: transparency -- the quality that allows you to hear deep into the soundfield, showing you the space and air around all the instruments.
Extend the top and bottom and voila, you have The Real Thing -- an honest to goodness Hot Stamper.
Hi-Fidelity
What do we love about these vintage pressings? The timbre of every instrument is Hi-Fi in the best sense of the word. The unique sound of every instrument is reproduced with remarkable fidelity. That's what we at Better Records mean by "Hi-Fi," not the kind of Audiophile Phony BS Sound that passes for Hi-Fidelity these days. There's no boosted top, there's no bloated bottom, there's no sucked-out midrange.
This is Hi-Fidelity for those who recognize The Real Thing when they hear it. I'm pretty sure our customers do, and whoever picks this record up is guaranteed to get a real kick out of it.
Vinyl Condition
Mint Minus Minus and maybe a bit better is about as quiet as any vintage pressing will play, and since only the right vintage pressings have any hope of sounding good on this album, that will most often be the playing condition of the copies we sell. (The copies that are even a bit noisier get listed on the site are seriously reduced prices or traded back in to the local record stores we shop at.)
Those of you looking for quiet vinyl will have to settle for the sound of later pressings and Heavy Vinyl reissues, purchased elsewhere of course as we have no interest in selling records that don't have the vintage analog magic of these wonderful originals.
If you want to make the trade-off between bad sound and quiet surfaces with whatever Heavy Vinyl pressing might be available, well, that's certainly your prerogative, but we can't imagine losing what's good about this music -- the size, the energy, the presence, the clarity, the weight -- just to hear it with less background noise.
A Must Own Soul Record
This superb recording should be part of any serious Music Collection. Others that belong in that category can be found here.
Side One
Bye Bye Love
You Don't Know Me
Half As Much
I Love You So Much It Hurts
Just a Little Lovin'
Born To Lose
Side Two
Worried Mind
It Makes No Difference Now
You Win Again
Careless Love
I Can't Stop Loving You
Hey Good Lookin'
Side Three
Take These Chains From My Heart
Your Cheating Heart
I'll Never Stand In Your Way
Making Believe
Teardrops In My Heart
Side Four
You Are My Sunshine
No Letter Today
Some Day
Midnight
Oh Lonesome Me
AMG 5 Star Rave Reviews
Volume 1
Less modern for its country-R&B blend (Elvis Presley and company did it in 1955) and lushly produced C&W tone (the Nashville sound cropped up in the late '50s) than for its place as a high-profile crossover hit, Modern Sounds in Country and Western fit right in with Ray Charles' expansive musical ways while on the Atlantic label in the '50s.
In need of even more room to explore, Charles signed with ABC Paramount and eventually took full advantage of his contract's "full artistic freedom clause" with this collection of revamped country classics. Covering a period from 1939 to the early '60s, the 12 tracks here touch on old-timey fare (Floyd Tillman's "It Makes No Difference to Me Now"), honky tonk (three Hank Williams songs), and early countrypolitan (Don Gibson's "I Can't Stop Loving You").
Along with a Top Ten go at Eddy Arnold's "You Don't Know Me," the Gibson cover helped the album remain at the top of the pop charts for nearly three months and brought Charles international fame. Above a mix of swinging big band charts by Gerald Wilson and strings and choir backdrops from Marty Paich, Charles' intones the sleepy-blue nuances of country crooners while still giving the songs a needed kick with his gospel outbursts. No pedal steel or fiddles here, just a fine store of inimitable interpretations.
Volume 2
Having struck the mother lode with Vol. 1 of this genre-busting concept, "Brother Ray," producer Sid Feller, and ABC-Paramount went for another helping and put it out immediately. The idea was basically the same -- raid the then-plentiful coffers of Nashville for songs and turn them into Ray Charles material with either a big band or a carpet of strings and choir.
This time, though, instead of a random mix of backgrounds, the big band tracks -- again arranged by Gerald Wilson in New York -- went on side one, and the strings/choir numbers -- again arranged by Marty Paich in Hollywood -- were placed on side two. Saleswise, it couldn't miss, but, more importantly, Vol. 2 defied the curse of the sequel and was just as much of an artistic triumph as its predecessor, if not as immediately startling.
Charles' transfiguration of "You Are My Sunshine" sets the tone, and, as before, there's a good quota of Don Gibson material; "Don't Tell Me Your Troubles" becomes a fast gospel rouser and "Oh Lonesome Me" a frantic big band number.
Paich lays on the '50s and early-'60s Muzak with an almost gleeful, over-the-top commercial slickness that with an ordinary artist would have been embarrassing. But the miracle is that Charles' hurt, tortured, soulfully twisting voice transforms the backgrounds as well as the material; you believe what he's singing. It appealed across the board, from the teenage singles-buying crowd to adult consumers of easy listening albums and Charles' core black audience -- and even those who cried "sellout" probably took some secret guilty pleasures from these recordings.
While Charles didn't get a number one chartbuster à la "I Can't Stop Loving You" out of this package, "Sunshine" got up to number seven, and "Take These Chains From My Heart," with its Shearing-like piano solo and big string chart, made it to number eight -- which wasn't shabby at all.