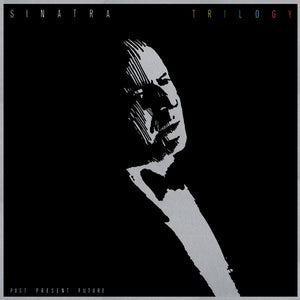 The copy we are selling is similar to the one pictured above.
Sonic Grade
Side One:
Side Two:
Side Three:
Side Four:
Side Five:
Side Six:
Vinyl Grade
Side One: Mint Minus Minus (often quieter than this grade)
Side Two: Mint Minus Minus (often quieter than this grade)
Side Three: Mint Minus Minus (often quieter than this grade)
Side Four: Mint Minus Minus (often quieter than this grade)
Side Five: Mint Minus Minus (often quieter than this grade)
Side Six: Mint Minus Minus (often quieter than this grade)
With outstanding Double Plus (A++) sound or BETTER on all SIX sides, this copy of Sinatra's wonderful 1980 release will be very hard to beat - fairly quiet vinyl too
The sound here is rich and full-bodied with much less grain and much more Tubey Magic than most of the other copies we played in our recent shootout
Credit the brilliant engineering of Frank Laico for the excellent sound - this record doesn't sound like 1980, and that's a very, very good thing
"An audacious, ambitious way to stage a comeback, each of the album's three records was conceived as an individual work, and each was arranged by one of Sinatra's major collaborators. . . the best moments are triumphant, proving that the Voice was still vital in his fourth decade of recording."
100% Money Back Guarantee on all Hot Stampers
FREE Domestic Shipping on all LP orders over $150
These original Reprise pressings have the kind of Tubey Magical Midrange that modern pressings cannot BEGIN to reproduce. Folks, that sound is gone and it sure isn't showing any sign of coming back.
Having done this for so long, we understand and appreciate that rich, full, solid, Tubey Magical sound is key to the presentation of this primarily vocal music. We rate these qualities higher than others we might be listening for (e.g., bass definition, soundstage, depth, etc.). The music is not so much about the details in the recording, but rather in trying to recreate a solid, palpable, real Frank Sinatra singing live in your listening room. The best copies have an uncanny way of doing just that.
If you exclusively play modern repressings of older recordings (this one is now 43 years old), I can say without fear of contradiction that you have never heard this kind of sound on vinyl. Old records have it -- not often, and certainly not always -- but less than one out of 100 new records do, if our experience with the hundreds we've played can serve as a guide.
What The Best Sides Of Trilogy: Past, Present and Future Have to Offer Is Not Hard To Hear
The biggest, most immediate staging in the largest acoustic space
The most Tubey Magic, without which you have almost nothing. CDs give you clean and clear. Only the best vintage vinyl pressings offer the kind of Tubey Magic that was on the tapes even as late as 1980
Tight, note-like, rich, full-bodied bass, with the correct amount of weight down low
Natural tonality in the midrange -- with all the instruments having the correct timbre
Transparency and resolution, critical to hearing into the three-dimensional studio space
No doubt there's more but we hope that should do for now. Playing these records is the only way to hear all of the qualities we discuss above, and playing the best pressings against a pile of other copies under rigorously controlled conditions is the only way to find pressings that sound as good as these three do.
Size and Space
One of the qualities that we don't talk about on the site nearly enough is the SIZE of the record's presentation. Some copies of the album just sound small -- they don't extend all the way to the outside edges of the speakers, and they don't seem to take up all the space from the floor to the ceiling. In addition, the sound can often be recessed, with a lack of presence and immediacy in the center.
Other copies -- my notes for these copies often read "BIG and BOLD" -- create a huge soundfield, with the music positively jumping out of the speakers. They're not brighter, they're not more aggressive, they're not hyped-up in any way, they're just bigger and clearer.
We often have to go back and downgrade the copies that we were initially impressed with in light of such a standout pressing. Who knew the recording could be that huge, spacious and three dimensional? We sure didn't, not until we played the copy that had those qualities, and that copy might have been number 8 or 9 in the rotation.
Think about it: if you had only seven copies, you might not have ever gotten to hear a copy that sounded that open and clear. And how many even dedicated audiophiles would have more than one or two clean original copies with which to do a shootout? These records are expensive and hard to come by in good shape. Believe us, we know whereof we speak.
One further point needs to be made: most of the time these very special pressings just plain more involving. When you hear a copy do what this copy can, it's an entirely different -- and dare I say unforgettable -- listening experience.
What We're Listening For On Trilogy: Past, Present and Future
Energy for starters. What could be more important than the life of the music?
Then: presence and immediacy. The vocals aren't "back there" somewhere, lost in the mix. They're front and center where any recording engineer worth his salt would put them.
The Big Sound comes next -- wall to wall, lots of depth, huge space, three-dimensionality, all that sort of thing.
Then transient information -- fast, clear, sharp attacks, not the smear and thickness so common to these LPs.
Tight note-like bass -- which ties in with good transient information, also the issue of frequency extension further down.
Next: transparency -- the quality that allows you to hear deep into the soundfield, showing you the space and air around all the instruments.
Extend the top and bottom and voila, you have The Real Thing -- an honest to goodness Hot Stamper.
Vinyl Condition
Mint Minus Minus is about as quiet as any vintage pressing will play, and since only the right vintage pressings have any hope of sounding good on this album, that will most often be the playing condition of the copies we sell. (The copies that are even a bit noisier get listed on the site are seriously reduced prices or traded back in to the local record stores we shop at.)
Those of you looking for quiet vinyl will have to settle for the sound of other pressings and Heavy Vinyl reissues, purchased elsewhere of course as we have no interest in selling records that don't have the vintage analog magic of these wonderful recordings.
If you want to make the trade-off between bad sound and quiet surfaces with whatever Heavy Vinyl pressing might be available, well, that's certainly your prerogative, but we can't imagine losing what's good about this music -- the size, the energy, the presence, the clarity, the weight -- just to hear it with less background noise.
Side One
The Song Is You
But Not For Me
I Had The Craziest Dream
It Had To Be You
Let's Face The Music And Dance
Side Two
Street Of Dreams
My Shining Hour
All Of You
More Than You Know
They All Laughed
Side Three
You And Me (We Wanted It All)
Just The Way You Are
Something
MacArthur Park
Theme From New York, New York
Side Four
Summer Me, Winter Me
Song Sung Blue
For The Good Times
Love Me Tender
That's What God Looks Like
Side Five
What Time Does The Next Miracle Leave?
World War None!
The Future
Side Six
The Future (Continued) "I've Been There"
The Future (Conclusion) "Songs Without Words"
Finale: Before The Music Ends
AMG Review
By the time the triple-record set Trilogy was released, Frank Sinatra had become somewhat of a recluse from the recording studio. An audacious, ambitious way to stage a comeback, each of the album's three records was conceived as an individual work, and each was arranged by one of Sinatra's major collaborators -- Billy May (The Past), Don Costa (The Present), and Gordon Jenkins (The Future). . . the best moments are triumphant, proving that the Voice was still vital in his fourth decade of recording.
The Past is easily the best record on the album. For the first time since the early '60s, Sinatra made a record of standards ("The Song Is You," "It Had to Be You," "All of You"), which is the material best suited for his talents.
The Present isn't quite as accomplished, concentrating on pop hits like "Love Me Tender," "Something," "Song Sung Blue," "MacArthur Park," and "Just the Way You Are.". . Don Costa's arrangements are lovely, as is Sinatra's singing. Together, they make mid-level songs like "Theme From New York, New York" into anthems.
Something Else! Review
Trilogy, presented as an "event" in 1980 when Frank Sinatra sessions began slowing to a crawl, finds him attempting to frame the past, present and future on a trio of discs. . .
Then nearing the end of his recording career, Sinatra was to be commended, I guess, for attempting something like the concluding album's free-form "Reflections on the Future in Three Tenses" . . .
Arranger Billy May (a rumpled and formerly legendary boozer) fashioned a sensitive, even supple set of charts on Disc 1 — his first collaboration on strings with Sinatra since 1957's remarkable Come Fly With Me.
Called "The Past," it's dotted with several now-familiar songs that, at this point, the then-64-year-old Sinatra hadn't tackled before. There's a deeper coloring both to his phrasing and May's once-blazing brass on tracks like Gershwin's "But Not For Me" and "They All Laughed"; Gus Kahn's "It Had to Be You," Cole Porter's "All of You," the lost 1929 hit "More than You Know."
He and May also make spirited runs through a few tunes that Frank Sinatra had already added similar dimension to in concert as he grew older, including his early hit "The Song Is You" and "Street of Dreams" — which Sinatra had memorably interpreted during his live mid-1960s recording with the Count Basie Orchestra. Beats me how the brilliant May (who worked with Glenn Miller, Bing Crosby, Stan Freeberg and George Shearing; and originally arranged "Cherokee," a swing classic widely considered a key inspiration for bop) has somehow remained underrated. Equally adept as driving rhythms as he was with a ballad orchestration, May was as off-handed as he was unique. "
--Nick Deriso