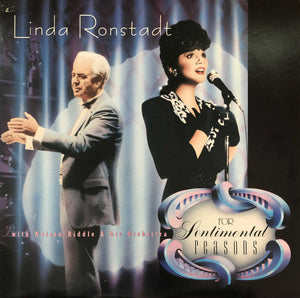 The copy we are selling is similar to the one pictured above.
Sonic Grade
Side One:
Side Two:
Vinyl Grade
Side One: Mint Minus Minus
Side Two: Mint Minus Minus
A vintage copy of Ronstadt's 1986 release with outstanding Double Plus (A++) sound or close to it from start to finish
Linda is fuller, sweeter, breathier, less spitty (some tracks more than others) and just plain less artificial here than on most other copies we played in our recent shootout (particularly on side one)
The final installment of the jazz trilogy that Ronstadt recorded with bandleader and arranger Nelson Riddle
"... it is in the hushed intensity of Mr. Riddle's string arrangements for the album's ballads that one senses a musician reaching deeply into his soul to make eloquent final statements... The arrangements' emotional gravity reverberates in Miss Ronstadt's singing..."
100% Money Back Guarantee on all Hot Stampers
FREE Domestic Shipping on all LP orders over $150
With two outstanding sides, this pressing gets two critically important elements of the recording right: the strings in the orchestra, and, for obvious reasons even more importantly, Linda's voice. We guarantee that these sides give you a more natural-sounding Linda than you've ever heard, or your money back.
What The Best Sides Of For Sentimental Reasons Have To Offer Is Not Hard To Hear
The biggest, most immediate staging in the largest acoustic space
The most Tubey Magic, without which you have almost nothing. CDs give you clean and clear. Only the best vintage vinyl pressings offer the kind of Tubey Magic that was on the tapes even as late as 1986
Tight, note-like, rich, full-bodied bass, with the correct amount of weight down low
Natural tonality in the midrange -- with all the instruments having the correct timbre
Transparency and resolution, critical to hearing into the three-dimensional studio space
No doubt there's more but we hope that should do for now. Playing the record is the only way to hear all of the qualities we discuss above, and playing the best pressings against a pile of other copies under rigorously controlled conditions is the only way to find a pressing that sounds as good as this one does.
George Massenburg Gets It Right
We've criticized engineer George Massenburg in the past, but with this copy we almost want to take it all back.
What he gets right on this recording is the sound of an orchestra, augmented with various jazz musicians (Ray Brown, Bud Shank, Plas Johnson, Louie Bellson), all performing live in a huge studio. The sound stretches far to Linda's left, far to her right, as well as back far behind her in a huge semi-circle. She is of course singing in a vocal booth, with her vocal placed front and center in the soundstage.
As an aside, George Massenburg went on to record the Trio album with Dolly Parton, Linda Ronstadt and Emmylou Harris. The analog sound he produced was shockingly rich, smooth and sweet -- and this in 1986 no less!
What To Listen For On For Sentimental Reasons
That's easy on this album: the strings. When the strings are big and rich, not shrill and thin, that's a good thing. Rosiny texture means you have a copy with less smear and higher resolution. Harmonics up top means that the top end of your copy is extending properly.
Bottom line: If the strings are bad on this album, probably everything else is too.
Having said that, this is an album of standards sung by a woman with a very recognizable voice. If Linda doesn't sound right, what's the point of the record? To hear Nelson Riddle's well-recorded strings?
The better copies have Linda sounding rich and breathy. Few managed to pull off that particular trick as well as we would have liked. We took major points off for those copies that had her sounding too thin or forced in her upper range.
Vinyl Condition
Mint Minus Minus and maybe a bit better is about as quiet as any vintage pressing will play, and since only the right vintage pressings have any hope of sounding good on this album, that will most often be the playing condition of the copies we sell. (The copies that are even a bit noisier get listed on the site are seriously reduced prices or traded back in to the local record stores we shop at.)
Those of you looking for quiet vinyl will have to settle for the sound of later pressings and Heavy Vinyl reissues, purchased elsewhere of course as we have no interest in selling records that don't have the vintage analog magic of these wonderful recordings.
If you want to make the trade-off between bad sound and quiet surfaces with whatever Heavy Vinyl pressing might be available, well, that's certainly your prerogative, but we can't imagine losing what's good about this music -- the size, the energy, the presence, the clarity, the weight -- just to hear it with less background noise.
Side One
When You Wish Upon a Star
Bewitched, Bothered and Bewildered
You Go to My Head
But Not for Me
My Funny Valentine
I Get Along Without You Very Well
Side Two
Am I Blue
(I Love You) For Sentimental Reasons
Straighten up and Fly Right
Little Girl Blue
'Round Midnight
AMG Review
For Sentimental Reasons was the last traditional pop album Linda Ronstadt recorded with Nelson Riddle, and it's virtually indistinguishable from its two predecessors — it has the same sweeping arrangements... That said, For Sentimental Reasons is notable since it contains a high percentage of familiar...standards like "When You Wish Upon a Star," "Bewitched, Bothered and Bewildered," "My Funny Valentine," "Am I Blue," and "'Round Midnight," which might make the album more appealing to casual fans who want to hear Ronstadt sing songs they know if they're going to hear her in this setting.
New York Times Review
Although 'For Sentimental Reasons' belongs to the same broad genre of genteel 1950's-style pop as its two predecessors do, in many of its details it is a different sounding record.
On "What's New," the singer's first plunge into the pre-rock repertory, Miss Ronstadt's stance was that of devoted student, taking scrupulous care to rein in her rock and country-pop mannerisms. Mr. Riddle helped the singer to fit comfortably into a 50's mode by cushioning her voice in lush, texturally homogeneous arrangements dominated by strings and woodwinds and featuring occasional creamy instrumental solos... Miss Ronstadt also began to come out from behind the orchestrations, sounding friskier and even a bit rockish.
On their final collaboration, Miss Ronstadt takes even more liberties. Instead of scene-setting orchestral introductions for every song, Miss Ronstadt herself determines the mood and pacing of much of the music.
"Although Nelson was wonderful at covering the vocal cracks and crevices between vocal phrases, on this album a lot of the songs have long rubato sections," Miss Ronstadt said.
...But it is in the hushed intensity of Mr. Riddle's string arrangements for the album's ballads that one senses a musician reaching deeply into his soul to make eloquent final statements. On ''My Funny Valentine,'' Miss Ronstadt's accompaniment is a brooding, dissonant string quartet. And on the album's final cut, '' 'Round Midnight,'' Mr. Riddle's descending string line evokes a sepulchral resignation. The arrangements' emotional gravity reverberates in Miss Ronstadt's singing, through her more dramatic vocal dynamics and in the hard sustained notes at the ends of songs. In the album's most captivating vocal performance, ''When You Wish Upon a Star,'' the singer and orchestra gently carry the song up several steps so that it seems literally to float into the stratosphere.
-Stephen Holden, The New York Times, September 14, 1986