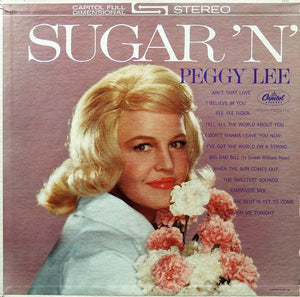 The copy we are selling is similar to the one pictured above.
Sonic Grade
Side One:
Side Two:
Vinyl Grade
Side One: Mint Minus Minus (closer to M-- to EX++ in parts)*
Side Two: Mint Minus Minus
With two superb Double Plus (A++) sides, this original Capitol pressing will be very hard to beat
So hugely spacious and three-dimensional, yet with a tonally correct and natural sounding Peggy, this is the way to hear it
This 60s LP has the kind of Tubey Magical Midrange that modern pressings barely BEGIN to reproduce
Folks, that sound is gone and it sure isn't showing any sign of coming back
"Peggy Lee is in fine voice throughout this jazz-flavored set, backed by ensembles arranged by Benny Carter, Billy Byers, Billy May, and Shorty Rogers. One of [her] better recordings from the early 60s."
100% Money Back Guarantee on all Hot Stampers
FREE Domestic Shipping on all LP orders over $150
*NOTE: Side one of this record was not noisy enough to rate our M-- to EX++ grade, but it's not quite up to our standards for Mint Minus Minus either. If you're looking for quiet vinyl, this is probably not the best copy for you.
Vintage covers for this album are hard to find in exceptionally clean shape. Most of the will have at least some amount of ringwear, seam wear and edge wear. We guarantee that the cover we supply with this Hot Stamper is at least VG
---
Having done this for so long, we understand and appreciate that rich, full, solid, Tubey Magical sound is key to the presentation of this primarily vocal music. We rate these qualities higher than others we might be listening for (e.g., bass definition, soundstage, depth, etc.). The music is not so much about the details in the recording, but rather in trying to recreate a solid, palpable, real Peggy Lee singing live in your listening room. The better copies have an uncanny way of doing just that.

If you exclusively play modern repressings of older recordings (this one is now over 60 years old), I can say without fear of contradiction that you have never heard this kind of sound on vinyl. Old records have it -- not often, and certainly not always -- but less than one out of 100 new records do, if our experience with the hundreds we've played can serve as a guide.
What The Best Sides Of Sugar 'N' Spice Have To Offer Is Not Hard To Hear
The biggest, most immediate staging in the largest acoustic space
The most Tubey Magic, without which you have almost nothing. CDs give you clean and clear. Only the best vintage vinyl pressings offer the kind of Tubey Magic that was on the tapes in 1962
Tight, note-like, rich, full-bodied bass, with the correct amount of weight down low
Natural tonality in the midrange -- with all the instruments having the correct timbre
Transparency and resolution, critical to hearing into the three-dimensional studio space
No doubt there's more but we hope that should do for now. Playing the record is the only way to hear all of the qualities we discuss above, and playing the best pressings against a pile of other copies under rigorously controlled conditions is the only way to find a pressing that sounds as good as this one does.
Learning the Record
For our shootout for Sugar 'N' Spice, we had at our disposal a variety of pressings that had the potential for Hot Stamper sound. We cleaned them carefully, then unplugged everything in the house we could, warmed up the system, Talisman'd it, found the right VTA for our Triplanar arm (by ear of course) and proceeded to spend the next hour or so playing copy after copy on side one, after which we repeated the process for side two.
If you have five or more copies of a record and play them over and over against each other, the process itself teaches you what's right and what's wrong with the sound of the album. Once your ears are completely tuned to what the best pressings do well that the other pressings do not do as well, using a few carefully chosen passages of music, it quickly becomes obvious how well a given copy can reproduce those passages. You'll hear what's better and worse -- right and wrong would be another way of putting it -- about the sound.
This approach is simplicity itself. First, you go deep into the sound. There you find a critically important passage in the music, one which most copies struggle -- or fail -- to reproduce as well as the best. Now, with the hard-won knowledge of precisely what to listen for, you are perfectly positioned to critique any and all pressings that come your way.
It may be a lot of work but it sure ain't rocket science, and we've never pretended otherwise. Just the opposite: from day one we've explained step by step precisely how to go about finding the Hot Stampers in your own collection. Not the good sounding pressings you happen to own -- those may or may not have Hot Stampers -- but the records you actually cleaned, shot out, and declared victorious.
What We're Listening For On Sugar 'N' Spice
Energy for starters. What could be more important than the life of the music?
Then: presence and immediacy. The vocals aren't "back there" somewhere, lost in the mix. They're front and center where any recording engineer worth his salt would put them.
The Big Sound comes next -- wall to wall, lots of depth, huge space, three-dimensionality, all that sort of thing.
Then transient information -- fast, clear, sharp attacks, not the smear and thickness so common to these LPs.
Tight note-like bass -- which ties in with good transient information, also the issue of frequency extension further down.
Next: transparency -- the quality that allows you to hear deep into the soundfield, showing you the space and air around all the instruments.
Extend the top and bottom and voila, you have The Real Thing -- an honest to goodness Hot Stamper.
Vinyl Condition
Mint Minus Minus is about as quiet as any vintage pressing will play, and since only the right vintage pressings have any hope of sounding good on this album, that will most often be the playing condition of the copies we sell. (The copies that are even a bit noisier get listed on the site are seriously reduced prices or traded back in to the local record stores we shop at.)
Those of you looking for quiet vinyl will have to settle for the sound of other pressings and Heavy Vinyl reissues, purchased elsewhere of course as we have no interest in selling records that don't have the vintage analog magic of these wonderful recordings.
If you want to make the trade-off between bad sound and quiet surfaces with whatever Heavy Vinyl pressing might be available, well, that's certainly your prerogative, but we can't imagine losing what's good about this music -- the size, the energy, the presence, the clarity, the weight -- just to hear it with less background noise.
Side One
Ain't That Love
The Best Is Yet To Come
I Believe In You (from "How To Succeed In Business Without Really Trying")
Embrasse Moi
See See Rider
Teach Me Tonight
Side Two
When The Sun Comes Out
Tell All The World About You
I Don't Wanna Leave You Now
The Sweetest Sounds
I've Got The World On A String
Big Bad Bill (Is Sweet William Now)
AMG Review
Peggy Lee is in fine voice throughout this jazz-flavored set, backed by ensembles arranged by Benny Carter, Billy Byers, Billy May, and Shorty Rogers. The program only includes two performances over three minutes in length, so there is not much for the backup bands to do. However, the material is mostly pretty strong, with the highlights including "See See Rider," "When the Sun Comes Out," "I've Got the World on a String," and "Big Bad Bill Is Sweet William Now." One of Peggy Lee's better recordings from the early 60s.