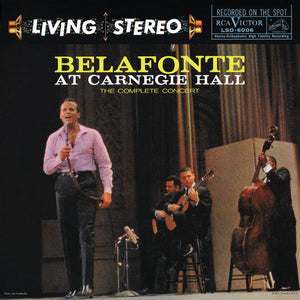 The copy we are selling is similar to the one pictured above.
Sonic Grade
Side One:
Side Two:
Side Three:
Side Four:
Vinyl Grade
Side One: Mint Minus Minus
Side Two: Mint Minus Minus
Side Three: Mint Minus Minus*
Side Four: Mint Minus Minus
Superb Living Stereo sound throughout these vintage pressings, with Double Plus (A++) grades or BETTER on all FOUR sides
Side two of this copy is in reverse polarity - for those of you who cannot switch your polarity, we will have some more copies coming to the site soon
A very large group of musicians will transport themselves directly into your listening room, Harry included, all backing him live on the stage in real time and in ANALOG
The palpable presence and performance energy of the man himself are really something to hear, and a copy this good lets you really hear it
Harry Pearson made his reputation bringing this kind of amazing recording to the attention of the audiophile public, and for that we owe him a debt of gratitude
Marks in the vinyl are sometimes the nature of the beast with these vintage LPs - there simply is no way around them if the superior sound of vintage analog is important to you
5 stars: "The granddaddy of all live albums, this double-LP set captures the excitement of a Harry Belafonte concert at the height of his popularity."
100% Money Back Guarantee on all Hot Stampers
FREE Domestic Shipping on all LP orders over $150
*NOTE: On side 3, there is a mark that plays 11 times lightly about 1/2 way into track 2, "Come Back Liza." There is also a mark that plays at a moderate level for approx. the last 1/8" of the same track. There is another mark that plays very lighty and intermittently at the start of track 4 ("Hava Nageela") for about 1/8", ending in 3 loud pops.
Vintage covers for this album are hard to find in exceptionally clean shape. Most of the will have at least some amount of ringwear, seam wear and edge wear. We guarantee that the cover we supply with this Hot Stamper is at least VG
---
The best sounding versions we played are cut very clean. The brass and strings have dead-on correct textures and timbres, yet there is still more than enough richness and Tubey Magic to go around.
As good as some pressings are, the better pressings are clearly a step up in class. The brass has more weight and body and richness. Same with the strings. The voice gets fuller and sweeter and less sibilant, while still maintaining every nuance of detail. The presence is startling; Belafonte is absolutely in the room with you.
These vintage Living Stereo pressings have the kind of Tubey Magical Midrange that modern records can barely BEGIN to reproduce. Folks, that sound is gone and it sure isn't showing signs of coming back. If you love hearing INTO a recording, actually being able to "see" the performers, and feeling as if you are sitting in the studio with the band, these are the records for you. It's what vintage all analog recordings are known for -- this sound.
If you exclusively play modern repressings of vintage recordings, I can say without fear of contradiction that you have never heard this kind of sound on vinyl. Old records have it -- not often, and certainly not always -- but maybe one out of a hundred new records do, and those are some pretty long odds.
The best sounding versions we played are cut super-clean; the brass and strings have dead-on correct textures and timbres.
As good as some pressings are, the better pressings are clearly a step up in class. The brass has more weight and body and richness. Same with the strings. The voice gets fuller and sweeter and less sibilant, while still maintaining every nuance of detail. The presence is startling; Belafonte is absolutely in the room with you.
What The Best Sides Of Belafonte at Carnegie Hall Have To Offer Is Not Hard To Hear
The biggest, most immediate staging in the largest acoustic space
The most Tubey Magic, without which you have almost nothing. CDs give you clean and clear. Only the best vintage vinyl pressings offer the kind of Tubey Magic that was on the tapes in 1959
Tight, note-like, rich, full-bodied bass, with the correct amount of weight down low
Natural tonality in the midrange -- with all the instruments having the correct timbre
Transparency and resolution, critical to hearing into the three-dimensional studio space
No doubt there's more but we hope that should do for now. Playing these records are the only way to hear all of the qualities we discuss above, and playing the best pressings against a pile of other copies under rigorously controlled conditions are the only way to find pressings that sound as good as these two do.
An Amazing Recording
Harry Pearson brought this record to the attention of audiophiles with his TAS list a long time ago, and rightfully so: it's an amazing recording.
We happen to love the music too, which makes it one of the most recommendable records we have ever offered. If you can find a better combination of demo disc sound, with music worth the hassle and expense of reproducing it properly, more power to you. We sure can't.
Because this is a live recording, because it has lots of natural instruments as well as a vocal, because it was recorded in the Golden Age by one of the greatest labels of all time, RCA, by Bob Simpson no less -- for this and many other reasons, it has to be considered one of the most amazing recordings in the history of the world.
That said, it is our contention (and the basis of our business model) that the brilliant quality of the recording can only be appreciated if you have the pressing that captured the sound that the engineers recorded. In other words, a Hot Stamper.
From an audiophile point of view, you get to hear live musicians and all the energy they bring to this music, all on the stage at the same time: strings, brass, percussionists and Harry Belafonte front and center. Tube mics (and not too many of them), a tube tape recorder, RCA's superb engineering and all-tube mastering chain ensure that the "breath of life" is captured intact. I know of no better live popular vocal recording on the planet.
What We're Listening For On Belafonte at Carnegie Hall
Energy for starters. What could be more important than the life of the music?
Then: presence and immediacy. The vocals aren't "back there" somewhere, lost in the mix. They're front and center where any recording engineer worth his salt would put them.
The Big Sound comes next -- wall to wall, lots of depth, huge space, three-dimensionality, all that sort of thing.
Then transient information -- fast, clear, sharp attacks, not the smear and thickness so common to these LPs.
Tight note-like bass -- which ties in with good transient information, also the issue of frequency extension further down.
Next: transparency -- the quality that allows you to hear deep into the soundfield, showing you the space and air around all the instruments.
Extend the top and bottom and voila, you have The Real Thing -- an honest to goodness Hot Stamper.
A Live Orchestra Needs This Kind of Space
One of the qualities that we don't talk about on the site nearly enough is the SIZE of the record's presentation. Some copies of the album just sound small — they don't extend all the way to the outside edges of the speakers, and they don't seem to take up all the space from the floor to the ceiling. In addition, the sound can often be recessed, with a lack of presence and immediacy in the center.
Other copies — my notes for these copies often read "BIG and BOLD" — create a huge soundfield, with plenty of room for all of the players. These copies are not brighter, they're not more aggressive, they're not hyped-up in any way, they're just bigger and clearer.
And most of the time those very special pressings are just plain more involving. When you hear a copy that does all that -- a copy like this one -- it's an entirely different listening experience.
Vinyl Condition
Mint Minus Minus and maybe a bit better is about as quiet as any vintage pressing will play, and since only the right vintage pressings have any hope of sounding good on this album, that will most often be the playing condition of the copies we sell. (The copies that are even a bit noisier get listed on the site are seriously reduced prices or traded back in to the local record stores we shop at.)
Those of you looking for quiet vinyl will have to settle for the sound of other pressings and Heavy Vinyl reissues, purchased elsewhere of course as we have no interest in selling records that don't have the vintage analog magic of these wonderful recordings.
If you want to make the trade-off between bad sound and quiet surfaces with whatever Heavy Vinyl pressing might be available, well, that's certainly your prerogative, but we can't imagine losing what's good about this music -- the size, the energy, the presence, the clarity, the weight -- just to hear it with less background noise.
A Must Own Pop Record
We consider this Harry Belafonte album his Masterpiece. It's a recording that should be part of any serious Popular Music Collection.
Others that belong in that category can be found here.
Side One
Introduction
Darlin' Cora
Sylvie

This is a wonderful song, sung by Belafonte with virtually no accompaniment. His voice should be rich and full-bodied with plenty of presence. In other words, he should sound like a living, breathing person.

Cotton Fields

The liner notes say this song was introduced in the previous year in Las Vegas. Before I read that I noted that the uptempo arrangement had a jazzy feel to it. The walking bass is well up in the mix and the piano and a few of the other instruments in the song are well behind - it's pretty much Belafonte and bass. The bass is deep and very note like. (This is of course a big system record. Do not expect good results from small speakers.)

But what makes this one of the best Demo Quality tracks on the album is Belafonte's amazingly energetic performance. He really sells this song. As I was listening to the dynamics on the best pressings, it makes me think about all the compressed-to-death vocals that are so much a part of the recording style of the modern era. Nobody gets loud anymore. Belafonte did back in 1959, and not too many followed him.

John Henry
Take My Mother Home
Side Two
The Marching Saints
Day O
Jamaica Farewell
Man Piaba
All My Trials
Side Three
Mama Look A Boo Boo
Come Back Liza
Man Smart (Woman Smarter)
Hava Nageela
Danny Boy
Merci Bon Dieu
Side Four
Cu Cu Ru Cu Cu Paloma
Shenandoah
Matild
AMG 5 Star Rave Review
The granddaddy of all live albums, this double-LP set captured the excitement of a Harry Belafonte concert at the height of his popularity. Sampled from two consecutive performances of identical material, Belafonte at Carnegie Hall was an anomaly at a time when only comedy albums were recorded outside of the studio environment. It wasn't the first live album ever made, but it was certainly the first to be a major financial and artistic success. It stayed on the best-selling album charts for over three years and remained in print until RCA discontinued pressing LPs.
From the opening trumpet fanfare and brief orchestral overture to the epic 12-minute version of "Matilda" (which set a standard for audience participation), the album never lets up. It is exciting, poignant, thrilling, intimate, and at times, spontaneously hilarious. Belafonte's mastery in front of an audience was never better displayed than here, a mastery that resulted in him becoming one of the most popular concert draws in history.
Producer Bob Bollard and orchestra leader Bob Corman deftly integrated the 47-piece orchestra into the performance but knew when to lie back to let Belafonte sing, accompanied by a small combo of two guitars, bass, and percussion. The concert is divided in three sections: "Moods of the American Negro," "In the Caribbean," and "Around the World." All the hits are here: "Day O," "Jamaica Farewell," "Mama Look a Boo Boo," and others, plus calypso, folk songs, chain gang songs, spirituals, and songs from other lands, representing a veritable best-of package of his first decade with RCA Victor. For sheer scope and genius of performance, this is the quintessential Belafonte package.