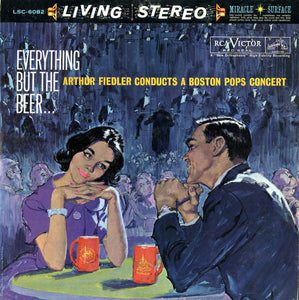 The copy we are selling is similar to the one pictured above.
Sonic Grade
Side One:
Side Two:
Side Three:
Side Four:
Vinyl Grade
Side One: Mint Minus Minus
Side Two: Mint Minus Minus
Side Three: Mint Minus Minus
Side Four: Mint Minus Minus
These original Shaded Dog pressings boast big, bold, and dynamic Double Plus (A++) Living Stereo sound or BETTER from first note to last
Compared to most other copies we played — on all four sides mind you — these sides are richer, fuller, and livelier. They're also more open and transparent, with notably improved clarity, less smear, and better bass
The rich, textured sheen of the strings that Living Stereo made possible in the 50s and early 60s is clearly evident throughout these pieces, something that the Heavy Vinyl crowd will never experience, because that sound just does not exist on modern records
We had been trying to do this title for at least ten years - clean originals are hard to find and that is a fact that will not be going away anytime soon
More Classical and Orchestral Recordings / More Living Stereo Recordings
100% Money Back Guarantee on all Hot Stampers
FREE Domestic Shipping on all LP orders over $150
Vintage covers for this album are hard to find in exceptionally clean shape. Most of the will have at least some amount of ringwear, seam wear and edge wear. We guarantee that the cover we supply with this Hot Stamper is at least VG
---
Much of what's good about Golden Age recordings is heard here, with these sides having the sound of a huge hall and that Three-Dimensional quality that the best vintage recordings are able to convey so well.
We constantly knock Heavy Vinyl here at Better Records for the simple reason that we play vintage recordings such as this by the score every month and can hear what they do so well. Unfortunately the huge hall and the 3-D soundstaging they effortlessly reproduce cannot be found on any Heavy Vinyl pressing we know of.
Such qualities allow this record to sound -- in some ways, to be sure not all -- like live music. Heavy Vinyl just plain doesn't.
These vintage Shaded Dog pressings have the kind of Tubey Magical Midrange that modern records can barely BEGIN to reproduce. Folks, that sound is gone and it sure isn't showing signs of coming back. If you love hearing INTO a recording, actually being able to "see" the performers, and feeling as if you are sitting in the studio with the band, these are the records for you. It's what vintage all analog recordings are known for -- this sound.
If you exclusively play modern repressings of vintage recordings, I can say without fear of contradiction that you have never heard this kind of sound on vinyl. Old records have it -- not often, and certainly not always -- but maybe one out of a hundred new records do, and those are some pretty long odds.
What The Best Sides Of Everything But The Beer Have To Offer Is Not Hard To Hear
The biggest, most immediate staging in the largest acoustic space
The most Tubey Magic, without which you have almost nothing. CDs give you clean and clear. Only the best vintage vinyl pressings offer the kind of Tubey Magic that was on the tapes in 1960
Tight, note-like, rich, full-bodied bass, with the correct amount of weight down low
Natural tonality in the midrange -- with all the instruments having the correct timbre
Transparency and resolution, critical to hearing into the three-dimensional studio space
No doubt there's more but we hope that should do for now. Playing these records is the only way to hear all of the qualities we discuss above, and playing the best pressings against a pile of other copies under rigorously controlled conditions is the only way to find a pressing that sounds as good as these two do.
Copies with rich lower mids and nice extension up top did the best in our shootout, assuming they weren't veiled or smeary of course. So many things can go wrong on a record! We know, we've heard them all.
Top end extension is critical to the sound of the best copies. Lots of old records (and new ones) have no real top end; consequently, the studio or stage will be missing much of its natural air and space, and instruments will lack their full complement of harmonic information.
Tube smear is common to most vintage pressings. The copies that tend to do the best in a shootout will have the least (or none), yet are full-bodied, tubey and rich.
Size and Space
One of the qualities that we don't talk about on the site nearly enough is the SIZE of the record's presentation. Some copies of the album just sound small -- they don't extend all the way to the outside edges of the speakers, and they don't seem to take up all the space from the floor to the ceiling. In addition, the sound can often be recessed, with a lack of presence and immediacy in the center.
Other copies -- my notes for these copies often read "BIG and BOLD" -- create a huge soundfield, with the music positively jumping out of the speakers. They're not brighter, they're not more aggressive, they're not hyped-up in any way, they're just bigger and clearer.
And most of the time those very special pressings are just plain more involving. When you hear a copy that does all that -- a copy like this one -- it's an entirely different listening experience.
What We're Listening For On Everything But The Beer
Energy for starters. What could be more important than the life of the music?
The Big Sound comes next -- wall to wall, lots of depth, huge space, three-dimensionality, all that sort of thing.
Then transient information -- fast, clear, sharp attacks, not the smear and thickness so common to these LPs.
Powerful bass -- which ties in with good transient information, also the issue of frequency extension further down.
Next: transparency -- the quality that allows you to hear deep into the soundfield, showing you the space and air around all the instruments.
Extend the top and bottom and voila, you have The Real Thing -- an honest to goodness Hot Stamper.
Vinyl Condition
Mint Minus Minus and maybe a bit better is about as quiet as any vintage pressing will play, and since only the right vintage pressings have any hope of sounding good on this album, that will most often be the playing condition of the copies we sell. (The copies that are even a bit noisier get listed on the site are seriously reduced prices or traded back in to the local record stores we shop at.)
Those of you looking for quiet vinyl will have to settle for the sound of other pressings and Heavy Vinyl reissues, purchased elsewhere of course as we have no interest in selling records that don't have the vintage analog magic of these wonderful recordings.
If you want to make the trade-off between bad sound and quiet surfaces with whatever Heavy Vinyl pressing might be available, well, that's certainly your prerogative, but we can't imagine losing what's good about this music -- the size, the energy, the presence, the clarity, the weight -- just to hear it with less background noise.
Side One
Pomp And Circumstance March No. 1 Op. 39, No. 1 (Elgar)
Mignon: Overture (Thomas)
Xerxes: Largo (Händel; violin - Krips)
Lohengrin: Prelude To Act III (Wagner)
Side Two
Accelerations, Waltzes (Strauss II)
Drink To Me Only With Thine Eyes (traditional)
Roumanian Rhapsody No. 1 In A, Op. 11 (Enescu)
Side Three
Danse Macabre (Saint-Saens)
Hungarian Fantasy For Piano And Orchestra (Liszt)
Side Four
Selection From "West Side Story" (Bernstein)
I Feel Pretty
Maria
Something's Coming
Tonight
One Hand, One Heart
Cool
A-mer-i-ca
Bugler's Holiday (Anderson)
Smoke Gets In Your Eyes (Kern)
Medley: Kid Stuff (arranged by Hayman)
Theme From "Peter Gunn" (Mancini)
Arthur Fiedler
Arthur Fiedler (December 17, 1894 – July 10, 1979) was an American conductor known for his association with both the Boston Symphony and Boston Pops orchestras. With a combination of musicianship and showmanship, he made the Boston Pops one of the best-known orchestras in the United States. Fiedler was sometimes criticized for over-popularizing music, particularly when adapting popular songs or editing portions of the classical repertoire, but he kept performances informal and sometimes self-mocking to attract a bigger audience.
Fiedler was appointed the eighteenth conductor of the Boston Pops Orchestra in 1930. While the position of conductor of the Boston Pops both prior to and after Fiedler tended to be a phase of a conductor's career, Fiedler made it his life's work, having the position for a half-century.
With Fiedler's direction, the Boston Pops reportedly made more recordings than any other orchestra in the world, most of them for RCA Victor, with total sales exceeding $50 million. His recordings began in July 1935 at Boston's Symphony Hall with RCA Victor, including a world premiere recording of Jacob Gade's "Jalousie," which eventually sold more than a million copies, and the first complete recording of Rhapsody in Blue by George Gershwin (with Jesús María Sanromá as soloist; around that time they also made the first recording of Edward MacDowell's Second Concerto). In 1946, he conducted the Boston Pops in one of the first American recordings devoted to excerpts from a film score, Dmitri Tiomkin's music for the David O. Selznick Technicolor epic Duel in the Sun. RCA Victor released an album of ten-inch 78-rpm discs complete with photographs from the film.
Besides recording light classics, Fiedler also recorded music from Broadway shows and Hollywood film scores, as well as arrangements of popular music, especially the Beatles. He and the Boston Pops occasionally recorded classical works that were favorites, but not considered as "light" as most of the pieces that he conducted. He made but a single recording with the Boston Symphony Orchestra: Dvorak's New World Symphony. There were also recordings of chamber music by his Sinfonietta. Fiedler and the Boston Pops recorded exclusively for RCA Victor until 1970 (though the label has continued to issue many new Fiedler/Boston Pops compilations and unreleased recordings), when they switched to Deutsche Grammophon for classical releases with co-owned Polydor Records for his arrangements of pop music compositions and then London Records.
His final Boston Pops season was in 1979. The season began on May 1 with a concert to mark Fiedler's 50th year as the orchestra's conductor. He died two months later on July 10 at the age of 84 at his Brookline, Massachusetts, home.
-Wikipedia