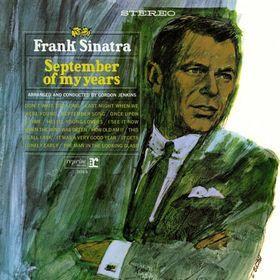 The copy we are selling is similar to the one pictured above.
Sonic Grade
Side One:
Side Two:
Vinyl Grade
Side One: Mint Minus Minus
Side Two: Mint Minus Minus
With two solid Double Plus (A++) or BETTER sides, we guarantee you've never heard September Of My Years sound this good
This copy plays amazingly well for a vintage Blue Green original Reprise stereo pressing from the 60s, with no marks or inner groove damage, and vinyl that plays about as quiet as we can find it
An especially Tubey Magical Male Vocal recording, but that sound can only found on the better properly cleaned pressings, like this one
Both of these sides are wonderfully spacious and three-dimensional, as well as relaxed and full-bodied - Frank is right in the room with you on this one
5 stars: ("One of Frank Sinatra's triumphs of the 60s") and Grammy Album of the Year for 1966
100% Money Back Guarantee on all Hot Stampers
FREE Domestic Shipping on all LP orders over $150
Vintage covers for this album are hard to find in exceptionally clean shape. Most of the will have at least some amount of ringwear, seam wear and edge wear. We guarantee that the cover we supply with this Hot Stamper is at least VG
---
This vintage Reprise pressing has the kind of Tubey Magical Midrange that modern pressings cannot BEGIN to reproduce. Folks, that sound is gone and it sure isn't showing any sign of coming back.
Having done this for so long, we understand and appreciate that rich, full, solid, Tubey Magical sound is key to the presentation of this primarily vocal music. We rate these qualities higher than others we might be listening for (e.g., bass definition, soundstage, depth, etc.). The music is not so much about the details in the recording, but rather in trying to recreate a solid, palpable, real Frank Sinatra singing live in your listening room. The better copies have an uncanny way of doing just that.
If you exclusively play modern repressings of older recordings (this one is almost 60 years old), I can say without fear of contradiction that you have never heard this kind of sound on vinyl. Old records have it -- not often, and certainly not always -- but less than one out of 100 new records do, if our experience with the hundreds we've played can serve as a guide.
What The Best Sides Of September Of My Years Have To Offer Is Not Hard To Hear
The biggest, most immediate staging in the largest acoustic space
The most Tubey Magic, without which you have almost nothing. CDs give you clean and clear. Only the best vintage vinyl pressings offer the kind of Tubey Magic that was on the tapes in 1965
Tight, note-like, rich, full-bodied bass, with the correct amount of weight down low
Natural tonality in the midrange -- with all the instruments having the correct timbre
Transparency and resolution, critical to hearing into the three-dimensional studio space
No doubt there's more but we hope that should do for now. Playing the record is the only way to hear all of the qualities we discuss above, and playing the best pressings against a pile of other copies under rigorously controlled conditions is the only way to find a pressing that sounds as good as this one does.
Finding The Best Copies
Most copies suffer from a serious lack of immediacy, and what fun is that? Hot Stamper copies put Frank right up front, with the presence needed to put his vocal out in front of the orchestra.
Even the copies that get the voice right often run into problems with the strings of the orchestra, but the Hot Stamper sides do a much better job of dealing with the various issues presented by the recording.
Copies with rich lower mids and nice extension up top (to keep the strings from becoming shrill) did the best in our shootout, assuming they weren't veiled or smeary of course. So many things can go wrong on a record! We know, we heard them all.
And we know a fair bit about the man's recordings at this point. As of today, we've done commentaries for more than 21 different Sinatra shootouts, and that's not counting at least another ten titles that either bombed or were sold off years ago.
What We're Listening For On September Of My Years
Energy for starters. What could be more important than the life of the music?
Then: presence and immediacy. The vocals aren't "back there" somewhere, lost in the mix. They're front and center where any recording engineer worth his salt would put them.
The Big Sound comes next -- wall to wall, lots of depth, huge space, three-dimensionality, all that sort of thing.
Then transient information -- fast, clear, sharp attacks, not the smear and thickness so common to these LPs.
Tight note-like bass -- which ties in with good transient information, also the issue of frequency extension further down.
Next: transparency -- the quality that allows you to hear deep into the soundfield, showing you the space and air around all the instruments.
Extend the top and bottom and voila, you have The Real Thing -- an honest to goodness Hot Stamper.
Gordon Jenkins
We want to give a special shoutout here to conductor/arranger Gordon Jenkins, who also handled the same duties very capably on Nilsson's great A Little Touch Of Schmilsson In The Night, another male vocal album that can sound amazing and deserves a place in any collection.
Vinyl Condition
Mint Minus Minus is about as quiet as any vintage pressing will play, and since only the right vintage pressings have any hope of sounding good on this album, that will most often be the playing condition of the copies we sell. (The copies that are even a bit noisier get listed on the site are seriously reduced prices or traded back in to the local record stores we shop at.)
Those of you looking for quiet vinyl will have to settle for the sound of other pressings and Heavy Vinyl reissues, purchased elsewhere of course as we have no interest in selling records that don't have the vintage analog magic of these wonderful recordings.
If you want to make the trade-off between bad sound and quiet surfaces with whatever Heavy Vinyl pressing might be available, well, that's certainly your prerogative, but we can't imagine losing what's good about this music -- the size, the energy, the presence, the clarity, the weight -- just to hear it with less background noise.
A Must Own Vocal Album
This Demo Disc Quality recording should be part of any serious Vocal Collection. Others that belong in that category can be found here.
Side One
The September of My Years
How Old Am I?
Don't Wait Too Long
It Gets Lonely Early
This Is All I Ask
Last Night When We Were Young
The Man in the Looking Glass
Side Two
It Was a Very Good Year
When the Wind Was Green
Hello, Young Lovers
I See It Now
Once Upon a Time
September Song
AMG 5 Star Rave Review
September of My Years is one of Frank Sinatra's triumphs of the 60s, an album that consolidated his strengths while moving him into new territory, primarily in terms of tone. More than the double-disc set A Man and His Music -- which was released a year after this album -- September of My Years captures how Sinatra was at the time of his 50th birthday.
Gordon Jenkins' rich, stately, and melancholy arrangements give the album an appropriate reflective atmosphere. Most of the songs are new or relatively recent numbers; every cut fits into a loose theme of aging, reflection, and regret.
Sinatra, however, doesn't seem stuck in his ways -- though the songs are rooted in traditional pop, they touch on folk and contemporary pop. As such, the album offered a perfect summary, as well as suggesting future routes for the singer.