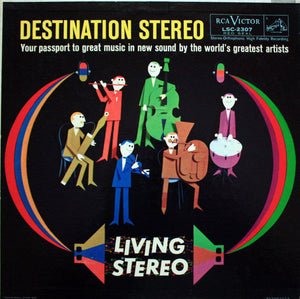 The copy we are selling is similar to the one pictured above.
Sonic Grade
Side One:
Side Two:
Vinyl Grade
Side One: Mint Minus Minus
Side Two: Mint Minus Minus
Both sides of this original Shaded Dog pressing have excellent Living Stereo sound, earning Double Plus (A++) grades
It's also fairly quiet at Mint Minus Minus, a grade that even our most well-cared-for vintage classical titles have trouble playing at
Explosive dynamics, huge space and size, with unerringly correct tonality, this is a Demo Disc like no other
Shockingly real – proof positive that the cutting systems of the day are capable of much better sound than many might think
It has all the Living Stereo magic one could ask for, as well as the bass and dynamics that are missing from so many other vintage Golden Age records
More Classical and Orchestral Recordings / More Living Stereo Recordings
100% Money Back Guarantee on all Hot Stampers
FREE Domestic Shipping on all LP orders over $150
Vintage covers for this album are hard to find in exceptionally clean shape. Most of the will have at least some amount of ringwear, seam wear and edge wear. We guarantee that the cover we supply with this Hot Stamper is at least VG
---
This record is designed to show off the Living Stereo sound at its best and it succeeds magnificently. The full range of colors of the orchestra are here presented with remarkable clarity, dynamic contrast, spaciousness, sweetness, and timbral accuracy.
If you want to demonstrate to a novice listener why modern recordings are unsatisfactory, all you have to do is play this record for them. No CD ever sounded like this.
Just play "Gnomus" to hear The Power of the Orchestra, Living Stereo style.
The fourth and fifth movements of "Capriccio Espagnol," the second track on side one, sound superb, clearly better here than on the Shaded Dog pressings we played a few years ago (which were terrible and never made it to the site. Great performance but bad mastering of what obviously was a very good master tape).
You can also hear the Living Stereo sound especially well on the excerpt from "The Fourth of July" performed by Morton Gould. It's one of the best sounding tracks here.
When "in-the-know" audiophiles discuss three-dimensionality, soundstaging and depth, they should be talking about a record that sounds like this.
But are they? The so-called "glorious, life-changing" sound of one heavy vinyl reissue after another seems to be the only kind of record audiophiles and the reviewers who write for them want to talk about these days.
Even twenty years ago reviewers noted that tracks on compilations such as this often had better sound than the albums from which they were taken, proof that they were listening critically and comparing pressings. What happened to reviewers of that caliber?
I can tell you what happened to them: they left audio, driven out according to the principle that underlies Gresham's Law: bad reviewers drive out good ones.
Which leaves you with the type that can't tell how truly awful most modern Heavy Vinyl Reissues are. A sad state of affairs if you ask me, but one that no longer impacts our business as we simply don't bother to buy, sell or play most of these records.
What The Best Sides Of Destination Stereo Have to Offer Is Not Hard to Hear
The biggest, most immediate staging in the largest acoustic space
The most Tubey Magic, without which you have almost nothing. CDs give you clean and clear. Only the best vintage vinyl pressings offer the kind of Tubey Magic that was on the tapes in 1959
Tight, note-like, rich, full-bodied bass, with the correct amount of weight down low
Natural tonality in the midrange -- with all the instruments having the correct timbre
Transparency and resolution, critical to hearing into the three-dimensional studio space
No doubt there's more but we hope that should do for now. Playing the record is the only way to hear all of the qualities we discuss above, and playing the best pressings against a pile of other copies under rigorously controlled conditions is the only way to find a pressing that sounds as good as this one does.
Copies with rich lower mids and nice extension up top did the best in our shootout, assuming they weren't veiled or smeary of course. So many things can go wrong on a record! We know, we've heard them all.
Top end extension is critical to the sound of the best copies. Lots of old records (and new ones) have no real top end; consequently, the studio or stage will be missing much of its natural air and space, and instruments will lack their full complement of harmonic information.
Tube smear is common to most vintage pressings. The copies that tend to do the best in a shootout will have the least (or none), yet are full-bodied, tubey and rich.
What We're Listening For On Destination Stereo
Energy for starters. What could be more important than the life of the music?
The Big Sound comes next -- wall to wall, lots of depth, huge space, three-dimensionality, all that sort of thing.
Then transient information -- fast, clear, sharp attacks, not the smear and thickness so common to these LPs.
Powerful bass -- which ties in with good transient information, also the issue of frequency extension further down.
Next: transparency -- the quality that allows you to hear deep into the soundfield, showing you the space and air around all the instruments.
Extend the top and bottom and voila, you have The Real Thing -- an honest to goodness Hot Stamper.
Performers
Artur Rubinstein, piano
Boston Pops conducted by Arthur Fiedler
RCA Victor Symphony Orchestra conducted by Kiril Kondrashin
Chicago Symphony Orchestra by Fritz Reiner
Morton Gould and his Orchestra
Symphony of the Air conducted by Alfred Wallenstein
Boston Symphony Orchestra conducted by Charles Munch
Played Versus Heard
Please note that we should -- but too often don't -- make a vitally important distinction between two words we tend to use interchangeably on the site. There is an important difference between the sound of records that we've played and the sound that we've heard.
The stereo, the listening room, our cleaning technologies and who knows what else are all undergoing constant changes. This means that we may have played a better pressing in the past but couldn't hear it sound as good as it does now. The regular improvements we make in all areas of playback make sonic comparisons over time all but meaningless.
Vinyl Condition
Mint Minus Minus and maybe a bit better is about as quiet as any vintage pressing will play, and since only the right vintage pressings have any hope of sounding good on this album, that will most often be the playing condition of the copies we sell. (The copies that are even a bit noisier get listed on the site are seriously reduced prices or traded back in to the local record stores we shop at.)
Those of you looking for quiet vinyl will have to settle for the sound of other pressings and Heavy Vinyl reissues, purchased elsewhere of course as we have no interest in selling records that don't have the vintage analog magic of these wonderful recordings.
If you want to make the trade-off between bad sound and quiet surfaces with whatever Heavy Vinyl pressing might be available, well, that's certainly your prerogative, but we can't imagine losing what's good about this music -- the size, the energy, the presence, the clarity, the weight -- just to hear it with less background noise.
A Must Own Living Stereo from 1959
A record as good as Destination Stereo belongs in every serious audiophile's collection. Others that belong in that category can be found here.
Side One
Khachaturian - Gayne Ballet Suite: Sabre Dance
Rimsky-Korsakov – Capriccio Espagnol: 4th and 5th Movements
Mussorgsky-Ravel – Pictures At An Exhibition: Gnomus
Adler-Ross – Hernando's Hideaway (from the musical "The Pajama Game")
Prokofieff – Lieutenant Kije: Troika
Side Two
Aaron Copland – Rodeo: Hoe-Down
Saint-Saens – Piano Concerto No. 2: 2nd Movement
Morton Gould – Fourth Of July
Berlioz – Overture To The Roman Carnival