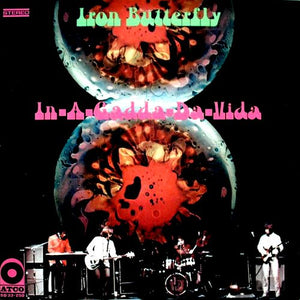 The copy we are selling is similar to the one pictured above.
Sonic Grade
Side One:
Side Two:
Vinyl Grade
Side One: Mint Minus to Mint Minus Minus
Side Two: Mint Minus to Mint Minus Minus
This early Atco pressing was giving us the sound we were looking for on Iron Butterfly's Psych Rock classic, with both sides earning superb Double Plus (A++) grades or BETTER
Surely this is one of the quietest copies we have ever listed for sale, a fluke but one we are pleased to be able to offer to those of you who place a premium on quiet vinyl
The title track takes up all of this Nearly Triple Plus (A++ to A+++) side two and is close to the BEST we have ever heard, right up there with our Shootout Winner - it's clean, open, rich and solid, and the vocals aren't screechy (for once!)
Both sides are smooth, rich and Tubey Magical, which means the album is actually enjoyable
4 1/2 stars: "The epitome of heavy psychedelic excess… the group's definitive album."
100% Money Back Guarantee on all Hot Stampers
FREE Domestic Shipping on all LP orders over $150
Vintage covers for this album are hard to find in exceptionally clean shape. Most of the will have at least some amount of ringwear, seam wear and edge wear. We guarantee that the cover we supply with this Hot Stamper is at least VG
---
We've heard some awful, awful, just really awful sounding pressings of this album over the course of the last twenty years. If you own the album, you know what I'm talking about.
Clean originals that we'd hoped would have the goods rarely lasted more than 30 seconds on our table, they were that bad.
But that was part of the problem -- the originals on the plum and gold label tend to be more crude and distorted than the yellow label reissues. That was just dumb "original is better" record collector thinking. If anybody should know better, it's us.
When we finally got hold of some promising reissues it was only a matter of time before a shootout could be scheduled. In the case of In-A-Gadda-Da-Vida, finding enough clean copies took us about five years. One or two a year, that's how many clean copies we can find by going to multiple, high volume, high turnover record stores here in L.A. every week.
Dubby-Da-Vida
The craziest thing we learned in our shootout is that something close to half of all the yellow label, authentic, non-record-club Atco copies we played had clearly been mastered from a dub tape on side two, the side with "In-A-Gadda-Da-Vida."
We're guessing that at some point after 1968, when it came time to recut the record, the cutting master for side two was either damaged or couldn't be found. Not a problem, the label says to itself, we have a safety tape we can copy and use for side two.
Problem solved, except for the fact that on those copies "In-A-Gadda-Da-Vida" sounds like a cassette playing on a machine with worn out heads. The sound is smeary, veiled, small and recessed -- all but unlistenable.
That was a shock, but the other shock we experienced was much more to our liking: hearing that the sound of the better copies is actually surprisingly good.
What The Best Sides Of In-A-Gadda-Da-Vida Have To Offer Is Not Hard To Hear
The biggest, most immediate staging in the largest acoustic space
The most Tubey Magic, without which you have almost nothing. CDs give you clean and clear. Only the best vintage vinyl pressings offer the kind of Tubey Magic that was on the tapes in 1968
Tight, note-like, rich, full-bodied bass, with the correct amount of weight down low
Natural tonality in the midrange -- with all the instruments having the correct timbre
Transparency and resolution, critical to hearing into the three-dimensional studio space
No doubt there's more but we hope that should do for now. Playing the record is the only way to hear all of the qualities we discuss above, and playing the best pressings against a pile of other copies under rigorously controlled conditions is the only way to find a pressing that sounds as good as this one does.
What We're Listening For On In-A-Gadda-Da-Vida
Energy for starters. What could be more important than the life of the music?
Then: presence and immediacy. The vocals aren't "back there" somewhere, lost in the mix. They're front and center where any recording engineer worth his salt would put them.
The Big Sound comes next -- wall to wall, lots of depth, huge space, three-dimensionality, all that sort of thing.
Then transient information -- fast, clear, sharp attacks, not the smear and thickness so common to these LPs.
Tight punchy bass -- which ties in with good transient information, also the issue of frequency extension further down.
Next: transparency -- the quality that allows you to hear deep into the soundfield, showing you the space and air around all the instruments.
Extend the top and bottom and voila, you have The Real Thing -- an honest to goodness Hot Stamper.
Vinyl Condition
Mint Minus Minus and maybe a bit better is about as quiet as any vintage pressing will play, and since only the right vintage pressings have any hope of sounding good on this album, that will most often be the playing condition of the copies we sell. (The copies that are even a bit noisier get listed on the site are seriously reduced prices or traded back in to the local record stores we shop at.)
Those of you looking for quiet vinyl will have to settle for the sound of other pressings and Heavy Vinyl reissues, purchased elsewhere of course as we have no interest in selling records that don't have the vintage analog magic of these wonderful recordings.
If you want to make the trade-off between bad sound and quiet surfaces with whatever Heavy Vinyl pressing might be available, well, that's certainly your prerogative, but we can't imagine losing what's good about this music -- the size, the energy, the presence, the clarity, the weight -- just to hear it with less background noise.
Side One
Most Anything You Want
Flowers and Beads
My Mirage
Termination
Are You Happy
Side Two
AMG 4 1/2 Star Review
With its endless, droning minor-key riff and mumbled vocals, "In-A-Gadda-Da-Vida" is arguably the most notorious song of the acid rock era. According to legend, the group was so stoned when they recorded the track that they could neither pronounce the title "In the Garden of Eden" or end the track, so it rambles on for a full 17 minutes, which to some listeners sounds like eternity.
But that's the essence of its appeal — it's the epitome of heavy psychedelic excess, encapsulating the most indulgent tendencies of the era.